Road dust deadly mix of pollutants: Neeri
Road dust, household emissions and transport exhaust are the top contributors to Calcutta's air pollution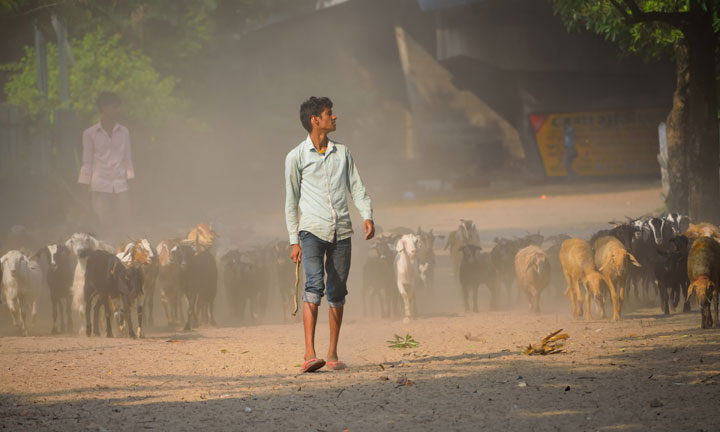 Road dust contains loose soil that has silica, aluminium and titanium
Shutterstock
---
Calcutta
|
Published 06.12.19, 10:07 PM
|
---
Road dust is a dangerous cocktail of pollutants that has been found to be the biggest source of air pollution in Calcutta, environment scientists and engineers have said.
Road dust in the city consists of loose soil on broken or unpaved roads, particles that settle down on the road after emerging from the tailpipes of vehicles and construction-demolition waste that settles on a road.
A preliminary report of the National Environmental Engineering and Research Institute (Neeri) states that road dust and emissions from houses and vehicles are the top contributors to Calcutta's air pollution.
The West Bengal Pollution Control Board (WBPCB) had commissioned the Centre's Nagpur-based environmental research organisation to conduct a source apportionment study for Calcutta's air pollution. The final report is expected later this month.
The fine particles are PM2.5, which are less than 2.5 micron in size and can enter the lungs and other human organs. They are the most dangerous among air pollutants because they are able to cause a host of illnesses by affecting the organs and can even lead to cancer.
PM2.5 is the primary air pollutant in Calcutta.
An environment professional said the road dust could also come from materials which are brought by rainwater during the monsoon and stay back after the water recedes. With time the materials dry up and rise.
Sumit Sharma of The Energy and Resources Institute (Teri), which had conducted the source apportionment study for Delhi in 2016, told Metro that road dust was made of a variety of materials.
It contains loose soil that has silica, aluminium and titanium. Each of these elements can cause respiratory illnesses. Besides, the road dust also has fine particles emitted from tailpipes of vehicles and produced by wear and tear of tyres.
"The tailpipe emission of a vehicle contains small particles. After a few days these particles settle down as road dust. Besides, the tyres suffer abrasion, because of which very small particles are created and they fall on the road," said Sharma, director of earth science and climate change division at Teri.
Explaining the distinction between road dust and transport exhaust, Sharma said: "The particles coming out of the tailpipe of a vehicle remain suspended in the air for a few days before they settle down. The percentage of dust that settles down at the time of an apportionment study is generally included in road dust, whereas what is still floating in air is considered to be a part of transport exhaust," he said.
Other air quality managers said road dust could be prevented by having well-paved roads and ensuring that construction-demolition waste was properly covered and cleaned when work was done.
"See Red Road. The dust there comes from the Maidan and not from the road. All roads should have a good bituminous top layer with no potholes or craters, which are sources of road dust," said a senior scientist working with the state environment department.
He said sand and stone chips must be covered so that they do not float in the air when there was a strong wind.
The dust that settles on the road gets re-suspended in the air when vehicles move over them or when there is a strong gust of wind.
Sprinkling water on a dusty place can help prevent the re-suspension of dust in the air, something that the state PCB has already started doing.
Several Calcuttans said that the abundance of road dust in the city could be understood from the fact that a car travelling a few kilometers becomes dirty and needs to be washed.
A police officer said that traffic police personnel cannot use their uniform for more than a day. "I have to change my uniform every day because a layer of dirt settles on it," said the officer, who has worked in Calcutta police's traffic wing for three decades.
Household emissions, another major source of PM2.5 according to the study, would include burning of wood, coal and cow dung in clay ovens.
Roadside eateries, the majority of which use clay ovens, open burning of solid waste and industries are other contributors to air pollution.
Calcutta is one of the non-attainment cities, where the pollutants are more than the permissible standards, declared by the Centre.
Recently, six more cities in Bengal — Howrah, Haldia, Barrackpore, Durgapur, Ranigunj and Asansol — were included in the non-attainment category.