Road-bridge proposal to ease Siliguri traffic jams
The second largest town in Bengal, which is a gateway to the Northeast states and Bhutan, has been plagued by congestion for decades now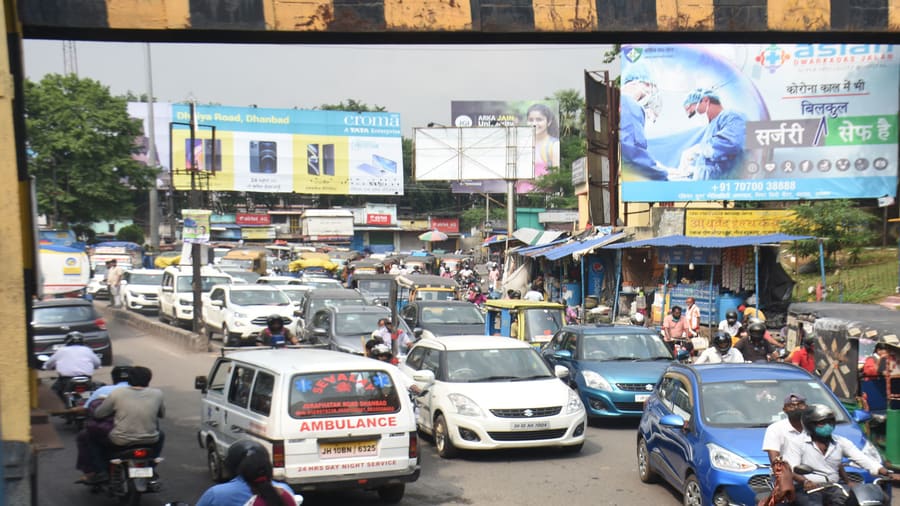 Political pundits feel that with the SMC polsl round the corner, an approval to the said project would help Trinamul in the civic polls.
File photo
---
Siliguri
|
Published 17.12.21, 01:38 AM
|
---
Rail India Technical and Economic Service Limited (RITES) on Thursday submitted a feasibility report to the Siliguri Municipal Corporation (SMC) for an alternative route along the Mahananda river aimed at easing traffic snarls in the heart of Siliguri town.
RITES has proposed a road-and-bridge-combination as a solution to the city's clogged roads.
If approved by the state government, the proposed road-and-bridge combination is expected to ease traffic congestion on Sevoke Road and Hill Cart Road, two major thoroughfares in Siliguri.
The Mahananda river flows through Siliguri.
Earlier this year, the SMC had asked the engineering consultancy corporation to take up a study and come up with a report.
Siliguri, which is the second largest town in Bengal and a gateway to the Northeast states and Bhutan, has  been plagued by traffic congestion for decades now.
"The experts of RITES after conducting a feasibility study have submitted a draft report for construction of a new bridge-and-road along the Mahananda river. The tentative cost of the project is around Rs 150 crore," Gautam Deb, the chairman of the board of administrators of the SMC, said.
"We have come up with this proposal to ease traffic congestion in Siliguri town," he added.
A source in the civic body said that the proposed route would connect Surya Sen Park-Bagha Jatin Colony-Bhanu Nagar and Gurung Busty areas of the city.
The bridge will connect Bhanu Nagar with Bagha Jatin Colony.
"The alternative road will be 6km in length and the proposed bridge over the Mahananda river will facilitate three-lane traffic movement," said the source.
Deb said that according to the RITES report the proposed road can handle 800 vehicles per hour.
"We will be soon submitting this report to the state government for their final seal of approval," said Deb, a Trinamul veteran and a former minister in the Mamata Banerjee government..
Many political observers feel that with the SMC elections round the corner, an approval to the said project would help Trinamul in the civic polls.
RITES, a government of India enterprise established in 1974 under the aegis of Indian Railways, is a multi-disciplinary consultancy organisation in the fields of transport, infrastructure and related technologies.