Rise and fall of dream theatres
Read more below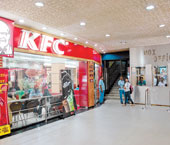 ---
Published 02.07.12, 12:00 AM
|
---
New Empire
Where: Humayun Place in New Market, opposite Shreeram Arcade
Then: Major general Shamsher Jung Bahadur Rana, then home minister of Nepal, set up base in Calcutta and acquired 45 properties across the city. New Empire was one of them. Designed by architect A. de Bois Shrosbree, the Humayun Place Theatre was set up in 1932. Ballets and plays used to be performed here. The performers included Yehudi Menuhin, Zubin Mehta, Uday Shankar and Amala Shankar, and Sambhu and Tripti Mitra and their Bohurupee group. Lord and Lady Mountbatten and Jawaharlal Nehru visited the theatre. Rabindranath Tagore directed a play here.
Films were introduced in the early '60s to run alongside theatre performances. It was turned into a full-fledged movie hall in the late '60s as it was no longer commercially viable to run it as a theatre. The First International New Youth Film Festival was held here under the chairmanship of V. Shantaram. It was later converted into a cinema exclusively for English films.
"Warner Brothers used to run New Empire between 1970 and 1989 when there was a huge flow of Warner Brother films. Once their lease ended, Hindi films were introduced to keep pace with audience demands," said Amit Sengupta, the manager of Humayun Properties Pvt. Ltd that owns New Empire and Lighthouse.
Now: New Empire remains a landmark as one of the few standalone cinemas in the area that has managed to survive. How? The answer lies in the art deco architecture eclipsed by a flurry of food shops and their logos. From Domino's and KFC to Barista and Cream & Fudge Factory, the ground floor is buzzing with students and shoppers. The open bar has been shut down, but there is a bar and a restaurant on the first floor.
The box-office counter has been newly done up to a silvery shine and was handing out tickets for Teri Meri Kahani. The 1,000-seater auditorium is quite well maintained.
"We're trying to cater to the aam janta and that's why we've kept our ticket prices low. Multiplexes aren't affordable for many so this is also quite a popular hangout for school and college students," added Sengupta.
Roxy
Where: Chowringhee Place, next to the Peerless Inn entrance.
Then: Once an opera house, it was converted into a cinema in the early 1940s. The giant screen first flickered with the Ashok Kumar-starrer Naya Sansar in 1941. The hall had high banisters and during the conversion, the stage height had to be reduced. During World War II, the army had taken over Roxy and turned it into a barrack. The hall owner, Arun Mehra of Bengal Properties Private Ltd, takes pride in the fact that Netaji Subhas Chandra Bose had dropped in to watch Kismat, starring Ashok Kumar. The CMC seized possession of Roxy cinema in 2011 when the owner failed to pay his dues to renew his lease agreement. In 2005, it underwent a makeover undertaken by Mehra, the owner of Roxy and Paradise.
Now: With giant Spider-Man posters staring down, the hall has managed to stay in step with multiple screenings and tickets available online. The hall retains its semi-circular dome shape but the exteriors have been remodelled with glass block windows and the interiors refurbished with a new AC tower, Dolby Digital sound and a 2K projection silver screen. The number of seats has been reduced from 840 to 730 for better visibility. Old wooden chairs have been replaced by blue plastic ones on the sloping ground floor and cushioned ones on the balcony. The bar on the second floor, called On the Rox, has been jazzed up. "There has been an 80 per cent rise in footfall compared to the 1990s. Roxy has a very young crowd of mostly college students and young working professionals," said Avijit Das, the manager of Roxy.
Lighthouse
Where: Humayun Place in New Market, next to New Empire.
Then: W.M. Dudok designed Lighthouse that started operating in 1934. This too was meant exclusively for Hollywood screenings but with changing audience tastes it started screening a combination of English and Hindi films and then focused only on Bollywood for a while.
It turned into a bleak house with closed counters following police action over "unauthorised changes" made to the premises in 2004. The change in question was related to Citimart, the shop that was first set up on the ground floor of Lighthouse in 2002. "Since the hall was anyway running up losses and the police had taken away the licence, the entire cinema hall was converted to Citimart," explained Amit Sengupta, the manager of Humayun Properties Pvt. Ltd that owns Lighthouse and New Empire.
Now: The two floors have been converted into Citimart, selling clothes, food and home décor items. The entrance is flanked by a baggage deposit counter on the left that used to be the box office while the other side of the entrance is dotted with food kiosks selling ice-cream, pastries and savouries. There's no trace left of a movie landmark.
Jyoti
Where: On Lenin Sarani.
Then: Jyoti cinema opened with a bang 72 years ago and created a minor sensation when it started screening 70mm films in the 1970s. South Pacific, shot on 70mm film, was the first one to be screened. Jyoti's mix of Holly and Bolly films drew a steady footfall thanks to the comfortable seating, good screen quality and stereophonic sound. With the losses mounting and union trouble turning ugly, owners Dutta and Mansatta closed the hall down in 2008.
Now: Don't be fooled by posters of upcoming films plastered on its walls and the gates that are left wide open. Put that down to the film distribution office on the ground floor, owned by B.K. Sethi and B.K. Khanna. The second floor has been rented out to a finance company. The view through the glass-door entrance to the main auditorium has been blocked off with old newspapers; on peering through you find a bare auditorium with seats yanked off.
"We took ownership of Jyoti in 2010. We're still deciding on what to do with the premises. Single-screen halls are fast closing down and this 10,000sq ft space is not large enough to convert into a mall or a multiplex. Parking is also a problem," said Sethi, who had also bought over New Cinema nearby, in 1997, and tried to run it till the losses forced a shutdown. "We had to rent out the premises to temporary shops without spoiling the original structure."
Is that what awaits Jyoti?
Globe
Where: Lindsay Street, opposite New Market entrance.
Then: The century-old Globe cinema is owned by the Sidhwa family and Jal Tata, proprietors of Globe Theatres Private headquartered in Mumbai. This heritage hall had been built exclusively as an opera house before it was converted into a cinema for the screening of Hollywood releases. Exceptions were made for Satyajit Ray movies and it also served as a venue for the Calcutta film festivals.
Film distributor Arijit Dutta of Priya Entertainment took Globe on lease in 2000. "The people in Mumbai weren't being able to run the hall so they offered it to me. I tried to keep it going but the match-box lane (leading to Treasure Island) that would get extremely crowded in the evenings and the parking lot that was taking ages to be built turned out to be a big problem. I handed it back to the owners in April 2006," recounted Dutta.
Now: The large white building towering over a narrow lane and overlooking a pavement dotted with tailoring shops and roll, chop and pav bhaji stalls wears a dusty and deserted look. The steps at the entrance with downed shutters is used as a space for cutting and cleaning raw vegetables that will go into the snacks being sold all day. While some temporary offices continue to operate from the Globe cinema building, some promoters are said to be interested in the property. "There is talk of turning it into a mall-cum-two-screen space," said Dutta.