Restored paintings to be showcased in Calcutta
Prized collection at Academy of Fine Arts museum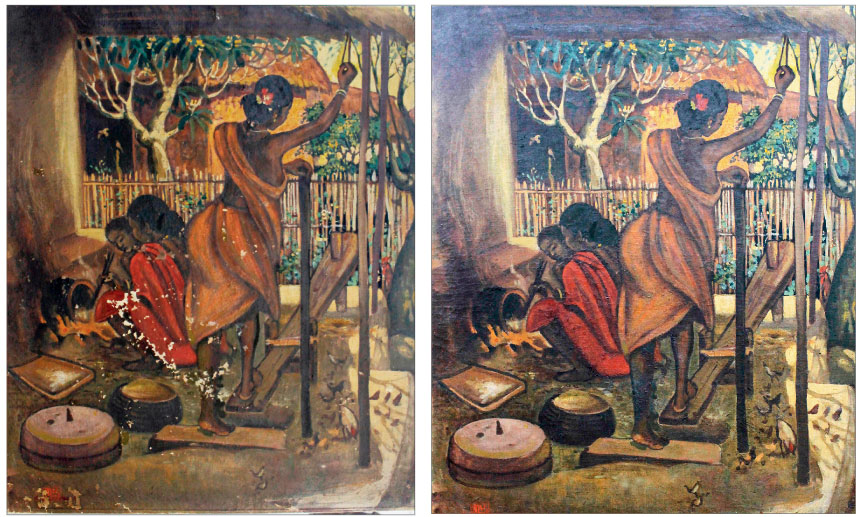 ---
|
Calcutta
|
Published 24.10.19, 08:29 PM
---
The Academy of Fine Arts is holding an exhibition of 50 recently restored paintings.
Masterpieces — A Glimpse includes a collection of paintings that have been with the Academy, but away from the public eye. The paintings restored for the exhibition include oil paintings by Gaganendranath Tagore, Jamini Roy, Benode Behari Mukherjee, Atul Bose, J.P. Ganguly, Nirode Mazumdar, M.F. Hussain, Paritosh Sen and, Jogen Chowdhury. The exhibition will be held from October 25 till the end of the month.
The Academy museum, which has been closed to the public for several decades before reopening in January 2015 and then closing again from August 2015 to allow renovation of the building, has over 3,500 objects, including 1,300 paintings.
Of these paintings, 212 have been restored by the National Research Laboratory for Conservation of Cultural Property, Lucknow, under the directive of the ministry of culture in 2014-15 with a one-time central grant of Rs 50 lakh.
Of the 212 restored paintings, only 50 oil paintings will be on show. The rest of the restored paintings will be exhibited in phases.
The Academy of Fine Arts, a non-profit body set up at the initiative of Lady Ranu Mukherjee, has long been plagued by administrative issues and discord between the staff and the management.
The museum boasts a priceless collection but has been a casualty of this discord. While the museum is shut, its galleries on the ground floor and the auditorium are available on rent.
"The museum reopened in 2015 but had to be shut again in August the same year because of the art restoration work," said Baishali Ghosh, the curator of the museum. The restoration work continued on the museum premises till March 2019.
The museum housed on the first floor of the Academy is spread over 10,000 sq feet and has several galleries but all are shut.
"Efforts are on to reopen Rabindra Gallery and Contemporary Art Gallery in December once the building has been renovated," the curator said.
Rabindra Gallery had to be shut after a roof started leaking, the only air-conditioned gallery in the museum.
The museum has among its collectibles Tagore's belongings, manuscripts, including those of Bhanusinher Padabali, locks of his hair given to Lady Ranu Mukherjee, collection of textiles, carpets, artworks of Danielle, Colebricke, Joffany, Atkinson and others.