Regarding relics
Invisible sites of history serve as living context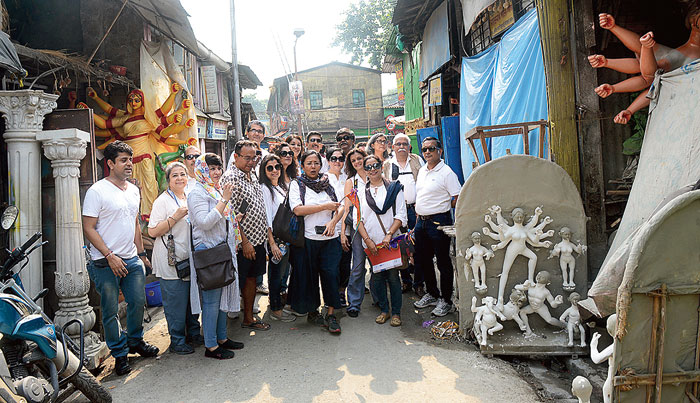 ---
---
There was a small school that my father went to in our old town. The school continues to exist and so does its old building. It gives us a sense of continuity," said the tall frail man. Thomson Mayes, chief legal officer and general counsel of Washington D.C.'s National Trust for Historic Preservation, was in Calcutta a while ago. He was addressing a select gathering at the Indian Council of Cultural Relations, organised by the Indian National Trust for Art and Cultural Heritage or Intach. He continued to make his point, "We perhaps see this continuity most forcefully when the connection between people and places are broken and when there is displacement."
Mayes cited the example of Palmer Chapel in the Great Smokey Mountains National Park (in North Carolina, US), where people were forcibly removed so the park could be built. And Matera Nui in Italy, where people were forcibly removed from the buildings. He said, "The guide there told me that his grandmother was removed and the community was never the same."
A lifelong preservationist, Mayes has extensive knowledge about the preservation policy landscape in the US and is an expert on urban heritage. From places and individual identity to places and collective identity, the talk moved to places and national identity. Mayes said, "Countries have also long preserved places that represent national identity. But I have spoken to people who are uncomfortable talking about heritage as a way to preserve places of patriotism or aspects of national identity."
Memories of the past are often shaped in accordance with a certain notion of being or relatability. In the US, plantations are preserved but they often black out the stories of the enslaved. On the frontiers, the stories of native Americans were omitted but those places where they lived were preserved. According to Mayes, in his experience, the survival of the place provides an opportunity and the context for the story to be continued to be told.
He spoke about Abraham Lincoln's summer cottage in D.C. "Visitors love to touch the handrail he used and love walking on the floorboard knowing that their president walked on it," he explained. "At Emily Dickinson's house, we learn something about her poetry we could not have learnt from her biography," he continued. And went on to add that the tiny Kwan Tai Temple in California is as much about religion as it is about the history of Chinese Americans.
Mayes suggested that apart from stoking nostalgia and tethering identities, places of heritage are also conducive to creativity. He cited how some such spaces had been converted to house new businesses and vocations. He said, "People want to be inspired by real people."
Old places also matter because some have a halo owing to the difficult things that have happened there, Mayes said that day. Any violation of an old place — Bamiyan statues or a burning Notre Dame — elicits outrage across the world because of the association with a common humanity, a shared universal identity, he reiterated to an audience in a city where a quiet de-listing of a rich and varied heritage is continuing unabated.