'Rancho' in town, bats for natural resources
Narrating his own experience from years ago on stage was the original Phunsukh Wangdu — 2018 Ramon Magsaysay Award winner, innovator, and education reformer Sonam Wangchuk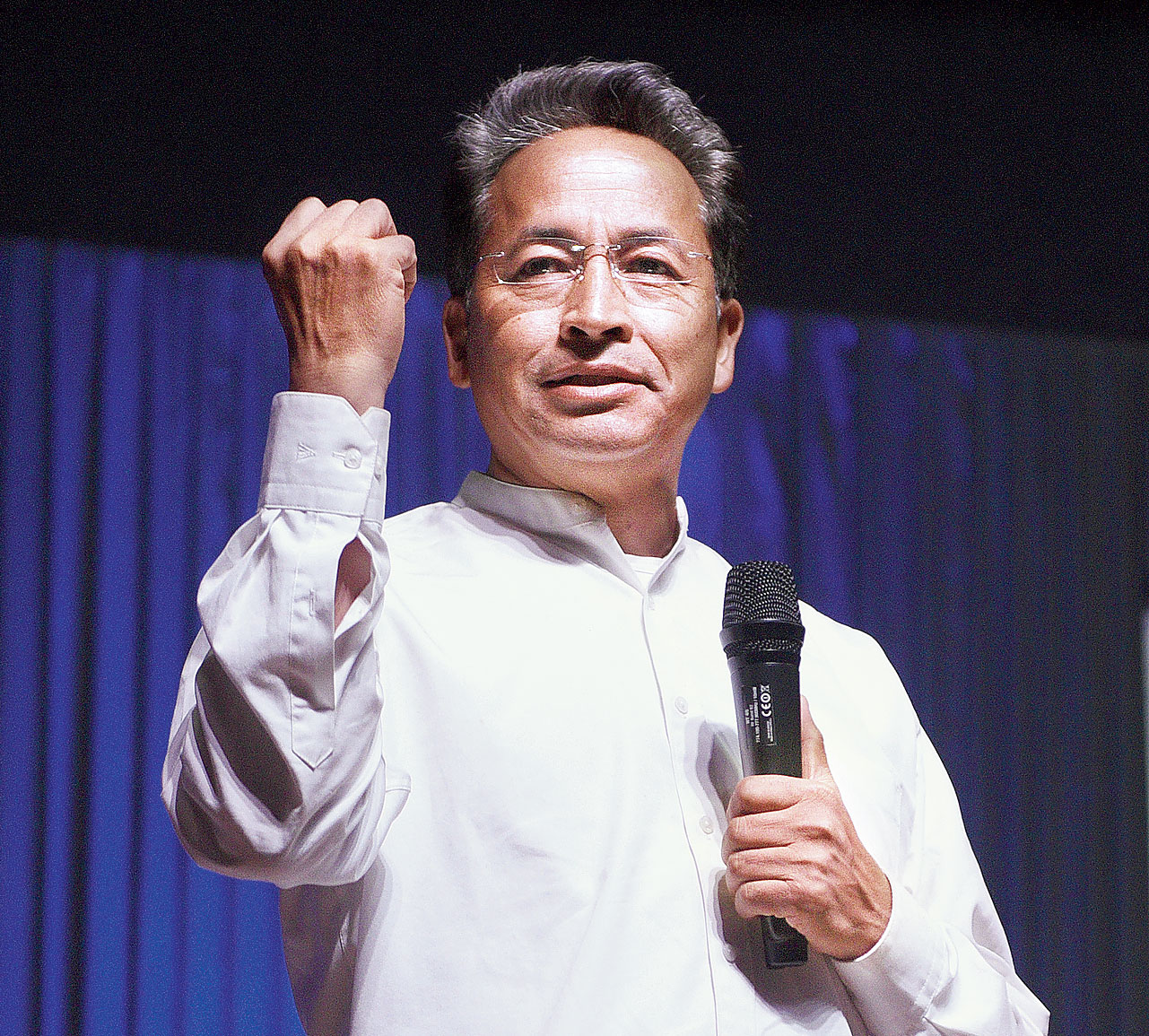 ---
|
Calcutta
|
Published 12.10.18, 09:04 PM
---
Hearing a group of students in the arid Ladakh region of Jammu and Kashmir chant "we grow rice in monsoon rain", a young man was stunned.
What would these children, belonging to a region that gets barely 100mm rain a year, know about rice and monsoon rain?
He asked the teacher: "Why shouldn't they learn 'we grow barley in glacial meltwater' instead?"
The livid teacher said: "No, no. Wrong answer."
As the audience burst out laughing, it was difficult to not remember Rancho alias Phunsukh Wangdu of 3 Idiots.
Narrating his own experience from years ago on stage was the original Phunsukh Wangdu — 2018 Ramon Magsaysay Award winner, innovator, and education reformer Sonam Wangchuk.
Wangchuk was at Amity University in the city on Friday as part of MytrahTalks, a platform for the exchange of thoughts focused on sustainability initiated by Mytrah Energy, a company that delivers sustainable energy in India.
Similar talks are scheduled in three other educational institutions across the country over the next three days barring Sunday.
Talking of sustainability, Wangchuk's focus has always been on the optimum use of natural resources easily available in a region — in his case, Ladakh.
His famous "ice stupas", an innovative solution to the scarce water resources in Ladakh, fetched him the Rolex Award in 2016.
Currently, he is thinking of making them "more romantic", that is, turning them into tourist attractions as well, so that they serve a dual purpose.
"They make ice hotels and ice restaurants in the Nordic countries. But they use lots of power to build those. And the water, when it melts, goes to waste," he said.
His ice hotels/restaurants, which will follow the same principle as the ice stupas and require no power to be built, will serve tourists as well as water the fields. What's better, he is currently working on the idea of re-glaciating the Himalayas with a similar technology as the ice stupas.
Of late, he has started building prefabricated passive solar houses for the army in Ladakh. It has turned out to be a sustainable solution to more than one problem. "In Punjab and Haryana, 70 million tonnes of straw are burnt after the paddy harvest, after which air pollution shoots up in Delhi. Far away in Ladakh, people (and the army) use firewood and kerosene to keep warm in winter." Not only is it polluting, but it also leads to a lot of fire accidents, he said.
The solar houses for the army have been built with a mix of mud and straw from Punjab. So, the straw need not be burnt and the army gets a viable housing solution that keeps soldiers warm without burning kerosene in the harsh winters and can be assembled quickly "like Lego blocks".
Wangchuk offered simple solutions to seemingly complex problems. "Use your windows as solar lighting devices," he said. That is, use more daylight to reduce the use of energy. "You could save the planet simply by sleeping."
Talking about ways to reduce wastage, he said: "If you have one garment, you wear it till you can do so no more. You then turn it into an undergarment. Then, you use it to wipe your windows."
As an afterthought, he added: "The bounty of wealth is becoming a problem for us."