Rainfall and Bengal govt's timely intervention save Yaas-flooded fields in three coastal districts
State's self-reliance in rice ran the risk of being compromised in the saline flooding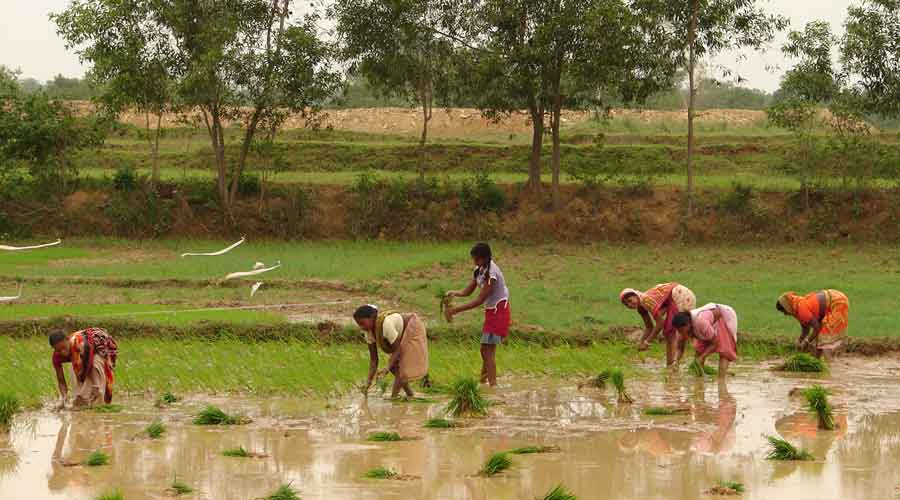 ---
Calcutta
|
Published 12.07.21, 01:22 AM
|
---
Bengal's kharif paddy-sowing area will not reduce as the salt content of the 1.43 lakh hectares in three coastal districts that had remained under water for weeks in the aftermath of Cyclone Yaas in May has been washed away by heavy rain, internal reports of the agriculture department have stated.
Till a couple of weeks ago, there were fears that farming on plots with salt deposits on the top soil would not be possible during the kharif season. But good rainfall at the start of the monsoon and timely intervention from Nabanna have saved the day, said a senior bureaucrat.
Bengal's self-reliance in rice ran the risk of being compromised in the saline flooding.
While the rain helped wash away the salt deposits, timely initiatives of the agriculture department also played a crucial role, said a source.
As soon as water receded from fields in South and North 24-Parganas and East Midnapore, the agriculture department sent scientists for surveys. The scientists said salt deposited on 1.43 lakh hectares of land could be leached out by two heavy spells of rain. In the meantime, agriculture department officials convinced farmers to make seed beds in upper areas where saline water did not reach. Heavy rain did occur. And now, seed beds are almost ready, an official said.
"Farmers can soon sow saplings on their plots," said an official.
Farmers were convinced to prepare community seed beds in the upper areas as not all of them owned land in those areas, he added.
Another official said that Bengal's annual consumption requirement of rice was around 160 lakh tonnes. The state produces around 168 lakh tonnes.
"In such a tricky situation (after coastal farmlands were flooded with saline water), had we failed to cultivate 1.43 lakh hectares out of a total of 44 lakh hectares in the state, we could have fallen short of our consumption requirement," the official said.
The state government also worked hard to ensure compensation for affected farmers, said another official.
"A total of Rs 230 crore has been sent to the bank accounts of affected farmers," he said. This also gave the farmers confidence about cultivating plots, even those under saline water, as the agriculture department simultaneously explained to them that farming was possible on the affected plots this kharif season, he explained.
The farmers' confidence increased when chief minister Mamata Banerjee enhanced the annual financial assistance under the Krishak Bandhu scheme to Rs 10,000.
"The first allotment of the enhanced assistance has already been sent to the accounts of 62 lakh farmers. The farmers now know that the state government would be by their side if a disaster takes place. So they did not hesitate when the department asked them to prepare seed beds," said another official.
The agriculture department had also sent salt-tolerant paddy seeds to farmers in case their fields had excess salt deposits, a source said.
"But those won't be required. Plots are ready for normal farming," the source added.