Rain triggers landslides, NH10 hit for hours
The slides also damaged houses in many hilly hamlets of Mirik and Kurseong town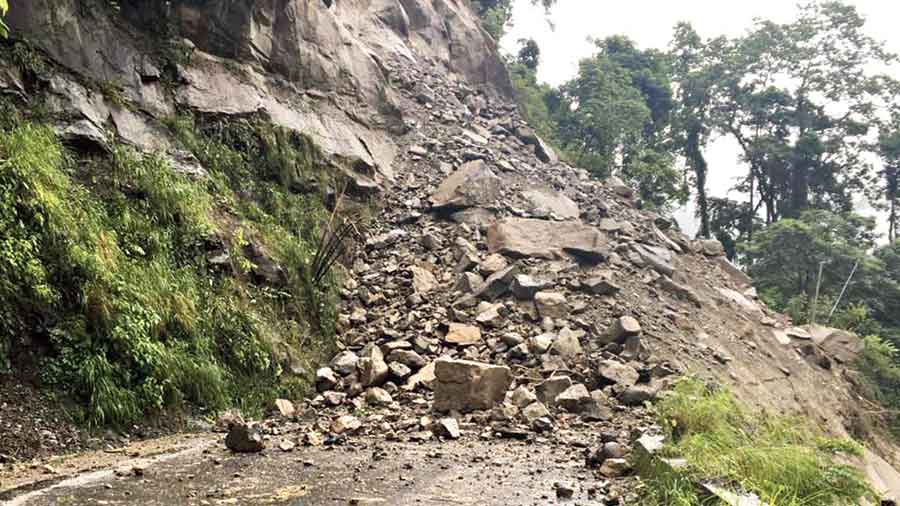 ---
Siliguri
|
Published 13.08.21, 02:26 AM
|
---
Incessant downpour across the sub-Himalayan north Bengal since Wednesday night led to landslides in a number of locations across the hills.
As the slides brought down debris, traffic came to a halt along a number of roads, including NH10, the principal highway that directly connects the Himalayan state of Sikkim and Kalimpong district in Bengal with the rest of the country.
The slides also damaged houses in many hilly hamlets of Mirik and Kurseong town.
As monsoon rain continued to lash the region even in the early morning hours of Thursday, a chunk of debris fell on NH 10 at Hatisuray, a locality between Sevoke and Kalijhora, also known as SNT-Dara. Boulders and earth blocked the road, halting traffic. Vehicles bound for Sikkim and Kalimpong from Siliguri and vice-versa had to take detours on small interior roads.
The debris on NH10 cleared partly by Thursday night and traffic in a single file was restored by 10pm.
"The landslide on NH10 near Coronation Bridge of Sevoke (around 30km from Siliguri) cut off direct connectivity to Sikkim and Kalimpong. Officials of the NH division of the state PWD did the restoration work," said a source in Darjeeling district administration.
Excavators have been engaged to clear the highway. However, there is risk of fresh slides  if it rains again.
Rainfall also triggered slides in localities like Dumaram Busty, Subedar Busty, Sherpa Busty, Rajbari Busty, Ranicoop and Gurukul of Kurseong town at different times in the intervening night of Wednesday and Thursday, damaging at least six houses.
"Also, three houses in Ninth Mile and Thurbo area of Mirik subdivision and one more at Neez Gaon that is in ward I of Mirik town were partially damaged because of the slides," said a source in the district disaster management section (DDMS) in Darjeeling.
Rainfall on Wednesday night caused cave-ins of portions of a road that connects Rimbick and Bansbotay in Darjeeling district. The road was built by the Gorkhaland Territorial Administration. Damages were reported from Namla under Rimbick panchayat.
Weathermen who earlier predicted steady downpour from Wednesday, on Thursday said further bouts of heavy rainfall could occur during the next couple of days.
In past 24 hours, that is, till 8.30am on Thursday, it rained 1349mm in Siliguri.
"We are on alert. All necessary arrangements have been made to handle any emergency situation," said a senior official of Darjeeling district administration.