Rahul posers for CM after RSS 'help' slur
He pointed out that the Congress had 'never joined hands with the BJP' but Mamata had done so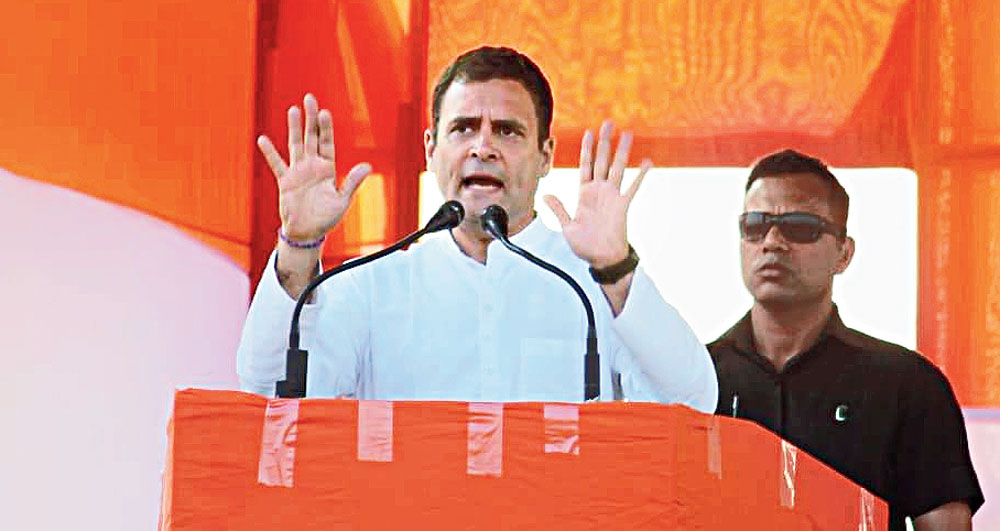 Rahul Gandhi at the rally near Raiganj on Wednesday
Picture by Kousik Sen
---
Raiganj
|
Published 10.04.19, 08:30 PM
|
---
Rahul Gandhi on Wednesday underscored the Congress's position as the principal force against the BJP, pointing out that the Congress had "never joined hands with the BJP" but Mamata Banerjee had done so in the past.
The statement came hours after the Trinamul chief claimed two Congress candidates were being backed by the RSS. "Have we ever allied with the BJP? In the past 70 years, we have never joined hands with the BJP. Mamataji had, however, allied with them," the Congress president said at a rally for Raiganj candidate Deepa Das Munshi.
Mamata's claims about the alleged RSS nexus were aimed at Adhir Chowdhury and Pranab Mukherjee's son Abhijit Mukerjee, the Congress candidates for Behrampore and Jangipur, respectively. Both denied the charges.
Rahul explained how the Congress was at the forefront of the fight against the BJP. "Mamataji often says the Congress is not fighting against the BJP… we have been fighting against them in every state. It is the Congress because of which the face of the chowkidar (Modi) is sullen these days. We want to know who raised the Rafale issue" Rahul said at the rally in Nagor, 10km from Raiganj.
Rahul expressed confidence the Congress would come back to power. "The Congress is going to defeat Narendra Modi and will form the government. Our party will ensure a proper inquiry into the Rafale deal is carried out so that those who have made money out of it face action."
The assertion follows Mamata's remarks during her recent public meetings in north Bengal that "Trinamul will form the government in Delhi".
Mamata later explained that Trinamul would team up with other parties but her assertion was seen as an attempt to establish herself as a key leader who would have a key role in government formation if the BJP is voted out of power.
At a rally on Wednesday in Chopra, 115km from Rahul's venue, Mamata had asked the people to back Trinamul as "there is no point in voting the Congress and the CPM". "They have no base in Bengal. It is Trinamul that will win the seats and form the government in Delhi."
Later, Rahul told the rally near Raiganj that "Mamataji and Narendra Modi have not waived the loans of farmers". "Both have failed to provide employment."
Mamata has intensified attacks on the Congress in the past two days.
Addressing a meeting in Raiganj on Tuesday, a former bastion of the party, she had asked people not to back the Congress or the CPM. Raiganj has traditionally voted the Congress or the Left.
The CPM held the seat in the outgoing Lok Sabha.