Tagore too was an outsider: VC
Trinamul Congress read a political message in Chakrabarty's statement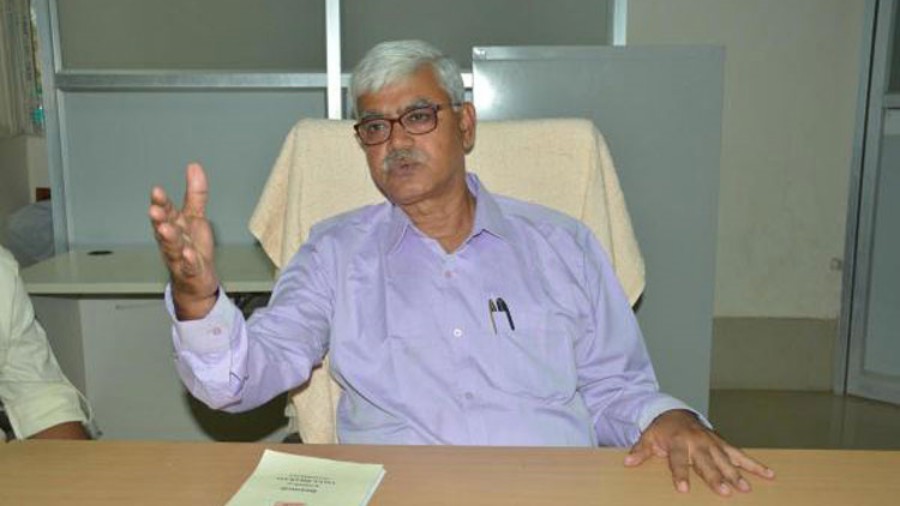 Visva-Bharati vice-chancellor Bidyut Chakrabarty
File picture
---
Santiniketan
|
Published 23.08.20, 01:38 AM
|
---
Visva-Bharati vice-chancellor Bidyut Chakrabarty on Saturday said Rabindranath Tagore "was an outsider himself" to Santiniketan, seeking to defend "outsiders" who have been blamed for fomenting the ongoing controversy over the Pous Mela grounds.
In a "special missive" uploaded on the central university's website, Chakrabarty said: "Gurudev Rabindranath Tagore was an outsider himself; had he not taken a liking to the area, Visva-Bharati wouldn't have evolved. Besides Gurudev Tagore, his colleagues — who paved the way for Visva-Bharati to develop as a hub of knowledge creation and dissemination — all came from outside Bolpur."
The vice-chancellor sought to focus on two factors in his statement. One, "the sustained endeavour to alienate, exclude and ostracise those colleagues who are from outside Bolpur or West Bengal by labelling them as outsiders". Two, the charge that the construction of the wall or fence was contrary to Visva-Bharati's tradition.
On Monday, chief minister Mamata Banerjee had said "some people and outsiders —whose presence was not right — were present to guard the construction" of the wall. The construction has been disrupted.
The Trinamul Congress read a political message in the vice-chancellor's statement uploaded on Saturday.
Abhijit Sinha, district coordinator of the Trinamul, said: "The VC needs to support outsiders as he is keen to invite BJP leaders on the campus to saffronise Santiniketan. His idea just echoes the BJP's theory. It is ridiculous that the VC has termed Tagore as an outsider. Even after the incident of vandalism, he stayed away from the meeting called by the state government to show his no-confidence in the state's administration. His statement reeks of politics."
In the second part of the statement, Chakrabarty defended the plan for the wall. He cited several instances where playgrounds, including those at Santiniketan and Sriniketan, had been fenced off.
He said the old Pous Mela ground had been fortified at least 30 years ago, adding that China Bhavan had been fenced off when Tagore was alive.