Quiet girl to diva of the stage
Lives Of Others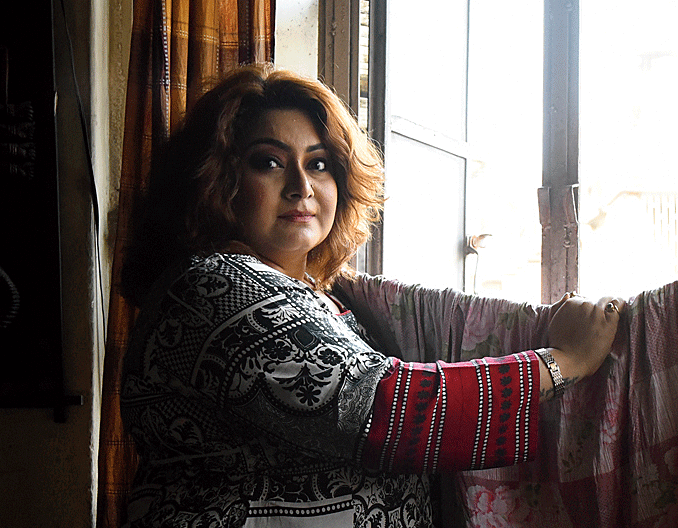 ---
|
Calcutta
|
Published 24.11.19, 07:18 PM
---
In the film Obhishopto Nighty, a sharp satire on contemporary Bengali middle-class morality, a vintage car collides with the scooter Parambrata Chattopadhyay, who plays a journalist, is riding. As a result, the young man is shot upwards into the sky, meets a speaking swan, then falls straight into the expansive lap of the occupant of the car, a large woman with twinkling eyes resplendent in a black sequinned dress, large red feathers as earrings, a large red flower perched on top of her head at an angle and very bright make-up, completely in command of herself.
When another man tries to bully her into paying him for causing the accident, she emits two green rays from her two eyes, transforms him into the organiser of a rally for autorickshaw drivers at Brigade Parade Ground. To the journalist, she gives her card, which says "Miss Bashikaran" (Bashikaran being the Tantric art of controlling others' minds and bodies). Her eyes gleaming with sexual knowledge and power, she is the witch who holds the key to the secret that has turned the city upside down.
She again combines her large presence with the comic in the recent Dupur Thakurpo, Season 3, a sex comedy series on the Bengali video streaming platform Hoichoi, in which she plays an ageing but luscious widow lusting for young men.
Miss Jojo, on screen, is as close as it gets to the Rabelaisian as is possible in the world of contemporary Bengali entertainment. On stage, too, she is a commanding personality.
She is a singer famous in the city and beyond for her robust live performances of popular Hindi and Bengali songs. Dressed in striking colours and ensembles and layers of accessories, and make-up that adds another dimension to her face, Miss Jojo, 44, with a halo of hair framing her handsome face, has been entertaining audiences for over three decades.
In an age when singers are also required to be slim, processed beauties, Miss Jojo remains unapologetic and confident and the crowds love her.
One of her favourite performances is of the hit Bengali song by Usha Uthup, Uri Uri Baba. During one performance, she stops singing and asks the audience for a greater applause. "There may be many big artistes who have come here, but I am larger than many of them. So I demand a larger response," she jokes. As the theory goes, body mass adds to the singing voice. So many opera singers were overweight.
Jojo sings Asha Bhonsle, Usha Uthup, Runa Laila, RD, and Bappi Lahiri songs a lot. No wonder that Miss Jojo would often accompany Bappida at his stage shows.
Miss Jojo rocks.
So it is a bit of a surprise when I meet her at a south Calcutta café. She is quiet, composed, soft-spoken, and wearing an elegant printed top with trousers. Even her weight appears exaggerated on screen.
"I was actually a very quiet child," says Jojo, who grew up in Bagbazar and now lives in Dunlop. She was born into the world of acting, music and entertainment. Her father was the actor and singer Mrinal Mukherjee, and her mother was Shibani Mukherjee, a singer. Mrinal Mukherjee passed away recently. Jojo's parents separated when she was a little above two. She would be living with her mother.
Jojo began to sing naturally and would attend her mother's concerts. She was six when she performed for the first time at one such concert.
"I had heard my mother sing Runa Laila's O mera babu chhail chhabila main to nachungi," says Jojo. She sang that. Requests began to pour in for her to perform.
By 15 or 16, in the early Nineties, she was a star in the live performance circuit. "I was performing in every gully of the city." She would get about Rs 500 per show. She was also singing ad jingles, Mera Pyar Shalimar… being one of them.
By that time the honorific "Miss" had stuck to her name, the unmistakable sign of a stage singer, never to be taken off again.
She was then a student of South Point High School. "But I was never interested in studies. Not even in learning music," she smiles. At school she was once scolded by Geeta Ghatak, Rabindrasangeet singer who taught music at South Point, for not knowing her lesson. Jojo was also taken by her mother to classical singer Deepali Nag to train. "But Deepalidida advised my mother that I should focus on light music."
What she really wanted to learn was how to find a place under the sun. Because she had never found one. "I am from a broken home. It mattered to me," she says.
And that is why perhaps, shy though she was, or because she was shy, she learnt to throw herself into the performance on stage. That was where she became someone else, her own other.
"I am so quiet that in the green room people even find me temperamental. My friends tell me that something possesses me when I perform. Tor opor bhor hoi," she smiles again.
Her careergraph was rising. In 1993, a strip of a girl then, she got her big break in films, the role of the heroine in Duranta Prem, a big Bengali feature film that also had Tapas Pal in the cast.
But real life was going elsewhere. Her mother married again. The second husband was a man Jojo did not like. She went to live with her father, who had remained a loving presence. Then, in 1994, at age 19, she herself ran away to get married to another musician, Kingshuk Mukherjee.
Miss Jojo is remarkably candid when it comes to her life. "I have seen fame. I have performed at so many places, in the city, outside it, abroad." Around 2000, she had toured France for months with a French band.
But she is still trying to explain her transformation on stage. "Actually, the moment I am told I can't do something, I have to free myself," she says. "In life, in love."
That does explain to an extent how she conducts her music — and her personal life, two of which have just got so mixed up. When she speaks of one, the other comes in.
She did not let it matter when she was scoffed at by bigger names in the industry. She also did not allow the sanctity of matrimony to restrict her.
Her marriage did not turn out to be a fairy tale. When she began to feel distanced from her husband, she had other relationships. She did not hide the relationships, but she did not end the marriage either. "I did not end the marriage for my daughter's sake. I came from a broken home. I did not want her to have one." She explained to her daughter, in her own way, her choices.
She takes on less work these days, both on stage or as acting assignments, but does not plan the future too much. She has built a resort in north Bengal, called Gorumara Nest, where she looks forward to spending some time.
She asks me to listen to her audio autobiography, and forwards the YouTube link. I hear once more the story of a child growing up in an incomprehensible, alienating adult world. But in this story there is another thread: the search for one friend, one companion. "An artiste does not just need recognition. She needs someone to talk to," she says.
That is why, perhaps, she commands the attention of her audience. They listen to her.