Puja adds cheer to Digha tourism
South Eastern Railways resumed one special Howrah-Digha daily service running for the next 42 days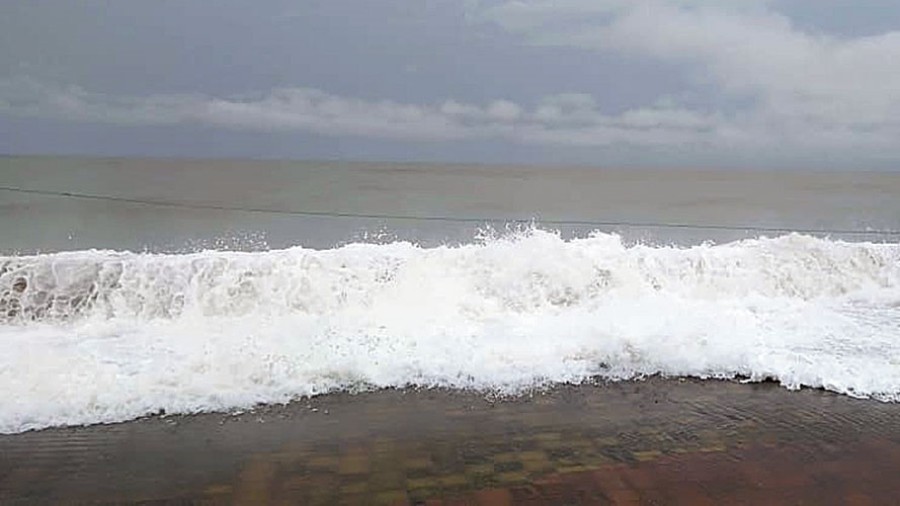 ---
|
Digha
|
Published 18.10.20, 02:51 AM
---
The East Midnapore seaside tourist spots of Digha and Mandarmani have proved unlikely beneficiaries this Durga Puja season, contrary to the otherwise tepid lockdown-induced tourist market.
Hoteliers in both towns, who are accustomed to weekend tourists from Calcutta and suburban towns for weekend picnics, have witnessed near capacity bookings for this upcoming week.
Digha, where railway services were suspended since March 23, received a shot in the arm when South Eastern Railways resumed one special Howrah-Digha daily service running for the next 42 days.
"Digha tourists are heavily reliant on trains and buses to get here, so our tourism industry had been depressed since March despite partial re-openings since July," said Digha hoteliers' association secretary Dipra Das Chakraborty. "But we are at above 50 per cent capacity in bookings for the coming week, which is a very pleasant surprise."
Sources said in addition to the Howrah special train, 52 government bus routes had been resumed this month to and fro Digha, Mandarmani and Tajpur. Sources added that though train fares were notably high, at a Rs 485 round trip (air-conditioned chair car), bookings were coming in thick and fast.
"If things continue at this rate for another month we might even recover our losses from this year sooner than expected," added a New Digha hotelier.
Swarnali Hazra, 32, a resident of Howrah's Bally, is eagerly looking forward to her family getaway next weekend.
"We know crowds will spike in the city during the Pujas, so we are glad to be able to be in Digha, and be safe, for a few days," said Hazra, adding she was "confident" about hotels' Covid protocol.
In Mandarmani, where most tourists travel by private cars, hoteliers' association sources said pre-bookings had touched an "astonishing" 80 per cent.
Association secretary Debdulal Das Mahapatra confirmed the trend: "We are confident in our safety protocol and believe our guests will take precautions. We are not relying heavily on public transport so that is a bonus."
Digha Sankarpur Development Authority has called for a mandatory safety meeting with all hoteliers on Sunday that will also be attended by the district magistrate and police superintendent.
"We are taking care to ensure safe tourism here because this is the chief minister's vision for Digha. We will take all precautions and instruct hoteliers (to do so too)," said DSDA vice-chairman Akhil Giri.