Protests erupt across state after assault on NRS doctors
The picture was same everywhere: groups of junior doctors at sit-ins with posters and banners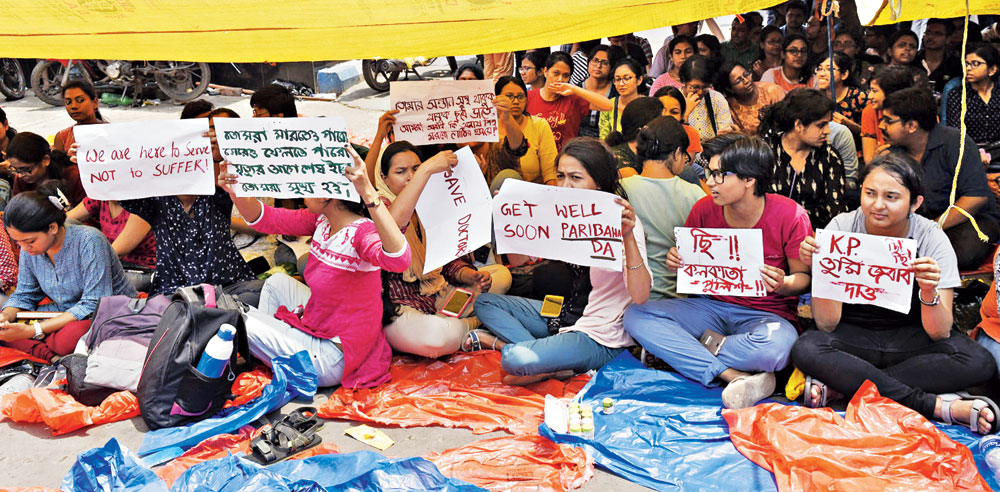 ---
Calcutta
|
Published 11.06.19, 11:58 PM
|
---
Thousands of patients across the state were left in the lurch as the protest of junior doctors of NRS Medical College and Hospital spread to other medical colleges and emergency wards stopped functioning.
In Calcutta, on the Calcutta National Medical College and Hospital premises, patients lay on trolleys for hours.
At SSKM Hospital, relatives of patients blocked the crossing of Harish Mukherjee Road and AJC Bose Road, demanding doctors check on patients. They said they had been waiting for six hours.
At all hospitals, police officers waited and watched as senior doctors manning emergency wards refused to budge and ambulances with patients started moving out.
The picture was same everywhere: groups of junior doctors at sit-ins with posters and banners in support of the two NRS doctors injured in an attack on Monday night.
Posters had the pictures of the two, Paribaha Mukhopadhyay and Yash Tekwani.
Protesting junior doctors had images of the CT scan that showed a dent in the frontal lobe of Mukhopadhyay.
At Calcutta National Medical College and Hospital, Sohochori Mondal could hardly speak as she lay on a trolley outside the emergency ward.
Around 2.30pm, relatives accompanying her said they had been waiting for close to three hours after reaching the hospital from Chowbhaga near the Bypass.
"It was a tall order arranging for her to reach the hospital. She is more than 100 years old. We reached in the morning and after completing the formalities, we were told to visit the emergency ward," Maya Sarkar, one of her relatives said.
"At the emergency ward, some junior doctors said she wasn't a critical a patient. They asked us to return on Wednesday," Sarkar said.
As Mondal lay outside the ward, junior doctors sat in rows to protest the attack on the two doctors of NRS hospital, about 2km away.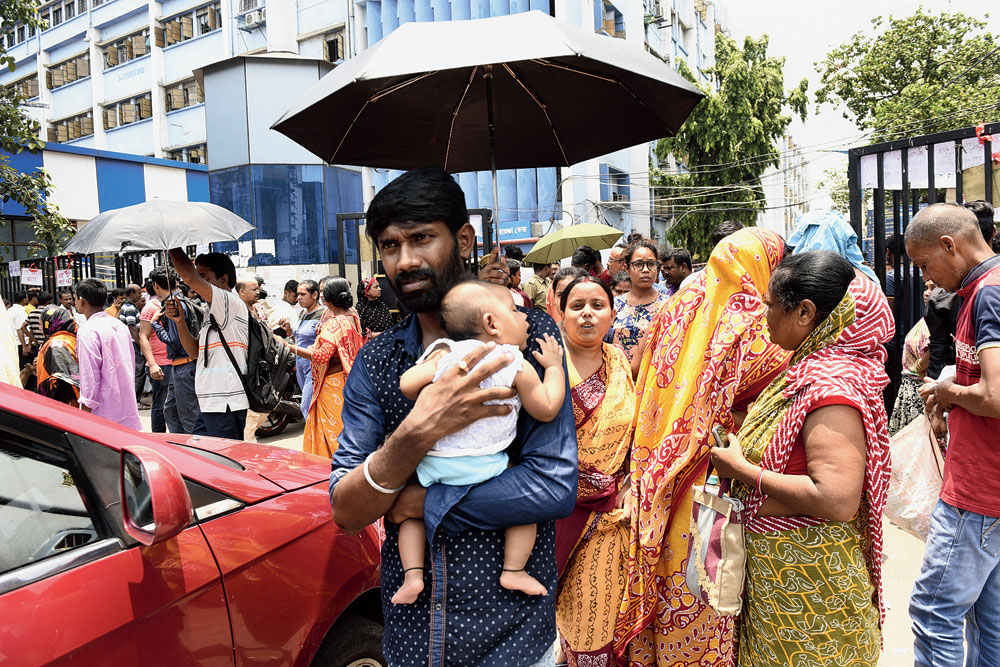 Golam Mohammed, a resident of Ramgovindapur in Diamond Harbour, stood outside the hospital's reconstructive urology clinic.
"We came all the way from South 24-Parganas. Nurses at the neurology block told us that doctors were not available today," he said. "So, our patient, Ilias Mollah, could not get any treatment."
At other wards of the hospital in Park Circus, including the medicine and paediatrics wards, a few doctors did the rounds, along with some interns.
At SSKM Hospital, the crowd kept swelling during the day outside the emergency ward where junior doctors sat, holding posters and banners.
Patients from far-off places lay inside ambulances while others just hoped the doors to the emergency ward would open.
"I have come from Rezinagar in Murshidabad in the morning. My son Sahil suffered chest and head injuries after being hit by a motorcycle. Doctors referred him to SSKM," Sahazul Gazi said.
"I don't know what to do," he said around 5pm when an attempt by a team of officers — led by Meeraj Khalid, deputy commissioner of police (south) — to persuade senior doctors to open the doors of the emergency ward failed.
By then protesting junior doctors from SSKM had moved out, walking towards NRS hospital.
Santanu Sen, Trinamul Rajya Sabha MP, who is the national president of the Indian Medical Association, visited RG Kar Medical College and Hospital and National Medical College and Hospital in the afternoon. "I requested the doctors to withdraw their protests," Sen said.
At Midnapore Medical College and Hospital, junior doctors went on a ceasework. "Doctors are concerned about their security and do not want a repeat of the NRS attack. We will talk with the police accordingly," principal Panchanan Kundu said.
At Burdwan Medical College and Hospital, interns went on a ceasework. In the morning, they first stopped work at the emergency ward.
Hospital superintendent Utpal Dawn intervened after about half an hour and services resumed. But junior doctors stayed away from the out-patient department.
Reports of ceasework by junior doctors came from College of Medicine and Jawaharlal Nehru Memorial Hospital, Kalyani, and North Bengal Medical College and Hospital.