Presidency University's Eden Hindu hostel doors open at last
Ensured safety before allowing in students, says Vice-chancellor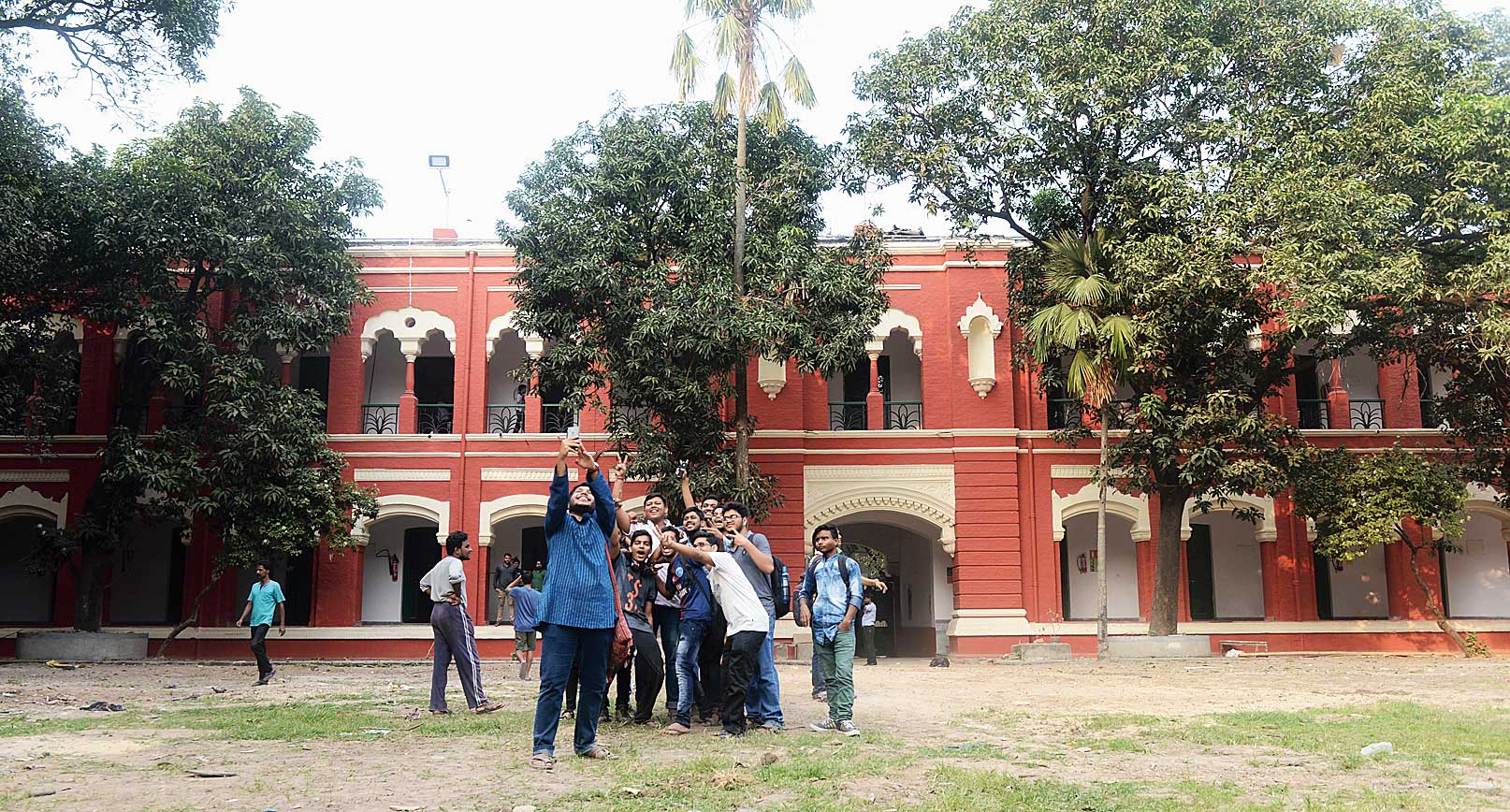 Students take a groupfie on the hostel premises after Presidency University allowed them in Building I on Monday.
Picture by Bishwarup Dutta
---
College Street
|
Published 27.11.18, 07:08 AM
|
---
Presidency University allowed students inside Eden Hindu Hostel in the two blocks of Building I on Monday, days after education minister Partha Chatterjee accused the university of prolonging the repairs.
The hostel had been shut for repairs on July 29, 2015, and more than 100 students were shifted to a rented accommodation in New Town.
"Today, we received the completion certificates from the PWD regarding fire safety, completion of gas bank, work of isolation from the working site at hostel (for the remaining two buildings) and electrical installations," vice-chancellor Anuradha Lohia said.
"A completion certificate came from Partha Ranjan Das, member architect, West Bengal Heritage Commission, as well. So, we allowed the students to stay in the hostel that is 132 years old."
The two blocks in Building I have 16 rooms. Sixty-four boarders will return to the hostel, a Grade II heritage structure, now.
The PWD tasked with the repairs had missed the November 15 deadline set by the government because of a list of requirements the university had sent about a fortnight ago, education minister Partha Chatterjee had told Metro on November 21.
The list included developing a gas bank and isolation from the working site.
The PWD had started the repairs in May this year. Before that the university was in charge of the repairs and it had failed deadlines many times.
When the university missed the July 15 deadline announced by VC Lohia in January, students had been on a sit-in on the campus from August 1. Some of the protesting students had even gone on a hunger strike from October 2-11 to protest the delay in the repairs.
When asked if the student protests had a role in the completion of the repairs, Lohia said: "I won't comment on what they have done. But without ensuring the safety and security at this very old hostel, we could not hand it over (to students). In late July we had announced the repairs would take another four to five months. That we have maintained."
Anit Baidya, a boarder who was part of the sit-in, said he and others would shift to the hostel on Tuesday.