Post-poll clashes on in 4 north Bengal districts
In Malda, BJP leaders alleged that in a number of locations, TMC supporters asked the party's booth committee presidents and other office bearers to leave their villages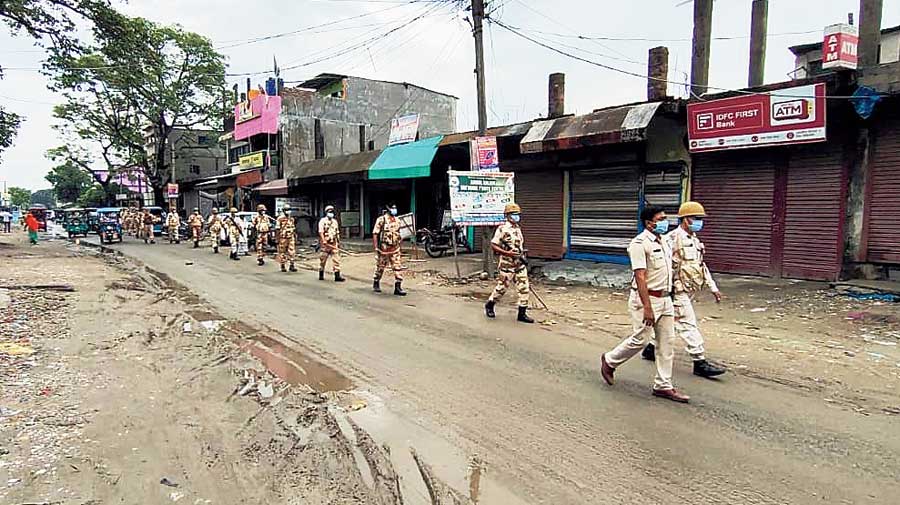 ---
|
Siliguri
|
Published 05.05.21, 01:45 AM
---
The spate of violence after the Assembly elections seems to be far from over in north Bengal, as Tuesday also witnessed a number of incidents from at least four districts of the region.
In Malda, district BJP leaders alleged that in a number of locations, Trinamul supporters asked BJP booth committee presidents and other office bearers to leave their villages.
"Goons backed by Trinamul have forced a number of workers of our party, including some from the minority community, to shut their shops. At least 15 booth committee presidents are quaking with fear as Trinamul supporters have asked them to leave their localities. In some villages, houses and shops of our workers have been ransacked and looted," said Gobinda Mandal, Malda BJP chief.
He alleged that attacks on BJP workers had been reported in Ratua and Manikchak Assembly seats of the district. Trinamul won both.
On Tuesday, Mandal attended a video-conference with BJP national chief J.P. Nadda, where he gave a list of 30 BJP workers who faced attacks, sources said. Nadda reached Calcutta on Tuesday to take stock of the post-poll violence in Bengal.
From Wednesday, Mandal said, block level leaders of the party have asked to visit the homes of affected workers.
"I will also visit these areas. If attacks continue, we will launch demonstrations at police stations and block highways," he said.
The violence is not one-sided. Raja Roy, a Trinamul worker in Telipukur of Englishbazar police station in Malda, alleged some BJP supporters brandished firearms, ordering him to leave the area.
"They asked me to campaign for the BJP at the polls. As I had refused, they charged at with firearms, asked me to leave immediately, or else face consequences," said Roy.
A complaint has been filed with the police, he said.
In Jalpaiguri, violence erupted in Dhupguri and Rajganj blocks.
On Tuesday, Gopal Roy, a BJP supporter of Baroghoria of Dhupguri alleged that while he was on his way to the railway station, some Trinamul supporters hit him with wooden planks on his head and he ended up with a skull fracture at Dhupguri block hospital.
A group of Trinamul supporters organised a rally in Haripal Colony of Rajganj to celebrate the victory of their candidate Khageswar Roy, who won for the fourth time.
As the rally was on, some suspected BJP supporters pelted bricks and stones at people and attacked them with rods and sticks.
At least three Trinamul supporters were injured. Triggered Trinamul supporters ransacked houses of a couple of BJP supporters. Police rushed to the spot and managed to bring the situation under control.
In Tufanganj subdivision of Cooch Behar district, both Trinamul and BJP supporters alleged that their houses had been ransacked, and blamed the other. In Maruganj of the same subdivision, supporters of both sides clashed again, leaving at least five injured.
Police had to rush to a number of locations to control the sporadic clashes.
The situation, however, was peaceful in the Chopra block of North Dinajpur on Tuesday. Chopra saw violence right after the election results were out.
Suspected Trinamul supporters had ransacked a number of markets from Sunday night to Monday morning, and had torched a BJP leader's house on Sunday night. Throughout Tuesday, the police and central forces held route marches in the area. Additional security forces have been deployed in the block to prevent any further breach of peace, sources have said.
'Refuge in Assam'
Around 300-400 BJP workers from Bengal along with their family members have crossed over to neighbouring Assam to escape post-result violence, according to senior cabinet minister Himanta Biswa Sarma.
Sarma tweeted the development on Tuesday night. "In a sad development 300-400 @BJP4Bengal karyakartas and family members have crossed over to Dhubri in Assam after confronted with brazen persecution & violence. We're giving shelter & food. @MamataOfficial Didi must stop this ugly dance of demonocracy! Bengal deserves better."
The Assam-Bengal inter-state border is about 127km, spanning two lower Assam districts, Kokrajhar and Dhubri. There are two inter-state check gates to enter Assam from Bengal — Srirampur in Kokrajhar and Chagolia-Boxirhat in Dhubri.
BJP workers and family members have not come on road, Dhubri SP Anand Mishra told The Telegraph.
"They started arriving in ones and twos since Sunday but the numbers increased from Monday night. They have come through fields and nallahs from neighbouring Cooch Behar district in Bengal. The district administration, NGOs and local villagers have extended relief. They will also be tested for Covid," Mishra said.
Additional reporting by our Guwahati correspondent