Poor upkeep hits Nadia bridge
Expansion joints of the suspended spans of Gouranga Setu over Bhagirathi river were dislocated after which movement of heavy vehicles were suspended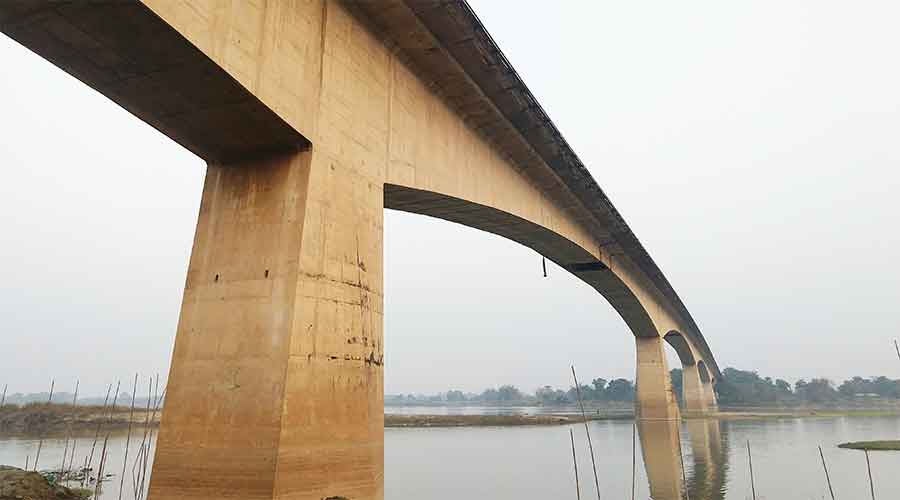 ---
Kalyani
|
Published 21.10.21, 02:33 AM
|
---
Traffic between Nadia and East Burdwan district was affected since Wednesday morning as the state public works department suspended movement of heavy vehicles on Gouranga Setu over Bhagirathi river in Nadia.
The expansion joints of the suspended spans of the cantilever bridge were dislocated owing to poor maintenance, said sources.
PWD authorities on Wednesday barricaded the lane under which the joints have been dislocated while keeping the other lane open to allow movement of only light vehicles.
A team of PWD engineers of Nadia highway division-II led by executive engineer Sanjay Singh examined the bridge and said movement of heavy vehicles would remain suspended till repairs were done. Repairs will start from Friday after a fresh visit by experts on Thursday.
Singh told this paper: "Expansion joints of 6m-wide suspended spans of the cantilever bridge have become dislocated by over an inch, hence making it uneven. We have examined the joints of the bridge from various angles."
He added that it was a good sign that so far no crack was noticed. "So, we have barricaded one lane of the bridge to avert further damage," he said.
"We have done preliminary investigations today (Wednesday). There will be a fresh investigation by our expert team on Thursday and we have planned to start restoration work from Friday with a target to finish repairs by one week," Singh said.
The 569-metre-long cantilever bridge connects Krishnagar with Nabadwip in Nadia, adjacent to Purbasthali block in East Burdwan district. A large number of vehicles and inter-district public transport connecting Nadia, East Burdwan and Birbhum use Gouranga Setu.
The "over-hanging balanced cantilever beam" bridge was inaugurated by former urban development minister Bhola Nath Sen of the Congress government on June 17, 1973.
This bridge spans over six piers. One approach pier at both ends is located on the river embankment while the other four piers are based on the riverbed.
In 2016, two of the main piers of the bridge were dislocated owing to erosion of river embankment and repeated floods during monsoon. The snag was repaired but the bridge's health remained feeble.
Residents and motorists  said soil at the base of piers eroded regularly and feared that this might lead to the bridge collapsing. They also demanded the construction of a new bridge as an alternative to the Gouranga Setu.
"Gouranga Setu is around 50 years old and its two lanes take a huge load every day. The state government should consider building a new bridge as it has been doing for Iswar Gupta Setu over river Hooghly that connects Nadia (Kalyani) to Hooghly (Tribeni)," a local resident said.
To this, Singh said: "We have so far no such proposal for a new bridge."