Poll campaign rolls out in Salt Lake during Covid times
Candidates and party workers face a tough and tricky task to reach out to voters and are having to innovate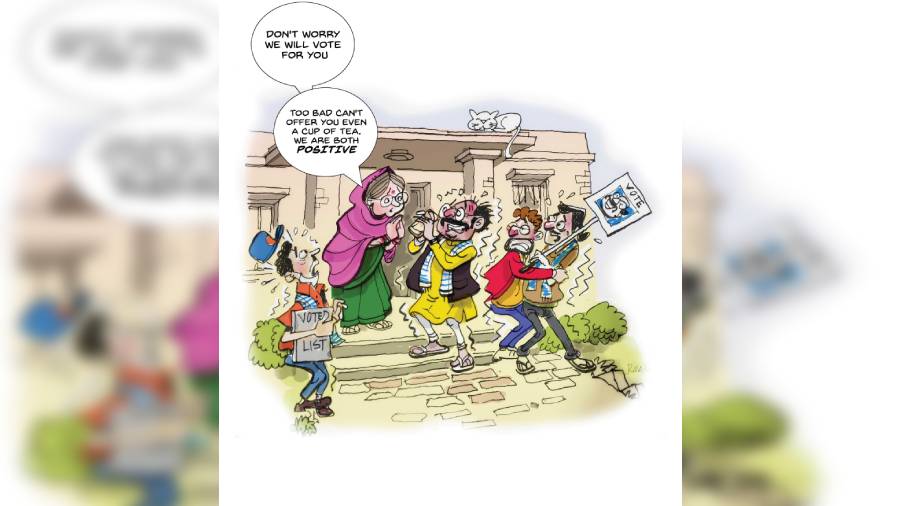 Illustration: Pratik Chakrabarti
---
Salt Lake
|
Published 21.01.22, 01:44 PM
|
---
A motley group of five presses the door bell and as an elderly lady opens the door, the party workers greet her: "Nomoskar. Our candidate is here to seek your blessings." This is the cue for the candidate to step forward and ask: "Ki Mashima, bhalo achhen toh (Hope you are doing well, auntie)?" The lady replies sadly: "Bhalo ar ki kore boli? Uni ar ami dujonei positive (How do I say we're well? Both of us are Covid positive)."
Rahul Ganguly, a CG Block resident, grimaces as he recounts the encounter. "Imagine our situation! She was standing barely a couple of feet away. We couldn't bolt as that would have sent a negative signal to a voter. So our candidate quickly wished them a fast recovery and we beat a retreat."
This is not an isolated experience for Ganguly, who is campaigning for Trinamul Congress in Ward 30. With Covid positive patients in every other house, door-to-door campaigning and voter list scrutiny has turned out to be a walk in a landmine-infested field for all party workers.
In Ward 31, Trinamul candidate Sabyasachi Dutta's followers faced an insistent middle-aged woman who invited them in for breakfast. On being refused, she tried to hand each a mineral water bottle, arguing that the bottles were sealed and could not cause infection. By then, she had revealed that four of her family members were down with Covid. One of them, possibly her father-in-law, was out maskless on the first floor verandah, striking up a conversation with Dutta. He was one of those supposed to be in isolation!
To guard from such exposures, Ganguly's family had urged him not to step out. "But we are political workers. How can we stay home in election season?" So he hits the campaign trail with double mask on. That makes breathing a challenge while climbing stairs as Ward 30 includes multi-storeyed apartments like Baisakhi Abasan and CPWD quarters. Of late, though they were sticking to miking along the main road. "But we have to go door to door again while distributing voter slips."
Repeated visits by different parties also draws the ire of especially the senior citizens who are trying to stay cocooned from Covid infection. "One party came yesterday. Now you are here. We don't want visitors to bring Covid to our doorstep," an elderly gentleman slammed us. But what can we do? If other parties are campaigning, we have to do so too," shrugged a BJP worker.
"A candidate had started going door-to-door and we had to ask her to stop. It's not safe. We have had at least 22 Covid cases in our complex this month and cannot take chances. The candidate agreed. Most of them are travelling in the lanes and speaking over the loudspeaker now," said Bijoy Narayan Choudhury, vice-chairman, board of directors, Jal Vayu Vihar.
But in a few cases, the residents themselves want to increase their rapport with the candidate. At a house in AK Block, former mayor Krishna Chakraborty was invited in by a resident in her 30s who said she had made tea on hearing she would be coming. "If someone offers something with love, how can I refuse?" Chakraborty said, as she sat with her followers in the driveway sipping tea and biscuits. At another house, she got called for breakfast but politely declined.
Dip in numbers
All parties are resigned to the certainty of a low turnout. The first election in Covid times saw 66.47 per cent voters turning up for the Bidhannagar Assembly election in May. "In the Assembly polls, we had 69.68 per cent votes cast in our ward (Ward 30). This time, it is unlikely to cross 34-35 per cent," shrugs Ganguly. "Many senior citizens are telling us that they won't go to vote this time."
In course of her campaign from an open-air four-wheeler, former mayor Krishna Chakraborty, who is contesting from Ward 29, appeals over the microphone on spotting a familiar face: "Coronar jonyo vote miss koro na. Ami tahole bus miss kore jabo."
Karunamoyee resident Suvakshan Dutta, who is working for the BJP in Ward 32, estimates the polling percentage would be around 45-50. "Even my mother, who is recovering from Covid, is so scared that she has told me she won't vote."
That has made the opposition worried about fair polling. "Low voter turnout will make it easier for the ruling party. They will get through if they can cast just 10 to 15 per cent false votes," Suvakshan says.
Curbs on campaign
The Election Commission has restricted the number of people accompanying a candidate in campaigns to five. That has proved a tricky issue for leaders used to moving around at the head of big groups of supporters during elections.
Chakraborty was initially campaigning in an open vehicle. But later she took to walking with about 10-12 people as the vehicle moved in front with her campaign banner. "Most of them are my bodyguards," she clarified when the media took photographs. Chakraborty's predecessor in the mayor's seat Sabyasachi Dutta used the same explanation for his accompanists numbering around eight. "Three are my bodyguards," he said.
Ward 41 Trinamul candidate Ratna Bhaumik had called block residents to a meeting over tea at the AA Block community hall on Sunday. The room had over 40 listeners, including some senior citizens, with little scope for physical distancing. Some coughed with masks hanging under their chins. A maskless Banashri Samanta, a senior citizen, said she had left an ailing husband at home with an attendant and come. Probhanjan Dutta, 90, said he was bored sitting alone at home. At the end of chief guest Sujit Bose's speech, many crowded around the minister to click pictures with him.
Switchover posers
Sabyasachi Dutta, contesting from Ward 31, may be a familiar face having been a four-time councilor as well as mayor but he faces a tougher task than his colleagues because of his political switchovers in the recent past.
This was evident when The Telegraph Salt Lake accompanied him on his campaign trail on January 5. He started from 9.30am but on a winter morning even that seemed too early for some residents who looked just out of bed when they came to the door to answer the bell.
Several seemed happy with his ghar wapasi but did not hold back from giving him a piece of their mind. "Tomar ki bhimroti hoyechhilo (Had you gone senile)?" asked one. Another in CF Block bitingly said: "Shob toh bhondul kore chole gechhile (You messed up everything and left)". One expressed apprehension whether he would change political colour again. "Vote debo, abar paliye jabe na toh (Once we vote, won't you run away again)?" asked a resident in his face. Dutta later admitted the disenchantment his political misadventure had caused among a section of the voters but said it was the lesser one of his problems. "I know that Bengali families are angry and disappointed with me. Still it's easier to placate them. But with every Marwari family I have to tell them that this time they need to press the grass flower button to vote for me, not the lotus one. That is proving to be a big challenge for me," he said.
After all, not even eight months have passed that he was at their door seeking their support as the BJP candidate for the Assembly election. And the ward did give him a lead of 1,308 votes, the highest that the BJP got in any ward of Salt Lake, though that did not prevent his loss to Trinamul Congress' Sujit Bose.
But he is hoping that the Assembly election result, giving a clear mandate to Mamata Banerjee, will change that equation since he is now fighting on a Trinamul ticket. "Jaisa desh, waisa vesh. We will vote for the winning party," a Hindi-speaking voter assured him.
Trust in technology
With the Covid numbers spiking in January and the election pushed back by three weeks, most candidates have kept door-to-door campaigns on hold for now.
The CPM is campaigning online, hosting six e-pathsabhas — Facebook live sessions on the party's North 24-Parganas page — including two for its Salt Lake candidates. "We had to change tack from the conventional way of campaigning in these changed times. Our accountability is more to people. Utsab, furti kore lagamchhara bhir bariye manushke bipode phela amader kaj noy (It is not on our part to gather uncontrollable crowd by organising festivals and revelry and put people in danger)," said Sayandip Mitra, CPM state committee member, at the first session. All the speakers harped on the violence that had marred the last civic elections in 2015. "It was a black day for democracy. We will not let that happen again," the CPM candidates vowed.
At least one Trinamul candidate is embracing technology. FD Block resident Banibrata Banerjee is contesting from Ward 33. "Since entering buildings is not possible any more, I have collected phone numbers of one resident from each house in the six blocks that my ward comprises. Every other evening, I am sending more than 100 people Google Meet links and hosting online meetings. About 40 to 70 of those approached log in. I say a few things and then let them ask me whatever comes to their mind."
He is so happy with this form of communication that he thinks he might continue with this approach even in post-Covid polls. "Those who are unlikely to attend my street-corner meetings are talking to me freely." That includes airing grievances against lapses in civic service during the tenure of previous councilor Neelanjana Manna. "But that displeasure is unlikely to hurt me. Since I have served them for a year and half before this ward was reserved for women in the 2015 polls, they know my track record and many are expressing relief that I am back here this time."
Tulsi Sinha Roy, the Trinamul Congress candidate for Ward 40, is using WhatsApp groups and Facebook for campaigning remotely and sending booklets of her achievements to houses. "I'm excited about going to polls after so many years. For instance at Labony Estate, in the first round of campaigning I went to every flat. Now, other than using social media, I am addressing voters over mic. Lots of people are inviting me in but I'm telling them it could be dangerous for them since I'm moving about freely. I'm promising to visit them after the elections." Backend blues
It isn't just the political parties who are having a tough time gearing up for the elections. Spare a thought for the officials in the Bidhannagar Sub-divisional Office. "Seven of our 14 assistant municipal returning officers are in isolation now. Even the municipal returning official (SDO) had a bout of cough and cold. The block office in Rajarhat was in worse state. So many were down with Covid, including the block development officer herself," an official told The Telegraph Salt Lake on Saturday.
But the silver lining is that much of the template was ready since the Assembly polls eight months back. "The same database was used, the same polling personnel are deployed. In any case, civic polls require less procedure than Assembly or Parliamentary polls," the official said.
Despite a severe manpower crunch due to Covid infections, the major share of the work is done: polling personnel training, EVM commissioning (pasting of the ballot papers on the electronic voting machines)... "We are all set. Just the distribution of the EVMs was left. In a way, had the polls happened as scheduled, our headache would have been over. Who knows if those of us who are still healthy would fall sick by February 12?" the official wondered.
Additional reporting by Debasmita Bhattacharjee and Brinda Sarkar
In what ways do you find the civic poll to be different this year? Write to The Telegraph Salt Lake, 6 Prafulla Sarkar Street, Calcutta 700001 or email to saltlake@abp.in