Police-CBI face-off shifts from Calcutta streets
The CBI and Calcutta Police seem to be engaging more in tactical warfare than in a legal battle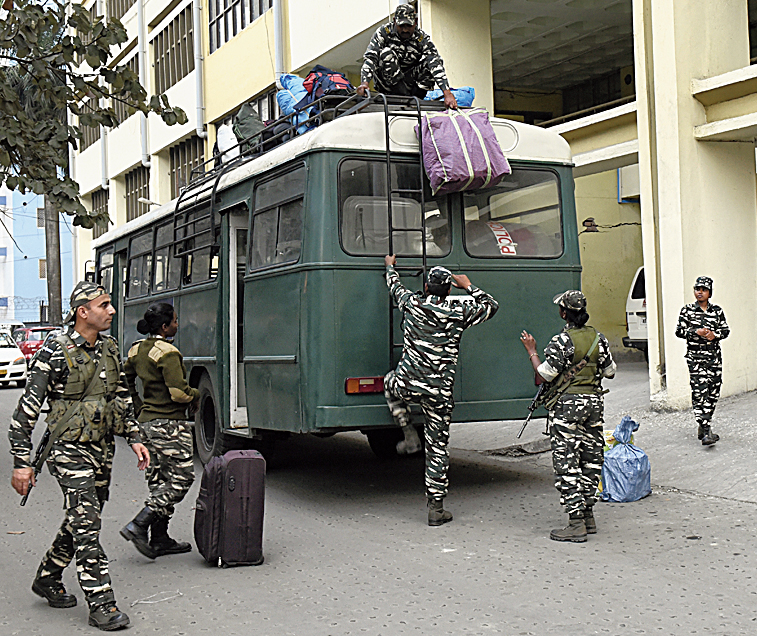 ---
|
Calcutta
|
Published 04.02.19, 09:11 PM
---
 The CBI and Calcutta police continued to outwit each other, though silently, on Monday.
The police served a summons on CBI joint director Pankaj Srivastava seeking his presence for examination in connection with a case registered with Bhowanipore police station against some officers of the agency by a trader in Hooghly.
On the other hand, the CBI top brass in Calcutta held a meeting at Nizam Palace here with those officers who had gone to police commissioner Rajeev Kumar's residence on Sunday and sent a detailed report to Delhi. A list of Calcutta police officers who "resisted" the CBI move on Sunday were named in the report.
"From the way both the agencies are acting and reacting, it is clear this has become more of a tactical warfare than being a legal battle," said a retired IPS officer.
The Calcutta police sent a summons to the CBI joint director under section 160 of the CrPC that deals with examination as a witness in a case.
Sources in Bhowanipore police station said a case had been registered against a CBI officer and a few others accusing them of wrongful confinement of a trader in Hooghly.
Srivastava, however, refused to divulge details. "Our officers are looking into it. We are not entitled to speak more on it," he said.
Although there was no physical movement by the city police to cordon off the central agency's offices as they did on Sunday night, the tension at the CBI offices at Nizam Palace and the CGO complex was palpable.
Additional central forces were brought from West Midnapore for their posting at the offices. A group of 35 personnel, including 15 women, was brought from West Midnapore, where they had been camping since 2009 when the area used to be a Maoists' hotbed.
"The personnel arrived at our Salt Lake premises around 5am and they were deployed at three places, CGO Complex, Nizam Palace and a place in sector-V in Salt Lake where CBI's staff quarters are located," said a CRPF official.