Poet Binoy Majumdar's award plaque stolen
The Sahitya Academy award was conferred on the noted Bengali poet in 2005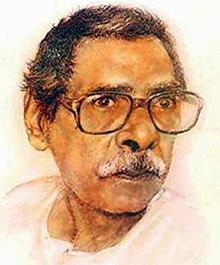 ---
Published 31.12.19, 07:47 PM
|
---
Burglars broke open a library-cum-archive at the residence of poet Binoy Majumdar in the Thakurnagar-Shimulpur area of North 24-Parganas on Monday night and fled with the metal Sahitya Academy award plaque and the accompanying citation.
The prestigious award was conferred on the noted Bengali poet in 2005.
Sources said the award had been kept inside a locker in the archive which was formerly the home of the poet. They said only a handful of officials of the Kabi Binoy Majumdar Smriti Raksha Committee and its Library committee had access to the locker.
"A large number of readers and researchers regularly visit the library and the archive in the evening. Both the wings are kept open for about four hours in the evening everyday," said an administrator.
The theft came to light on Monday evening when the secretary of the library, Baidyanath Dalapati, found the archive's entrance ajar and its lock broken. "I came to the library as usual in the evening, but found the door open. I went inside and saw the steel almirah containing valuable documents, manuscripts and the award open. I was shocked when I noticed that the Sahitya Academy award of the poet was missing. I immediately called the librarian," said Dalpati.
"After checking everything, Jagadish (the librarian) confirmed that only the award and the citation were missing," he added.
Dalpati lodged a police complaint.
Members of the committees were also informed about the incident on Monday night.
Some sources said differences had cropped up among members on the committees that looked after the archive and the library. Police officers involved in the probe did not rule out such an angle behind the theft and said they were still conducting on-site probes.
Shiben Majumdar, the secretary of the Binoy Majumdar Smriti Raksha Committee, said: "It appears insiders who wanted to embarrass a rival faction were behind the theft."