Playing it by ear on the football field
Visually impaired impress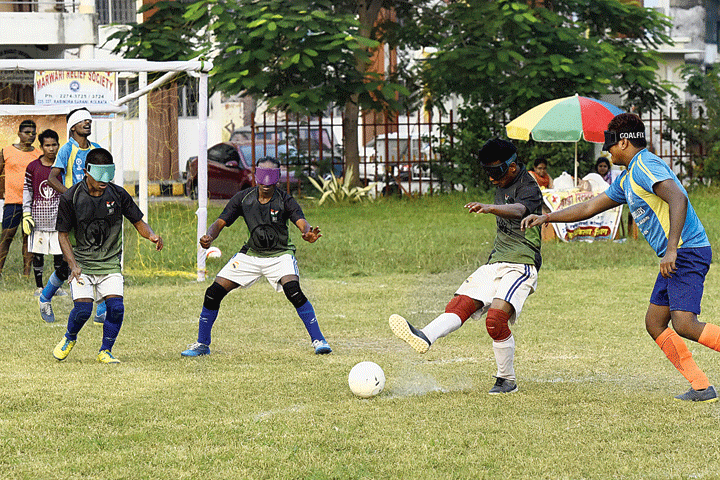 ---
|
Calcutta
|
Published 17.11.19, 08:46 PM
---
A football that made a jingling sound and eight blindfolded players shouting while passing or dribbling the ball had the spectators applauding at Rabindra Bharati University on Sunday.
Six teams from Calcutta, Siliguri, Bihar, Odisha and Tura (Meghalaya) battled it out for the top slots in the second East Zone Blind Football Tournament.
Team Calcutta defeated the team from Tura in a tiebreaker on Sunday. The crowd cheered on as Raj Kumar, a forward, netted one over the goalkeeper's head.
The five-a-side matches were played in a 40mX20m arena, just like futsal, and had rolling substitutions like basketball. Each match lasted around 25 minutes.
"It is incredible how they (the players) are able to understand where the goalpost is or even where the ball is. It shows anything can be achieved with determination and grit," said Debashis Sarkar, the deputy commissioner, north and north suburban division of Calcutta police.
The tournament was organised by the Kochi-based Society for Rehabilitation of the Visually Challenged (SRVC) along with the Football Association for the Blind in Bengal.
"The visually impaired players track the ball by listening to its jingling sound. All players except the one with the ball keep shouting 'Voy', which means I am here in Spanish, every two seconds. The goalkeeper is sighted and gives out instructions to the players along with two coaches or guides who are outside the field," Samuel J. Mathew, the sporting director of Indian Blind Football Federation, said.
All players except the goalkeepers wear a blindfold to offset visual advantage.
Ravi Vishnu Chomal, an organiser, said matches like these should be organised often.
"There is no system in place for talent scouting," rued Asif Iqbal of the Welfare Society for the Blind, who liaised with the SRVC to organise the matches.
"The aim of IBFF is develop the game in new regions and provide a platform for developing differently-abled talents to showcase their footballing skills. The best players of the tournament will be groomed and trained by our organisation," Mathew said.