Plan to reintroduce tigers in Buxa reserve
Tiger experts will visit the Buxa Tiger Reserve soon to study the feasibility of the tiger augmentation programme which we have planned: Soumitra Dasgupta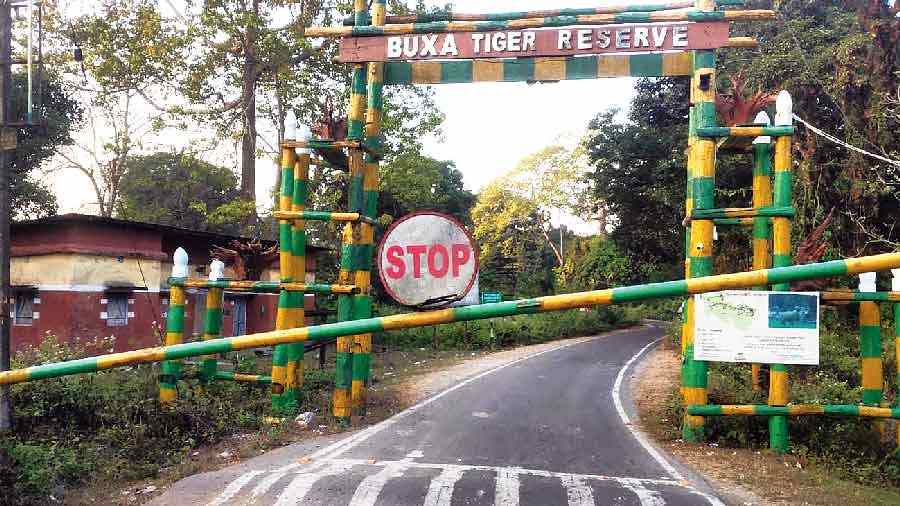 The Buxa Tiger Reserve in Alipurduar.
File picture
---
Alipurduar
|
Published 06.11.22, 12:32 AM
|
---
Senior officials of the state forest department have drawn up a comprehensive plan for the reintroduction of tigers the Buxa Tiger Reserve (BTR) in Alipurduar district.
Soumitra Dasgupta, the principal chief conservator of forests and head of the forest force in the state, said on Saturday that a team of experts would visit the BTR soon and recommend measures regarding the reintroduction of tigers.
"Tiger experts like Rajesh Gopal and others from the Global Tiger Forum, Wildlife Institute of India and the National Tiger Conservation Authority will visit the Buxa Tiger Reserve soon to study the feasibility of the tiger augmentation programme which we have planned. They will also decide on the timeline as to when tigers can be released here," Dasgupta told newspersons.
Tigers have not been sighted at the BTR for decades. The forest department plans to bring tigers from Assam and release them into the reserve.
A few months ago, photos of a tiger were clicked in trap cameras installed in the BTR. However, a section of experts believe that the tiger might have come from Bhutan or the Manas National Park that is in the neighbouring state of Assam.
The forest department has released deer and other herbivores at the BTR to create a prey base for tigers.    
As a part of the programme, the department has also taken up the task to relocate forest villages that are in the BTR area.
"The process of relocation of Gangutia and Bhutiabusty has been initiated. We believe it will end within the next few months. Also, there is a plan to relocate three other villages from the core area (28th mile, 29th mile and Jainti). We are not forcing anyone but want to conform to socio-economic development of villagers and simultaneously make the area free for wildlife," the forest official said.  
He underscored another important issue that the department has been trying to resolve for years.
Every day, Dasgupta pointed out, hundreds of cattle enter the reserve area for grazing.
"We will speak with the administration and the departments concerned to ensure that the immunisation of cattle is carried out in a regular manner. This is because cattle entering the forest could spread anthrax and foot and mouth disease among the wildlife," he said.  
The PCCF said that in the coming months, the department would make some recruitment in different posts to fill up vacancies.
Over the past few years, foresters have been privately saying that manpower needs to be augmented for better conservation of forests and wildlife across the state and also for mitigation of man-animal conflicts. 
"The process to recruit 160 deputy rangers or forest rangers is in progress. Also, 174 clerks will join the department soon. There is also a plan to recruit 1,000 forest guards in the next one year," said Dasgupta.