Plagued by theft of trees, villagers keep vigil
They said criminals are also looting soil and sand from the riverbank and riverbed, erosion was drastic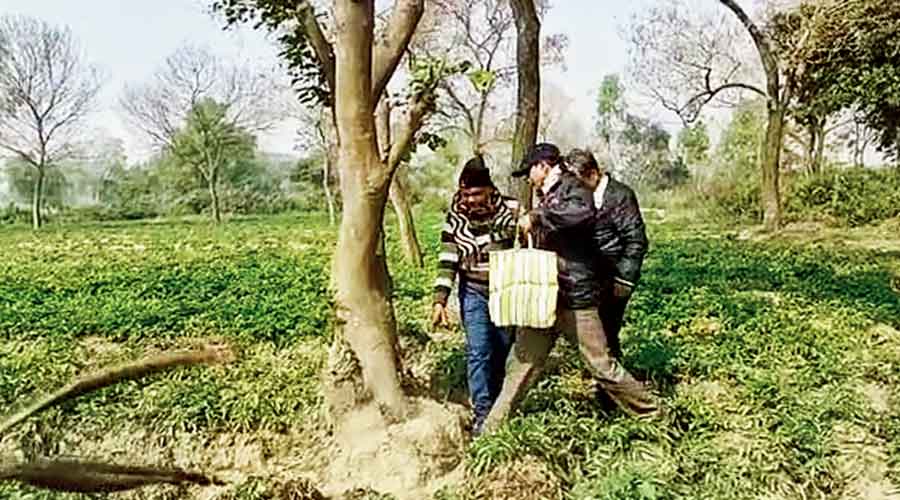 Forest officers inspect the area from where trees were stolen at Mubarakganj in West Burdwan.
Dipika Sarkar
---
Durgapur
|
Published 18.02.22, 02:01 AM
|
---
Residents of a cluster of villages along the Damodar on the Bankura- West Burdwan border have complained of rampant felling and smuggling of trees and loot of soil from their locality by goons, which has resulted in erosion of riverbanks and damaged paddy fields.
Angry over the lack of help from local administration and forest officials, villagers of Amlajora, Mubarakganj, Dhobadanga, Napara, Babnabera have formed a committee to keep vigil on the trees and prevent theft of soil.
"The goons regularly fell trees and excavate soil… We have lodged several complaints with the forest and local administration but nothing has been done yet," said Jahar Mandal, a villager.
"Trees maintain ecological balance and give us oxygen. Rampant felling of trees poses a threat to nature," said Subir Dhara, another villager.
Villagers said the trees — mostly Sonajhuri, Sishu, Saal and Eucalyptus — had been planted by the Damodar Valley Corporation (DVC) on 180 hectares of land three decades ago to compensate the damage to greenery and forest while setting up its power plant at neighbouring Mejia of Bankura district.
Sources said the market price of each Sishu and Sonajhuri tree is between Rs 25,000 and Rs 20,000, while 100 cubic feet of soil fetches around Rs 600.
Villagers said with the criminals felling trees and looting soil and sand from the riverbank and riverbed, erosion was drastic. "When the river swells during monsoon it floods the region and affects our cultivable land. With tree-felling and soil theft, we have been exposed to erosion," said villager Dhara.
The area comes under the jurisdiction of Bankura forest division and the block land and land reforms of Barjora block in Bankura.
Following the outcry by villagers, a forest team inspected the area last week. But officials said that the area from where trees were being smuggled did not come under their jurisdiction.
Forest officials in Bankura said out of the 180 hectares, only 50 hectares of land figured in their record.
"We have only 50-hectares land in the area and no trees are being felled or smuggled from our land. The rest of the land is not in our records and we have to verify it with the land department," said Durgakant Jha, additional divisional forest officer in Bankura. However, he said that they had increased vigilance in the forest.
Local land officials said they would urge the police to take proper action. Police officers, however, again raised issues of jurisdiction.
Police said the villages were located on the border of West Burdwan and Bankura. "The area is not easily accessible because of Damodar. If we want to reach the site, we have to travel for at least 30km after crossing Durgapur barrage," said a police officer in Barjora.
The area is near Kanksa police station in West Burdwan but not under its jurisdiction. "The criminals are taking advantage of the location that is not easily accessible for the police and administrative officials," said a police officer.