Pet elephants and wild herbivores injected with medicine in Jaldapara
Vaccination against anthrax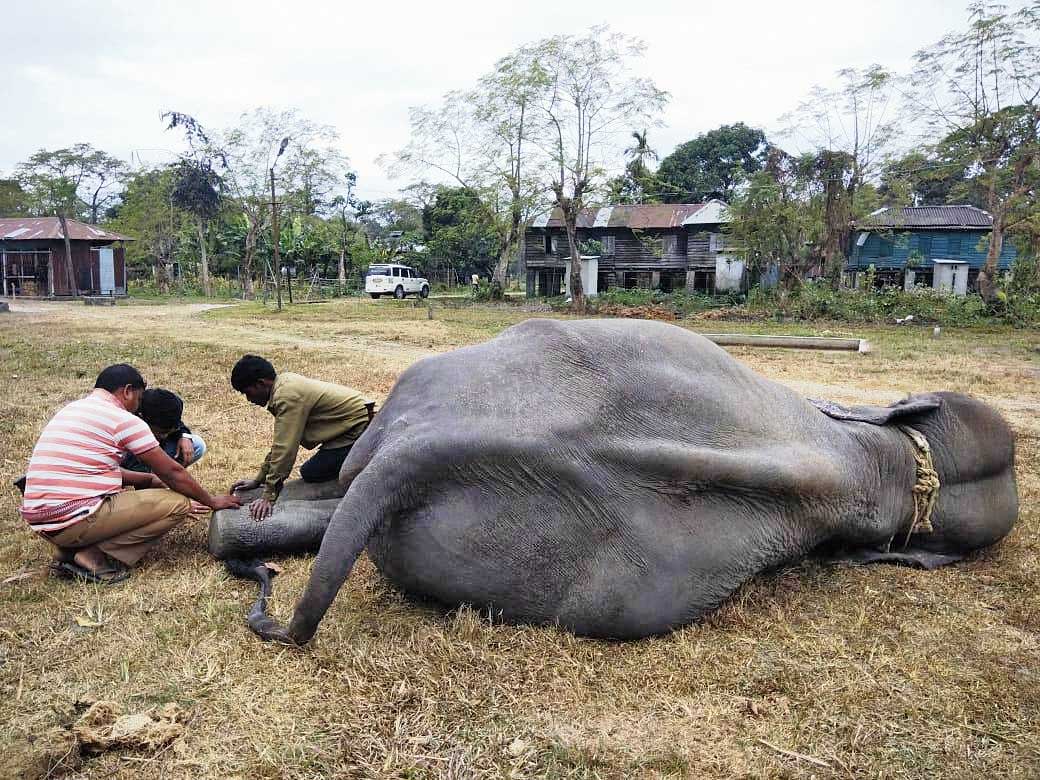 Vets inject anti-anthrax vaccine into a pet elephant in the Jaldapara National Park on Saturday.
Picture courtesy: Bengal forest department
---
Alipurduar
|
Published 22.02.20, 07:23 PM
|
---
The Bengal forest department launched a drive on Saturday to vaccinate all herbivores in the Sishamara beat of the Jaldapara National Park and over 70 pet elephants against anthrax which is suspected to have caused the death of five rhinoceros in a span of three days.
No rhino was found dead or ill in Jaldapara on Saturday.
"Although we have not received reports on tests conducted on the blood samples of dead rhinos, we do not want to take any risk and started a vaccination programme. Vets and our staff are injecting anti-anthrax (anthrax spore) vaccine into animals to prevent their illness or deaths, said a senior forester.
On Saturday, six rhinos spotted within a radius of one square km in the Sishamara beat under Jaldapara East Range were administered vaccines. Some pet elephants were also given the anti-anthrax vaccine.
The forester said only herbivores in the Sishamara beat would be injected with the medicine.
All the five deceased rhinos were adult females and four of them had died in the Sishamara beat. The carcass of one rhino had been found in the Malangi beat on Wednesday night.
Apart from vaccination, the park authorities will take other measures also to stem the spread of any communicable diseases among animals.
"The entire forest of the Sishamara beat will be disinfected and for that, grasses will be burned in a controlled way. No animal will be allowed to enter the Sishamara beat till all herbivores in the area are vaccinated. A drone has been engaged to find out whether there is any ill animal or carcass anywhere," the officer said.
The forest department also decided to suspend elephant safaris for tourists at the park for four days from Saturday. "By Sunday, all 78 pet elephants will be vaccinated. We have intensified vigil for which we need more pet elephants. That is why the safari has been suspended. We are waiting for reports to know the exact cause of the rhinos' deaths," said Kumar Vimal, the divisional forest officer of Jaldapara wildlife division.
Jagannath Saha, a retired veterinary doctor from Falakata in the Alipurduar district, has been engaged for the vaccination programme, along with some other vets. When there had been an anthrax outbreak among herbivores in Jaldapara in 1993, Saha had played a vital role in controlling the situation.
"Following the rhino deaths, it has also been decided that a veterinary officer will be posted in Jaldapara permanently. Saha will join on Sunday," said a source.
A section of senior foresters who are not attached to the Jaldapara sanctuary are of the opinion that experts from Kaziranga National Park in Assam should be brought in to deal with the crisis.