Periods keep girls away from school, finds study
A study on 50 girls aged between 11 and 19 years in a Calcutta slum in 2021, around 64 per cent of the respondents did not know about menstruation before onset of their periods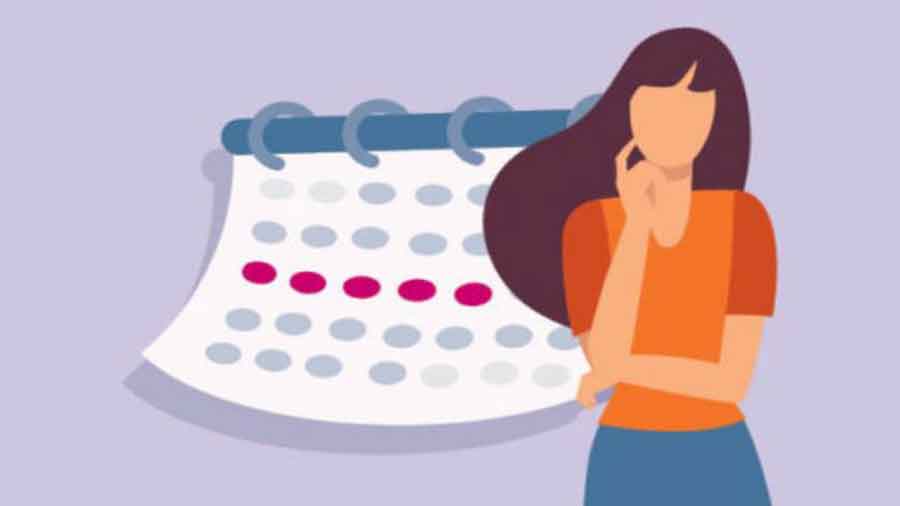 Representational image.
File photo
---
Calcutta
|
Published 01.09.22, 01:57 AM
|
---
Many adolescent girls in the country stay away from schools during their periods and hesitate to talk openly about menstrual health and hygiene at a time the Indian Space Research Organisation, in a mission to celebrate "Azadi ka Amrit Mahotsav", launches  into the earth's orbit a satellite built by 750 girls. 
As India turns 75, NGO CRY — Child Rights and You — has launched a pan-India campaign "Let's Talk About It! Period!" to address taboos around menstruation to help adolescent girls to get over their embarrassment and deal with period-shaming, which is widely prevalent across the country.
According to a study conducted on 50 girls aged between 11 and 19 years in an urban slum in Calcutta in October and November 2021, around 64 per cent of the respondents did not know about menstruation before the onset of their periods.
Thirty-four per cent of girls thought of periods as a "punishment" and 74 per cent agreed that women should not talk about their periods when men were around. About 86 per cent felt uncomfortable to talk about their periods and 96 per cent of girls agreed that women must hide anything that showed that they were menstruating.
National data cited by CRY suggests that more than half (52 per cent) of adolescent girls are unaware of menstruation until they get it themselves, and one out of every four girls between 15 and 19 years do not practise proper menstrual hygiene. The NGO has referred to a 2016 research published in an article in BMJ Open, a peer-reviewed open access medical journal on menstrual hygiene in adolescent girls in India.It is common knowledge that sanitation related to menstruation is a huge problem.
Numerous schoolgirls, including at well-known institutions in Calcutta, complain about unsanitary toilets with no facility to either clean themselves or dispose of sanitary napkins. In co-educational schools, in the city and outside, period-shaming is common.
Girls complain that they are teased by boys during periods and are subjected to lewd comments. A young college student recalls how male students in her class would sing a Bengali song about the ebb and flow of a river whenever they knew a girl student was menstruating.
The NGO wants to address several problems that girls face about menstruation. Its three-month-long campaign will primarily focus on girls within the age group of 10-17 years and its secondary audience will include adolescent boys, family members and community members. The campaign will culminate on October 11, the International Day of the Girl Child."Historically, the culture of silence and the social stigma attached to periods have been fuelled by the patriarchal narrative deeply ingrained in our culture and social norms, and is fed by girls' lack of knowledge around menstruation," said Puja Marwaha, CEO of CRY.
"Through this initiative, we aim to encourage adolescent girls to openly talk about periods as a normal body function instead of a topic that incites shame and embarrassment; address myths and taboos related to menstruation and shed light on the facts; and inspire a circle of support for adolescent girls, including their family members, male peers, teachers and community allies."