People right to be worried: Author
'Lots of people internationally look at India and admire its democracy and its democratic traditions'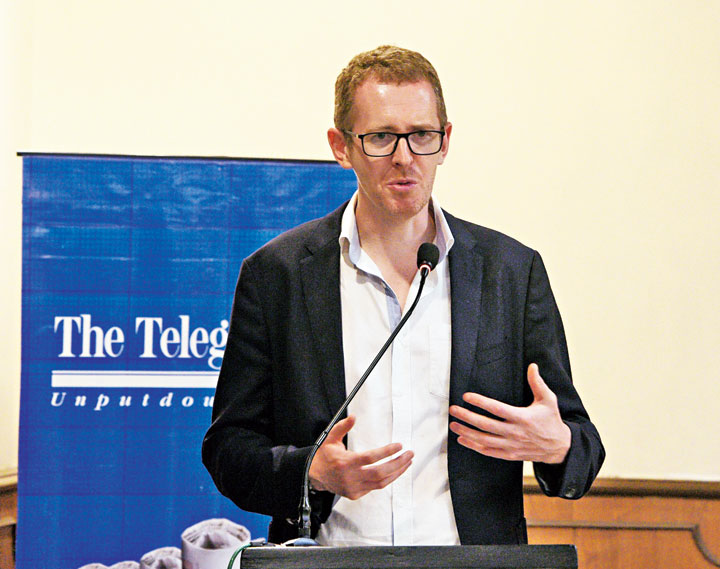 ---
Calcutta
|
Published 25.01.20, 08:04 PM
|
---
A British author on Friday said he, as a "liberal outsider", found a lot to admire in the "values of the Indian Constitution and its tradition of democracy".
James Crabtree said people here and internationally were "right to be worried" at the moment.
He was in the city for The Bengal Club Library Talk in association with The Telegraph on Friday evening and had a session on his book The Billionaire Raj: A Journey Through India's New Gilded Age.
Crabtree now teaches leadership and political communication and the economic and political implications of the global financial crisis at the Lee Kuan Yew School of Public Policy in Singapore.
"I lived in India and as a liberal outsider found a lot to admire in the values of the Indian Constitution and its tradition of democracy in the aftermath of Independence and in particular in the fact that it a multi-faith, multi-ethnic democracy... and so seems to me people are quite right to be worried about that at the moment," he said.
Crabtree, who lived in Mumbai from 2011 to 2016, was speaking to Metro on what he thought about the Citizenship (Amendment) Act and the National Register of Citizens and the protests by so many people, including women.
"I think lots of people internationally look at India and admire its democracy and its democratic traditions and are very worried about what is happening under this government as are clearly a lot of people in India itself…. And it's one of the more troubling aspects of Mr Modi's (Narendra Modi) prime ministership and that's why people are coming out on the streets to protest," he said.
"I think lot of India's friends abroad are also as worried as people are here about the direction this government is going in."
Responding to a question from the Bengal Club audience, Crabtree said this government had been "energetic in pushing a cultural agenda" and "disappointing on economic reforms".
"You need to both be introducing wise economic reforms and coping with the more difficult economic environment.... I suppose at the moment I don't see huge reasons for faith in the economic agenda of the Modi administration, which since the second election has been disappointing on economic reforms as it has been energetic in pushing a cultural agenda."
A member of the library committee of Bengal Club, Sarojesh Mukherjee, introduced Crabtree and read a few reviews of his book.
Crabtree said the billionaires in the title of the book were the super wealthy of India. "The book tells the story of how India went from being a country with almost no billionaires to having more than a 100, more billionaires than almost any other country in the world apart from America and China. It tells the story of why that happened, the problems of crony capitalism and excessive debt that came along with that and it asks, is India going to be able to leave behind the problems of inequality and corruption and crony capitalism that have marked its recent history or are these going to be problems that stay with it for the foreseeable future."