People of East Midnapore, South 24-Parganas and North 24-Parganas asked to shift before high tide
With several stretches of embankments breached by Cyclone Yaas yet to be repaired, fear of flooding has made officials evacuate residents from vulnerable areas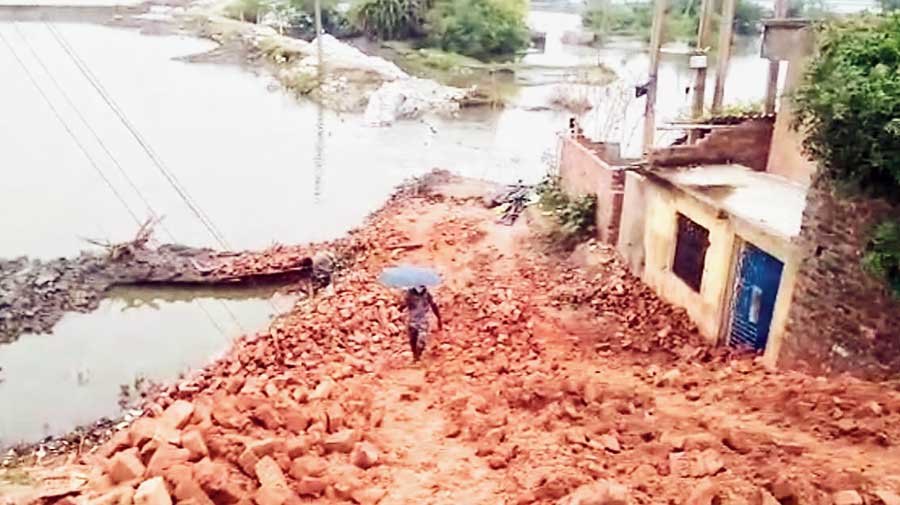 ---
Tamluk(EastMidnapore), Basirhat
|
Published 10.06.21, 01:38 AM
|
---
Authorities have launched a massive campaign, asking people in low lying areas of East Midnapore, South 24-Parganas and North 24-Parganas to shift to shelters or higher areas ahead of high tides on June 11 as several stretches of embankments damaged by Cyclone Yaas are yet to be repaired.
"We are working to repair all damaged embankments by June 10. But it appears that in some areas, the repairs would be of temporary nature because we did not get much time after Cyclone Yaas. We have appealed to people in vulnerable areas to move to higher places or relief camps or cyclone shelters as a precautionary measure," said a senior government official.
Sources said East Midnapore district authorities had started campaigning in the vulnerable areas to make people aware of the forthcoming high tide.
"In East Midnapore, almost 80 breaches in river embankments have been repaired. But we apprehend that sea water could gush in through seven to eight spots where the damage is yet to be repaired. So, we have asked people to move to shelters if they feel unsafe," said an official in East Midnapore.
A total of 24 shelters are being run by the authorities where 3,100 people are still spending days as they could not move to their villages because of stagnation of water.
"Although we feel the situation would not be as worse as Yaas, we are taking no chance," said another official.
Tarun Das, vice-chairman of the Digha-Shankarpur Development Authority, said the damaged river embankments had already been repaired.
"We expect the high tide would not leave a severe impact like Cyclone Yaas did, but still, we have completed inspection of damaged embankments and decided to help people living in vulnerable areas."
In South 24-Parganas too, the cause of concern remains the river embankments that were breached but could not be repaired completely yet.
"In this district, too, evacuation of some people might be required. The decision on how many people would have to be taken to the cyclone shelters would be taken by tonight," said an official on Wednesday.
A 15-meter part of an earthen dyke along the Vidyadhari river in Minakhan, North 24-Parganas, was swept away on Wednesday afternoon.
The breach led to fresh inundation at adjacent villages like Ghusidanga, Kulti, Ghospur, Bamunpukur and Kushagra in North 24-Parganas.
A team of Minakhan block officials and irrigation department officials rushed for the repair of the breached stretch on war-footing. Sources in the district administration said several families had been evacuated from the area and shifted to safe locations.
Same measures would be initiated in South 24-Parganas also if it was felt that the high tide could submerge villages.
Yaas damage estimate
The Bengal government has placed estimated damages of Rs 20,000 crore in Cyclone Yaas before the central team that visited the affected districts in the past three days.
The team on Wednesday met the top brass of the government at Nabanna where the estimated loss was placed.
"A detailed damage report would be sent to the Centre soon. But the central team was informed the state primarily estimated that it had suffered a damage of about Rs 20,000 crore in the cyclone," said an official.