Pen and brush in CAA protest show at Calcutta's Park Circus Maidan
Cries of 'azaadi' rang out towards the evening and many women exchanged garlands to mark Women's Day
Protesters busy making posters at Park Circus Maidan on Sunday.
Picture by Sanat Kr Sinha
---
Calcutta
|
Published 08.03.20, 07:22 PM
|
---
A Class III girl , a middle-aged woman who had last written a slogan in college and a homemaker with a box of marker pens wrote slogans to express their fears and concerns about the new citizenship matrix at Park Circus on Sunday .
Sisters Sheikh Arfa and Sheikh Alfia picked up a bunch of crayons and markers and drew a Tricolour at the centre of a white sheet and later wrote "No NRC No CAA No NPR" on the top of the page and "I love my India" at the bottom.
Alfia, a Class III student of Seventh Day Adventist Senior Secondary School in Mullickbazar, hoisted the poster over her head and went around the protest site, sister in tow.
Many women and men called out to them to take a closer look at the poster. Shahnaz Begum, one of the protesters, gave them a chocolate each and said: "Bahut badiya poster banaye ho tum log (You have made a great poster)."
While the kids drew admiration from one and all, Jyoti Mondal, a third-year student at Rabindra Bharati University, kept writing feisty slogans on chart papers using black and red marker pens.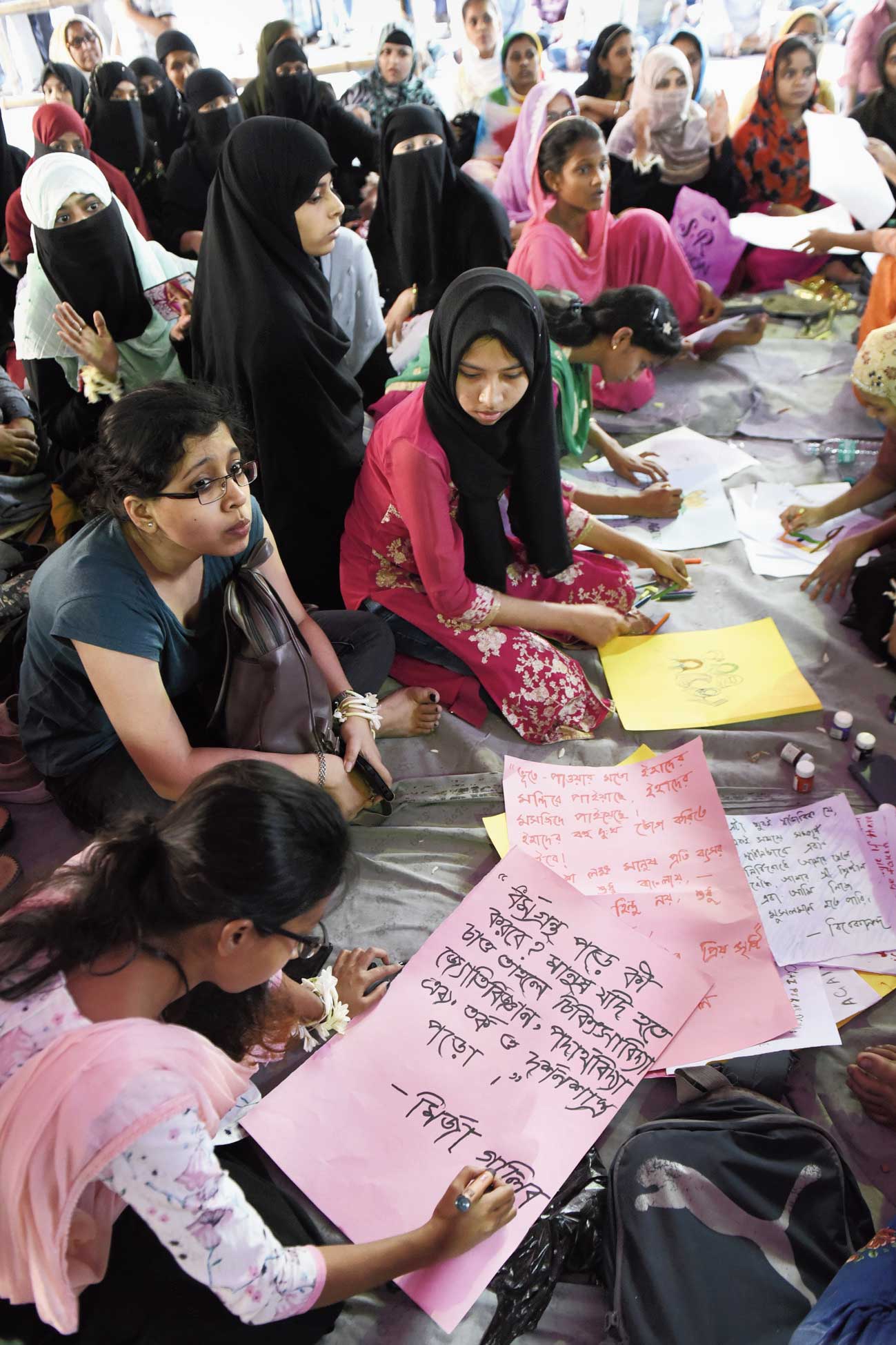 "Kono deshke dhongsho kortey chailey desher manush ke dhormer naamey ladai lagiye din… desh emnitei dhongsho hoye jabey (If you want to destroy a nation, start a fight among its citizens in the name of religion. The country will destroy itself)," she wrote.
Her friend Bratati Maity penned a slogan that summed up the spirit of the women at Park Circus. "When injustice becomes law, resistance becomes a habit," she wrote.
Both the women in their twenties have been juggling classes, tuitions and chores at home to spend at least a couple of hours at Park Circus every day.
On weekends, they spend almost all their time at the protest ground. "I cannot sit at home and let this government do whatever it wishes," Mondal said.
As evening set in, cries of azaadi rang out and many women exchanged garlands to mark Women's Day.
Asmat Jamil, one of the organisers of the protest, said that if someone wanted to check the spirit and resolve of women, they should be at Park Circus Maidan.