Peaceful existence in an open prison
An open correctional home is a prison without bars in which an inmate is allowed to go out but must return by day end. These help facilitate prisoners' re-integration into society after release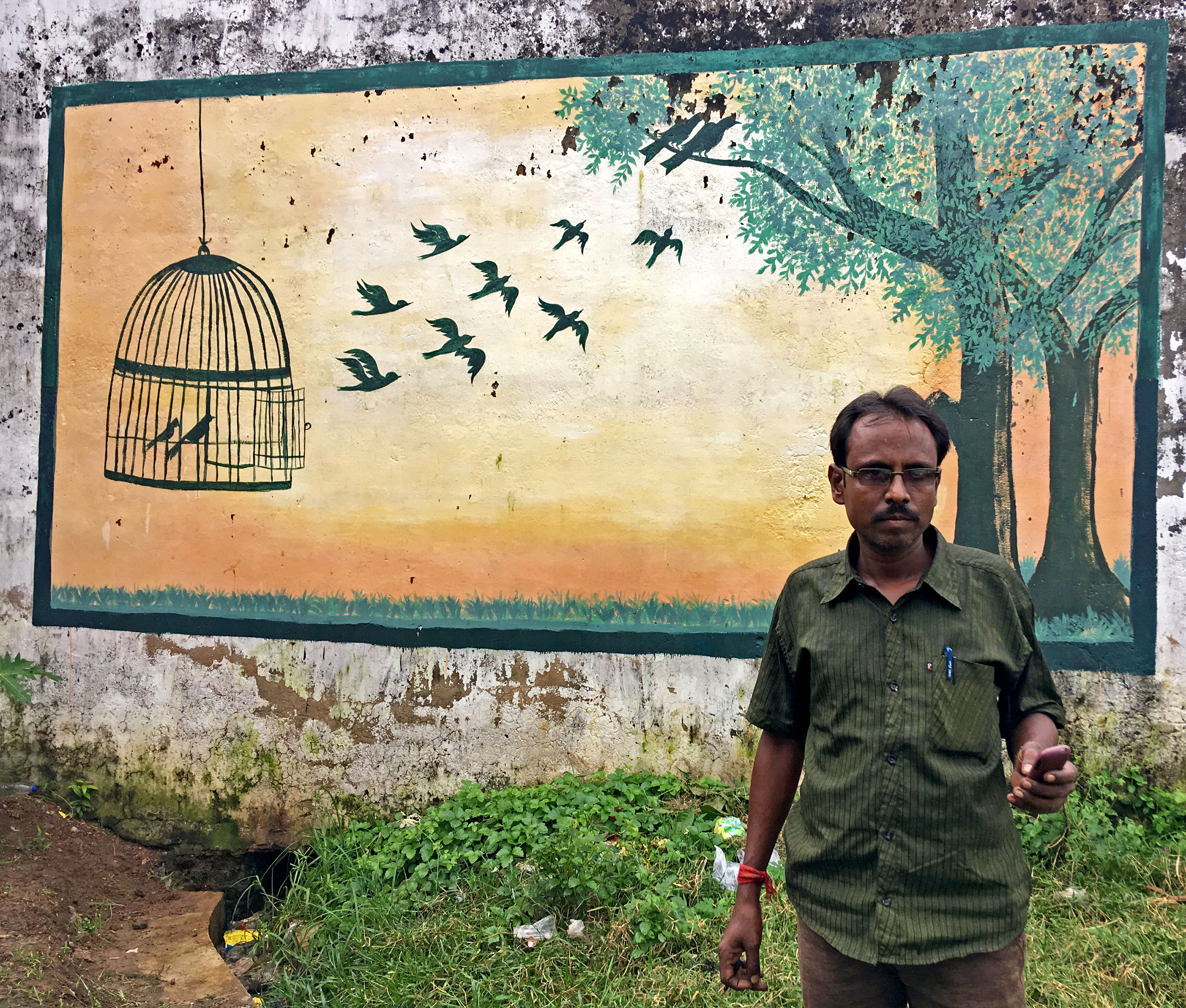 Lifer Chandan Chandra at the Midnapore Open Correctional Home
Ankit Datta
---
Published 28.09.19, 06:27 PM
|
---
Chandan Chandra has no time to sleep or eat these days. He wakes up long before daybreak, takes a quick bath at the well beside his tenement and cycles 25 kilometres to reach his makeshift studio. This year, he has to make five Durga idols, four of Kali and a couple of other members of the Hindu pantheon. "It's good that this year I've tied up with another potter. Last year, I tried to do it all by myself and it was difficult to deliver on time," he says as he paints the arms of an idol a candy pink.
After slogging it out for a good six hours, he has to rush back for the afternoon "roll call" at the Midnapore Central Correctional Home. Chandan is an inmate of an open prison in Midnapore, which lies 130 kilometres west of Calcutta.
There's seemingly little out of the ordinary about Chandan's life as an idol maker, except that he has been convicted for murder. He was arrested in 2000 and has been serving a life sentence since 2004; he was moved to the open prison only last year.
An open correctional home is a prison without bars in which an inmate is allowed to go out but must return by day end. In such a prison, only lodging is provided to the inmates; they have to go to work and earn their living beyond the prison premises. "This system is meant for inmates serving life sentence and are on the verge of release. This is an intermediary step in order to facilitate their re-integration in society after release," says Arun Kumar Gupta, the director-general (DG) of correctional services in West Bengal.
We have come to meet Chandan at the open prison. We, as in artist Chitta Dey — who has been holding art workshops for prisoners serving life sentence in several prisons across Bengal, Jharkhand and Maharashtra — and myself. When we arrive at the gate of the correctional home in a Toto, or electric rickshaw, the guards show us the way to Chandan's room. It seems Chandan has quite a reputation here as an idol maker. "This year he is making a 20-foot idol of the goddess," the guard informs. As the Toto halts before the prison gate, we find Chandan waiting for us.
He touches the feet of his mastermoshai or teacher, "Chitta Sir", and greets me with folded hands.
Exactly a decade ago, Dey had arrived at the Midnapore jail to look for prospective artists among lifers — the term used for those serving a life sentence — for his workshops in Calcutta's Alipore Central Correctional Home. Egged on by B.D. Sharma, the then DG Correctional Services, Dey had started giving art lessons as part of the cultural therapy project Sharma had initiated in prisons across Bengal.
Says Dey, "Playing with bright colours on paper or canvas is therapeutic. The whole idea was to help inmates express their pent-up emotions and stress as they negotiated a life in exile." There was a secondary purpose too — to help inmates learn job skills so they could be looped back into the mainstream.
During the selection process, some prisoners — among them notorious convicts — had shown keen interest in the visual arts. Chandan, who had a basic idea of commercial art, seemed an obvious pick. He says, "I knew how to paint signs and had also learnt clay modelling when I was an apprentice to an idol maker in Kumartuli [in Calcutta] long before I was convicted."
Within two years, many of the inmates became adept at the techniques taught by Dey and prison authorities started to hold exhibitions of their artwork in top art galleries of Calcutta. Some works fetched good prices, they sold for anything between Rs 10,000 and Rs 20,000. Chandan's paintings were among them. He says, "Chitta Sir took me to several prisons, including the one at Tihar, to showcase my work. I also helped him organise some workshops."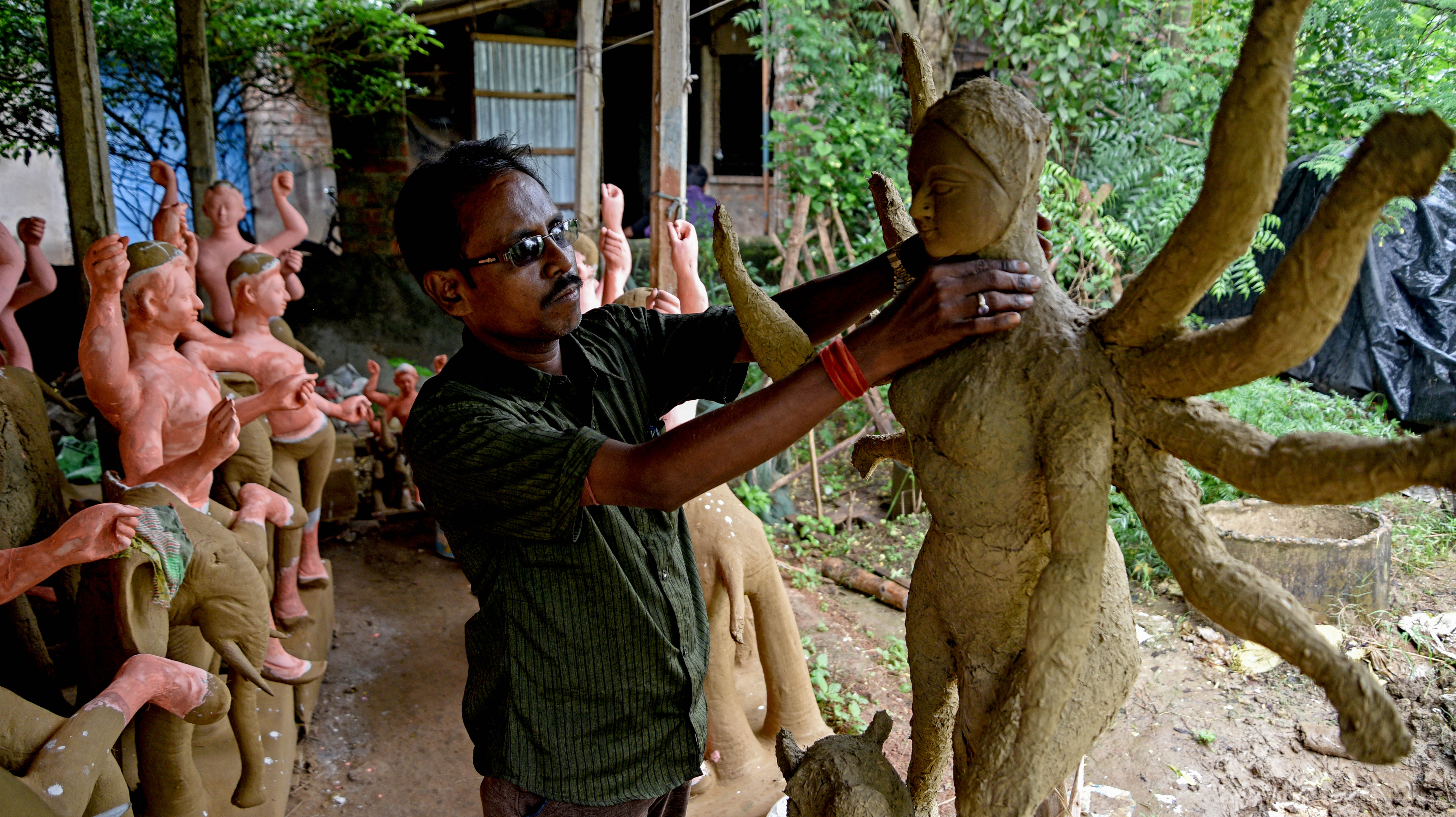 In 2015, Chandan rediscovered his passion for clay modelling. He made a Durga idol for Alipore jail. "The idol turned out to be so beautiful that the next year I got orders for idols for a few other jails and a couple of clubs," he says. The jail authorities allowed a few other inmates to assist him and supplied the requisite raw materials.
The most striking aspect of the Durga idol he made for the Alipore Correctional Home was that it had two asuras. The first one was the regular demon being pinned down by Durga's trident; the second one was penitent and pleading.
Chandan has been talking about all these with a deadpan face while offering the final strokes to a mini Durga idol he wishes to gift to Bengal chief minister Mamata Banerjee. All of a sudden he gets emotional and starts to narrate how he was arrested on a similar autumn afternoon 19 years ago.
It was in his village near Dantan, his ancestral place close to the Bengal-Odisha border. That day too, he was making a Durga idol. According to Chandan, he was framed by some relations. He says, "Some people were rehearsing a play based on the life of the freedom fighter, Khudiram Bose. The lead actor died while enacting the climax, the scene wherein Khudiram is hanged. The noose was much too tight." Chandan continues, "Since it was happening in our house, I was arrested. Even my sister and mother were framed. Later, they evicted our family from our ancestral home and grabbed our property as well was the agricultural land. We didn't have money to fight the case."
At the time of the incident, Chandan was married, with two little daughters. After his arrest and conviction, his family had to settle in another village. Some years ago, he bought them a small house with the money he earns as a commercial artist. When the season for making idols is gone, he paints signs, billboards and even writes graffiti for political parties. He offers home tuition to school students near the open prison in Midnapore. He has been able to get both his daughters married. When he is on parole, he visits his new home. He believes he has been accepted in the village as a convict-turned-artist.
The open prison in Midnapore was inaugurated last year. The authorities have plans to extend the space and allow inmates along with their families. According to Gupta, the experiment started with Rajasthan in 1958 and since then the Supreme Court has ordered all states to start more open prisons.
Smita Chakraburtty is an independent researcher studying prison systems across India. She has prepared the report, Prison without Bars, based on her study of the open prison system of Rajasthan. There are about 30 open prisons in which about 1,500 inmates live. The one in Sanganer, near Jaipur, is the largest and oldest in the state, housing nearly 400 prisoners along with their families.
She tells The Telegraph, "The open prisons in Rajasthan are so well run that many of the prisoners don't want to leave the premises; they have to be evicted."
In her study, she has shown that the expense of running this open prison is 78 times less than that of running Jaipur Central Jail — a conventional closed prison. She says, "I also found that prisoners rarely escape from open prisons and the incidence of recidivism [act of repeating offence] is negligible."
Before the research in Rajasthan, Chakraburtty had visited all the 58 prisons in Bihar — apparently a complete study in contrast. She says, "The prisons were more like cages. In some prisons 50 prisoners were packed into a small cell; in some places the situation was so bad than inmates had to stand most of the time and take turns to sit." Such inhuman conditions lead to violence and make inmates vindictive; they get out of prison with a lot of vengeance towards society and turn into a criminal forever.
According to her, such forms of imprisonment are a colonial legacy; the only difference is that prisoners are not fettered. "Unfortunately, the inhuman conditions seem justified in public perception. Many people believe that they serve the criminals right," she says. "In reality, most convicts have been found to commit a crime in a fit of rage, it is kind of an accidental offence."
The condition in most jails in Bengal is no better than those in Bihar. Tapas Bhanja, an advocate at the Calcutta High Court, has filed several petitions to improve the "inhuman conditions" and "overcrowding" that lead to unnatural deaths, suicides and escape bids. Between 2012 and 2015, there were 41 cases of unnatural prison deaths in Bengal.
According to Bhanja, the Supreme Court had directed the chief justices of all high courts to take steps to release those languishing in jails for over 14 years — like Chandan — as quickly as possible.
The high court appointed Bhanja as amicus curiae — a person who assists courts in a particular case — and asked him to visit jails and file a detailed report on the conditions of the prisoners. There are 561 prisoners who have completed 14 years; 458 of them life convicts, of which 250 have been moved to open jails. Some of the inmates have been living an incarcerated life for over 25 years.
Says Bhanja, "I visited all the jails in the state and found that the ruling of the Supreme Court has not been carried out." Gupta, however, says that remission [or reduction] of life sentence is being granted after verification reports from the police. "Some cases are pending, but the decisions on release are being expedited by a committee," he says.
Chandan doesn't understand the legal tangle. All he knows is that he is tethered to the penal system. He has to rush to the prison every evening from his studio in lower Midnapore. If he fails to return in time and attend the roll call, he will get locked up in a closed cell again. Nineteen years is a long time. "During the Puja I shall pray to the goddess once again seeking complete freedom," he sighs.