Park gate crash kills 11-year-old
The accident occurred on DC Dey Road in Tangra inside a Calcutta Municipal Corporation park in Ward 58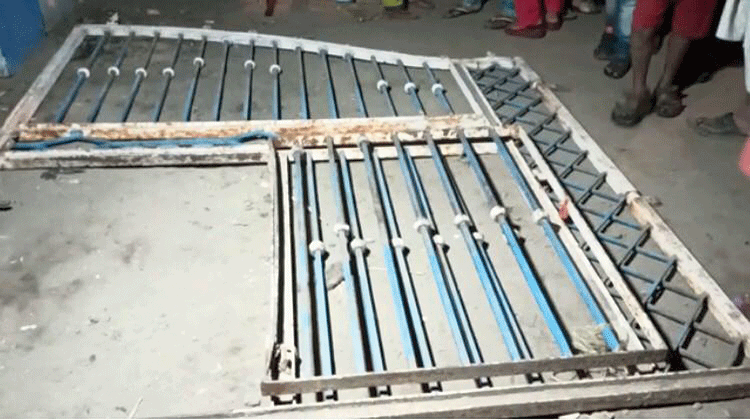 The park gate that came off the hinges and crashed
Telegraph Picture
---
Calcutta
|
Published 18.01.20, 08:05 PM
|
--- An 11-year-old girl who was playing with friends in a park died after an iron gate came off the hinges and crashed on her.
A nine-year-old boy was injured and had to be given eight stitches.
The accident occurred on DC Dey Road in Tangra on Saturday afternoon inside a Calcutta Municipal Corporation park in Ward 58.
Sushila Haldar, 11, was seated with her back towards the gate as some children clinged on to the rusty gate painted blue and white when the gate came off and collapsed, according to eyewitnesses.
Sushila and the boy, Mohammad Shahnawaz, were taken to Calcutta National Medical College and Hospital where Sushila was declared dead.
Swapan Samaddar, councillor of Ward 58, said the gate had recently been damaged by a truck and the civic body was in process of repairing it. But the accident occurred before it could be replaced.
"Today, CMC people inspected the area and took the measurements of the gate. It was going to be replaced soon," Samaddar said.
People in the neighbourhood said the entire ground was a dumpyard for old cars, abandoned rickshaws till a year ago when the CMC started a project to build a community hall, a playing ground and a children's park.
Work has been on for the past year and it was soon to be finished, Samaddar said.
Sushila, who has a sister, suffered multiple head injuries.
Mohammad Akram said he was playing with other children in another part of the ground when he heard a loud sound. "We rushed towards the gate and saw it had landed straight on her head. She was taken to hospital where she was declared dead."
Her mother, who works as a domestic help at Beleghata, told cops that she was home when she heard the gate had collapsed. She came and found her daughter lying in a pool of blood. There was a child, a little over two, seated close to Sushila. She survived by a whisker.
Officers of Tangra police station said no case had been started because there was no complaint till Saturday evening.