Park adoption a success: Siliguri residents eye 'parenting' animals
People are looking forward to keep creatures ranging from hill mynahs to royal Bengal tigers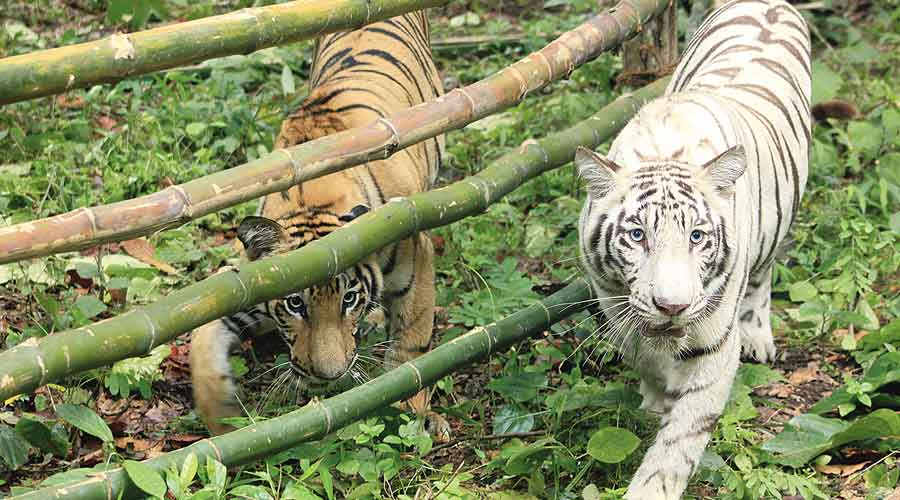 Royal Bengal tiger siblings at the Bengal Safari Park.
File photo
---
Siliguri
|
Published 04.03.22, 01:28 AM
|
---
Many residents of Siliguri are seeking to "parent" a wild animal, if the success of the animal adoption plan introduced by the Bengal Safari Park on the outskirts of Siliguri is anything to go by.
A number of people from the city and its surroundings want to "adopt" the wild animals and birds at the park, ranging from a hill mynah to a royal Bengal tiger to a Himalayan black bear.
In July last year, the park authorities had announced this scheme — that any person can adopt any of the animals living in the park for a specific period, ranging from one month to one year.
"The initiative had been taken to develop a sense of bonding with wild animals and birds and create awareness among people for their conservation. It has been quite a success. So far, around 50 people have turned up, adopting birds of various species and even a royal Bengal tiger," said Dawa Sangmu Sherpa, the park's director.
Sources said to adopt a bird or an animal, one has to pay a certain sum of money to the park authorities for the specific period.
For example, a bird can be adopted by paying Rs 200 to Rs 300 for a month or Rs 5,000 for a year.
"Similarly, for a carnivore the like the royal Bengal tiger, a person has to spend 20,000 a month or Rs 2 lakh a year. Recently, the principal of a private educational institution of Siliguri adopted a tiger for one year," the source said.
Also, a well-known doctor of the city has adopted a Himalayan black bear for a year at a cost of Rs 30,000.
Sherpa said this was a good option for people who were genuine animal lovers and wanted to do something concrete for their well-being.
"They can adopt the animals and birds here. Obviously, they cannot take the animal or the bird home but can visit here any time to check out the one they have adopted," she said.
If one adopts any animal or bird, the park authorities issue a certificate and an identity card to the person.
Also, during the period of adoption — ranging from one month to one year — that person can visit the park with three others free of cost as often as he or she chooses to.
The park is located over 297 hectares on the fringes of the Mahananda Wildlife Sanctuary and is a major attraction for tourists and local residents for its inhabitants such as the royal Bengal tigers, a sole white tiger, leopards, black bears, gharials, a rhino, and various species of deer and birds.