Parents stall pool car scan
The drive against errant pool cars was launched 2 days after bus ferrying students to school toppled over in Chitpore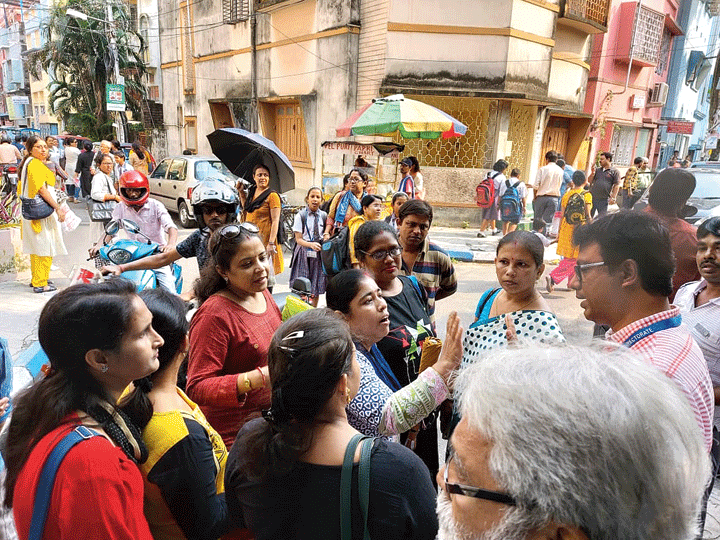 ---
|
Calcutta
|
Published 13.11.19, 08:21 PM
---
When the inspectors were about to impound the errant vehicles, they got surrounded by a section of parents.
"If you have to seize these vans, you have to first make arrangements to drop the children home," a mother said, pointing a finger at one of the officers. "How will we return home after the school gets over if the pool car is gone?"
When officers cited the instance of the Chitpore accident, another parent said: "We know about it. It was very sad. Let a police officer accompany our children home in each of these vehicles. After that you seize them."
The inspectors were outnumbered and they left with two of the four vehicles they had impounded.
"We realised that things could spiral out of control. The parents refused to see reason in our action," an inspector told Metro. "We took pictures of the agitating parents for our record and decided to leave with two vehicles."
"A year back we had asked parents to check the condition of vehicles and also the background of the drivers," said Sujay Biswas, principal of Ram Mohan Mission High School. "We will meet the parents again and drive home the importance of running such checks."
Transport department officials said if parents continued to resist such drive, the lives of hundreds of children would continue to be at stake.
Officers found that one of the two vehicles that were impounded had its fitness valid till January 2011. The owner of the van, registered with Howrah RTO in January 2007, had not renewed its insurance since November 2013. The owner had paid road tax till August 2012.
The other van had its fitness valid till March 2017. Registered in January 2011 with Kasba RTO, the van is a BS-III vehicle that had its insurance valid till January 2018. The owner had paid its tax last in July 2017.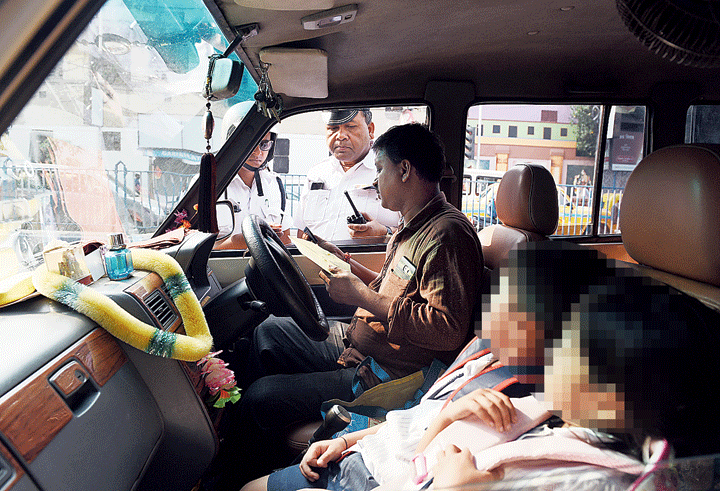 Parents objected on Wednesday when the government's motor vehicle inspectors tried to impound pool cars that did not have a fitness certificate but were still ferrying schoolchildren.
Outside a school in Jadavpur, parents were heard arguing with inspectors that if a vehicle ferrying children was impounded, how would the little ones return home.
Some told the officers that they should wait for the children to be dropped home before impounding the vehicle, while others demanded that an alternative arrangement be made for the students before the extreme step was taken.
The drive against errant pool cars was launched two days after a bus ferrying students to school toppled over in Chitpore, leaving eight children injured. Six guardians who were in the bus were also injured.
Transport department officials have said the bus should not have been on the road because it did not have a fitness certificate.
On Wednesday afternoon, a team of motor vehicle inspectors turned up outside Ram Mohan Mission High School on Prince Anwar Shah Road.
"The team went through the documents of some parked pool cars and found that at least four of them were plying with lapsed fitness certificates. There insurance and road tax papers, too, were not valid," an official said.