Panda-monium at Kalighat temple
Read more below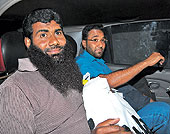 ---
Published 09.03.10, 12:00 AM
|
---
Sandhya Halder. (Anindya Shankar Ray)
Trouble broke out at Kalighat temple on Monday morning after police barred pandas from near the sanctum sanctorum. Angry pandas, some armed with sticks, allegedly assaulted members of the temple committee.
According to a temple source, a number of devotees and sevayats (who are officially allowed to conduct puja) were injured in the melee that lasted about two hours.
Supratim Sarkar, the deputy commissioner of police (south) declined to divulge details of the incident, but an officer said the temple committee had lodged an FIR against the pandas. Temple sources said the cop crackdown was a knee-jerk reaction to a complaint filed by an NRI woman on Sunday against the pandas.
"Jayanti Rangaswami, 62, stormed into the temple committee office on Sunday evening and complained that she had been manhandled inside the sanctum sanctorum, which was thronged by pandas," the source said.
Rangaswamy also lodged a police complaint, where she wrote that "crowd management" inside the temple was "in a sorry state" and urged the cops to take immediate steps. She left for her Middlesex home in the UK on Monday.
Among those injured on Monday was Sandhya Halder, a 62-year-old sevayat who was allegedly pushed to the ground by the pandas and lost her gold earrings. "The pandas are getting way too violent. My wife has been going to the Kalighat temple for 50 years but never did she face something like this," said her husband, Satyabrata.
A high court ruling in 2005 bars pandas from entering the sanctum sanctorum. They are only allowed to escort devotees to the verandah of the temple. But according to temple regulars, the rule is seldom followed.
Gopal Mukherjee, the secretary of the temple committee, admitted that not all sevayats or pandas wore the ID cards made mandatory by the court. Moloy Ghosh Dastidar, the chairman of panda association Sathi Bramhan Sangha, said the high court had asked the temple committee to install CCTVs on the premises, but it was not done.