Overhaul of Salt Lake water lines
Sediment deposits inside the pipes have reduced their water carrying capacity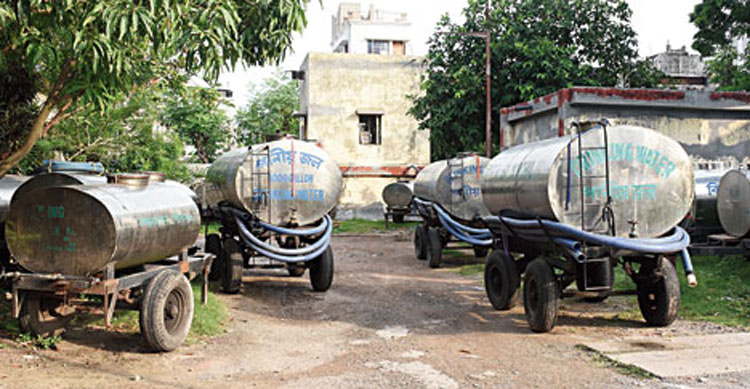 ---
|
Calcutta
|
Published 25.02.19, 08:13 AM
---
Underground water supply pipelines in Salt Lake will be overhauled to prevent water leaks and wastage, a Bidhannagar Municipal Corporation official said.
The existing network was laid when the township was being built and sediment deposits inside the pipes have reduced their water carrying capacity to a large extent, he said.
Salt Lake is supposed to receive close to eight million gallons of water every day from the treatment plant in New Town. But that is not possible because of inadequate infrastructure, the official said. At present, about four million gallons of water reach the township from the plant.
New pipelines are needed so that the total amount of water can reach the township, he said.
The new pipes will be made out of high-density polyethylene — a synthetic material that is not prone to leaks and have a higher water pressure rating, the official said. These pipes will replace the old concrete pipes.
"Such pipes don't rust. There is little sediment deposit as well. The water flow won't be restricted over the years. The new pipes will have a diameter of 3-5ft," he said. "Work has started and the township has been divided into zones. We will lay the pipes before directing the water supply to the new network. Till then the old pipes will be used."
Salt Lake needs 15 million gallons of water daily, of which about eight million gallons arrive through the Tallah-Palta network.
The supply from the New Town plant has reduced the dependency on groundwater, the official said.
Water tankers criss-crossing Salt Lake is a common sight during summer. The CJ, SA, CA, DB, ED blocks face water problems once summer sets in but this year will be different because of the new pipelines that will bring the water from the New Town plant, the official said.
Work on laying the pipes started after the public health engineering department studied the gradient of Salt Lake and submitted a detailed project report.
"It will be a huge relief for residents of the township once the project becomes fully operational," Narayan Basu, the president of Salt Lake Welfare Association, said.