Opposition targets Mamata Banerjee over SSC 'anomalies'
Leaders of CPM and BJP consistently maintain that the scam will finally lead to CM's involvement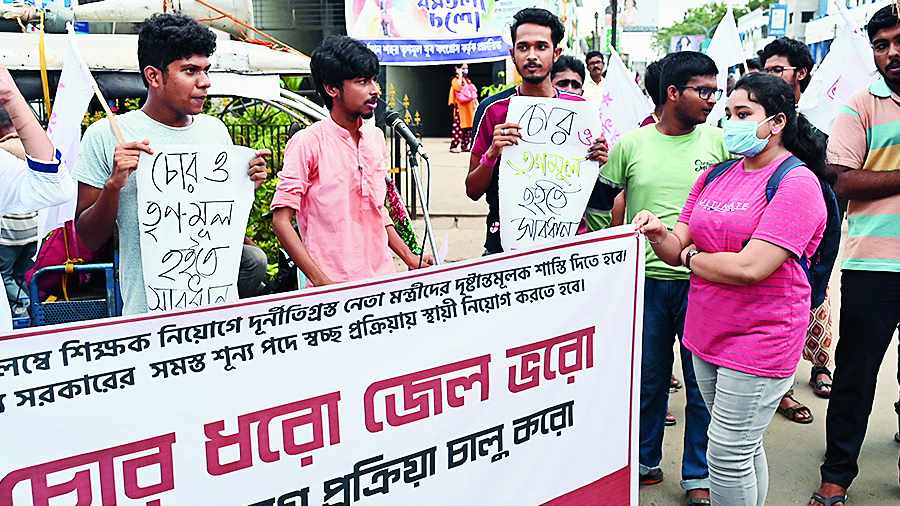 Left activists stage a demonstration in Burdwan on Monday, demanding punishment for 'corrupt' Trinamul leaders.
Munshi Muklesur Rahaman
---
Calcutta
|
Published 26.07.22, 01:16 AM
|
---
The Opposition parties in Bengal didn't waste any time in sharpening their attack over the alleged teacher recruitment scam on Mamata Banerjee as they said the irregularity would not have happened without the consent of the chief minister.
Both the BJP and the CPM claimed that Mamata's reaction to the controversy — during a government programme to felicitate eminent perosnalities — was an indication that she was afraid of the fall out of the scam. The leaders of the CPM and the BJP have consistently maintained that the SSC scam would finally lead to Mamata's involvement.
"She appeared to be desperate to distance herself from the SSC scam. But it is too late," said Bikash Ranjan Bhattacharyya, CPM's Rajya Sabha member and legal counsel for the job aspirants.
"She is afraid. But there is proof that the SSC jobs were sold at her behest. A committee was formed to manage the entire operation and it has been proved that the committee was formed on her direct orders," he added.
Bhattacharya also questioned why Mamata used a government event to justify her corruption. "She had said that when lakhs are being recruited there can be some anomaly with 200 recruitments. How can a chief minister justify corruption even if it is with 200 recruitments only?" Bhattacharya asked.
He, however, expressed his discontent with the fact that several key members of the civil society — present at the event on Monday — remained mute spectators to Mamata's attempts to justify corruption.
Leader of Opposition Suvendu Adhikari also called out the chief minister for using a government event for political purposes, adding that she is trying to wash her hands off people like Partha Chatterjee.
He said Mamata must remember that she cannot deny the rules meant for government recruitment and that examinations and merit is to be considered paramount in such cases.
"She compared government jobs with private jobs where one can employ one's acquaintances," Adhikari said. "For the first time it appears that she is afraid…I believe in the last three days she and her party has realised that they have lost the right and ability to face the general public with their heads held high."