Onion tears for exporter as train can't move
The 42-wagon rake is stuck at Ranaghat station for three days because of the Centre's sudden embargo on export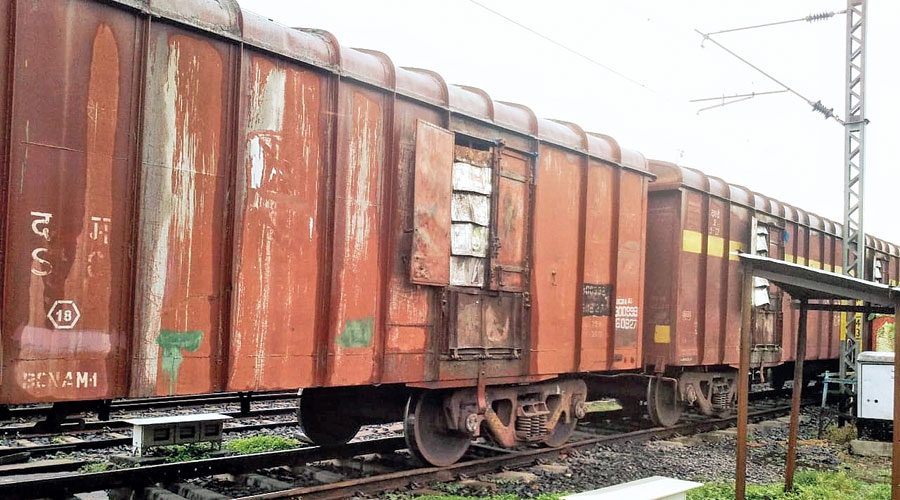 The Bangladesh-bound wagon laden with onions stranded at Ranaghat railway station in Nadia on Saturday
Telegraph picture
---
Ranaghat
|
Published 20.09.20, 12:05 AM
|
---
A Bangladesh-bound consignment of 1,612 tonnes of onions, worth some Rs 5.5 crore, is in the danger of rotting as the onion-laden goods train is stuck at Ranaghat station for three days because of the Centre's sudden embargo on their export.
The 42-wagon rake, booked by Andhra Pradesh-based exporter NK Agro-Export Private Ltd, was denied entry to Darshana in Bangladesh, despite the Centre's partial relaxation norms announced on Friday.
The Centre on Friday had allowed the movement of the onion cargos that had been handed over to Customs by September 14, when the ban came into effect.
"The wagons were loaded in Lasalgaon in Maharashtra and the rake began its journey for Darshana on September 12. The railway receipt (RR) for export of the consignment was issued on September 13, a day before the Director-General of Foreign Trade issued the embargo on onion export. But still we can't send the consignment," said Rajib Gupta, manager of the NK Agro-Export Private Ltd's Calcutta office.
"We are in a disastrous situation with no one in the government even listening to our pleas.... The RR had issued on September 13, which is generally considered as the shipment date. We also paid customs surcharge on the same date, which is also written on the RR. But, Customs authorities in Ranaghat are not telling us anything," added Gupta.
He feared that the entire consignment would rot in extreme heat and humidity as the rake, which had reached Ranaghat on September 17, was stuck on the Indian side of the border. 
There is a basis for this apprehension.
Several exporters of onions, whose truckloads of consignments are stuck at land ports, have complained that more than 25 per cent of the cargo had been damaged while the vehicles were waiting at land ports along India-Bangladesh border.
The Customs clearing agent of the exporter Sujit Banik said that at Ranaghat station the railway authorities had issued the wagon inspection certificate. Still the Customs authorities were not clearing the consignment, he said.
Customs officials in Ranaghat refused to speak on the issue.
An official, however, preferring to be anonymous said, "We are only complying with the DGFT guidelines."
Bimal Bengani, convener of the Federation of Indian Export Organisations (Commodities Export), has made a written appeal to Union commerce and industry minister Piyush Goyal to allow the clearance for the Bangladesh bound rakes at the earliest.
India's decision to ban onion exports has drawn criticism from not only farmers and the general public, even the Bangladesh government has expressed its deep concern over the sudden ban.