On crutches powered by will
Rita's message to others this Poila Baisakh is to be happy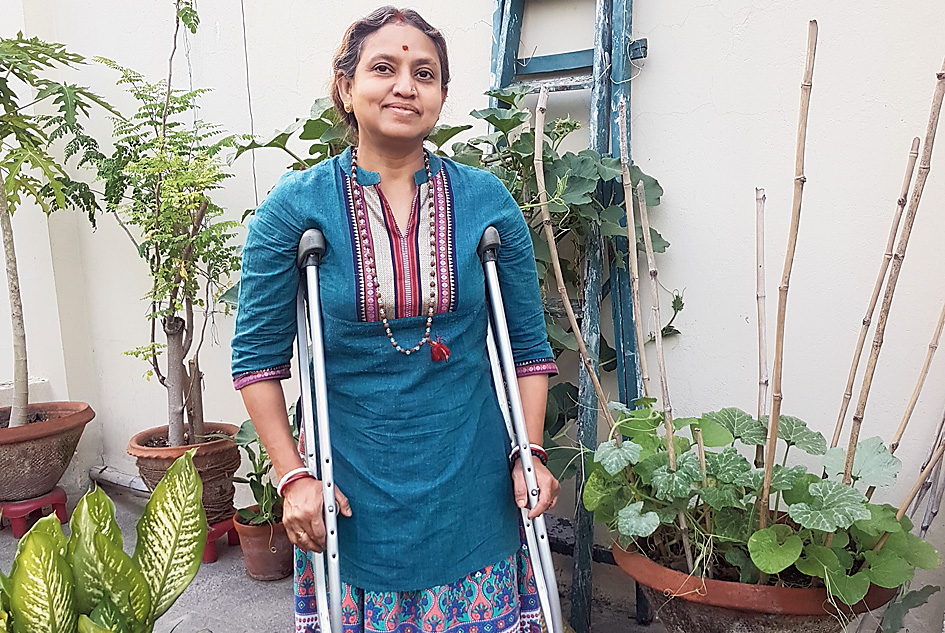 ---
|
Calcutta
|
Published 12.04.19, 02:09 PM
---
It's been smooth sailing, says Rita Das. At the age of 11, she started managing her household when her mother got bed-ridden. A few years later, she'd hang by the doors of local trains to get to college.
Now she raises a family in BA Block, runs a spirituality club that she's founded and in June will be leading a group of 10 on a trekking trail in Darjeeling. All this, by the way, on crutches.
It's been smooth sailing, says Rita Das.
"My left knee has a congenital problem. I cannot apply pressure on it and so cannot stand upright," explains the 55-year-old. The condition has been painful and made movement difficult all her life, "but I never cared!" laughs Rita.
The eldest of four siblings, she grew up in a Dankuni home with an orchard and pond. Her knee notwithstanding, she climbed trees and caught fish. And when her mother got ill she took up the responsibility of cooking and cleaning after her siblings.
By the time she joined college, doctors advised her to use a knee brace. "It looked like a cricket pad, heavy and uncomfortable. But I never cared. It didn't stop me from taking the rush hour local train to and from college."
One day Rita's father was escorting her to college but it was so crowded that he failed to board the train. The young girl with the leg brace, however, sailed through.
After her BA and BEd degrees, Rita's family started searching for a groom. "I told the prospective family about my medical condition and that they shouldn't proceed with the hope of me recovering in future," she said. The family agreed; Rita married Amitava Das, a banker and social worker, and moved to BA 106 in 1992.
The leg brace would pain Rita so much that at home she would remove it and hop on her other leg. "I continued hopping even when I was pregnant with my two children. But gradually my other leg and back developed pain. Then I was advised to try the crutches. I also discovered yoga and meditation around the time and found great relief."
Rita and Amitava learnt driving together and Rita started dropping her kids off at Little Angels play school and Salt Lake School, with the crutches resting on the seat next to her.
She took up travelling too. Bangkok, Maldives (where she even went snorkelling), Europe…Rita has visited them all. "At Vatican City, the tour guide insisted I remain in the bus as I wouldn't be able to walk about. I refused, saying I had paid as much as the others and had a right to roam free," says Rita.
In Kashmir, the army jawans pleaded with her not to try and climb the 242 steps to the Shankaracharya temple but she defied them too. "And when Mamoni descended from the temple after darshan, the jawans gave her a 'hats-off' salute and even clicked photos with her," says son Ritabrata.
Rita credits her pain management and positivity to yoga and meditation and in 2017 began a spiritual club called Pranshakti Yog to help others. Members of this club will be headed to Darjeeling in June, where they will trek to a monastery on a peak and practise zen meditation.
"Mamoni has been on this trekking trail before with us and walked as fast, if not faster than us," says daughter Oishika, who is training to be a yoga instructor. "All my friends are in awe of her. They cannot believe someone can do so much with crutches under her arms and a smile on her face."
Ask Rita how difficult it is trekking with crutches and she misses the point. "It's not difficult at all as it's cold in Darjeeling. It may have been difficult if it was hot," she says, as if the crutches don't even matter.
New beginnings
Rita's message to others this Poila Baisakh is to be happy. "If you're happy those around you will be happy," says the lady who loves gardening and playing the guitar.
Two Rabindrasangeets brim her with courage — Aami bhoy korbo na and Sankocher Bihwabalata nijere apamaan — and she asks others to imbibe the message in them.
"I may not have an able leg to do certain things but it's a greater tragedy to not have the will to do them," Rita says. "If you have the will you will find the way. And if you don't have the will, accept it. Don't try to hide behind an excuse of being unwell or busy."
For all excuses, Rita says, are lame.