Officials tried in vain to avert East-West Metro tunnel disaster
The machine that was boring the tunnel had apparently hit a sand aquifer resulting in massive settlement of soil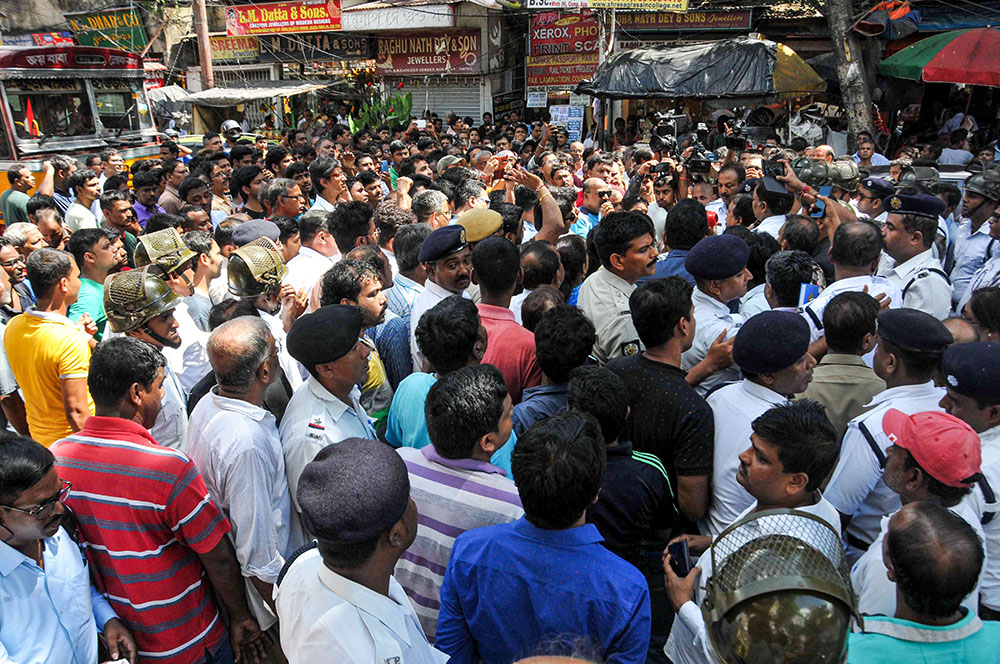 ---
|
Calcutta
|
Published 02.09.19, 09:25 PM
---
Saturday, 5.45pm: Workers and engineers inside East-West Metro's

Howrah-bound tunnel see water

seeping in

Saturday, 11pm: Officials of Kolkata Metro Rail Corporation (KMRC), the implementing agency of East-West Metro, enter the tunnel to assess the

situation. They hope the flooding and the settlement of soil can be arrested

Sunday 4am: SOS calls go to senior officials of the state government, police and the Calcutta Municipal Corporation after KMRC engineers realise the situation is out of control. A massive evacuation drive starts
For nearly 12 hours, engineers working in the tunnel of East-West Metro in Bowbazar tried in vain to prevent a disaster, that led to significant damage to many buildings and evacuation of hundreds of people.
Officials said this was the last phase of tunnelling work for the 16.5km East-West Metro, which will connect Salt Lake Sector V with Howrah Maidan and will run under the Hooghly. The first phase of the project, which will stretch between Sector V and the Salt Lake stadium, a distance of 5.5km, is likely to be unveiled during Durga Puja.
The machine that was boring the tunnel through which Howrah-bound trains will run had apparently hit a sand aquifer, an underground layer of water-bearing sand, resulting in massive settlement of soil.
"The first traces of water leaking into the tunnel were spotted around 5.45pm on Saturday. Initially, we thought it could be taken care of," said a KMRC official. "I was in the tunnel around 11pm. The water level was rising. We were desperately grouting the tunnel to prevent water from seeping in. Even at that point, we thought the settlement could be arrested and no large-scale evacuation would be required. We never imagined that so many buildings would tilt and cracks would develop on many more," the official said.
Around 4am on Sunday, engineers realised things had gone out of hand. "There were heavy settlements and grouting was not effective," the official said.
KMRC officials then made several phone calls to police, CMC, transport and other government departments.
An official who received one such call said they started calling each other to coordinate a massive evacuation drive.
"The KMRC official who made the phone call said his agency would provide hotel accommodation for the evacuated people. He promised to repair and rebuild the affected buildings," the official said.
Hundreds of people were evacuated and most could not take their basic belongings like clothes and medicines.
Initially, residents of 13 buildings along Durga Pituri Lane and Syakrapara Lane, off BB Ganguly Street, were evacuated.