Dhaka-Siliguri passenger train services may begin from this month
It was apparently to start from March 26 earlier this year but various issues, including infrastructure preparedness, had come in the way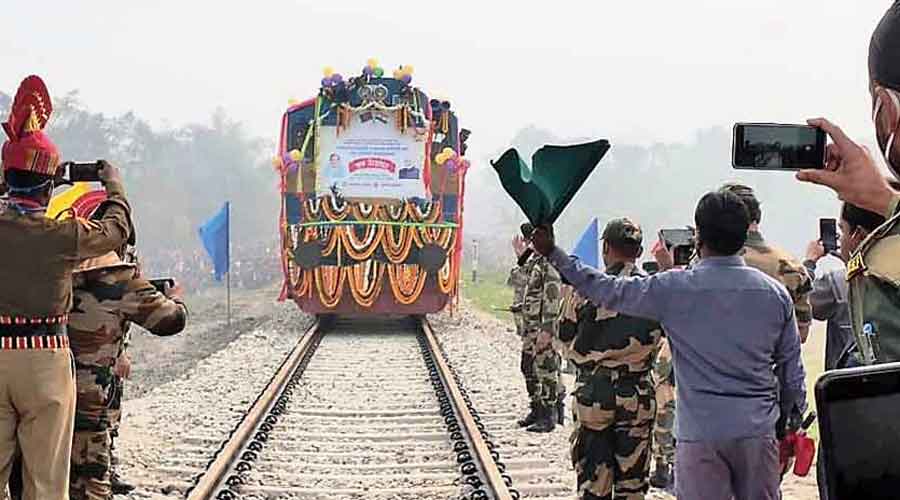 ---
Darjeeling
|
Published 22.11.21, 03:10 AM
|
---
Foreign secretary Harsh Vardhan Shringla on Sunday dropped broad hints that the much-awaited Dhaka-Siliguri passenger train services could start from this month.
Shringla, a resident of Darjeeling, while speaking at a charity event in his hometown, said: "We will start this month the train service connecting Dhaka with Siliguri. This is the opening of Chilahati-Haldibari rail link which had been closed since 1965."
When Shringla was asked on the sidelines of the event about the timeframe of the train service, he was, however, less specific: "They are trying to operationalise (it) as soon as possible, let the announcements be made."
The 513km-long train service was apparently to start from March 26 earlier this year but various issues, including infrastructure preparedness, had come in the way.
A source in the Indian Railways, however, said all necessary infrastructure had been put in place on the Indian side and senior officials had also inspected the same in October.
"Our infrastructure is ready. Immigration check-post will be set up on platform number 1 at NJP station. However, we have not received any order or information regarding the exact date of the commencement of the service. Various departments like external affairs and home affairs are involved in this project," said a source.
On December 17, 2020, India and Bangladesh reopened an old railway route that used to connect the two countries — from Haldibari station (in Cooch Behar) to Chilahati station (Nilfamari district in Bangladesh) — after a gap of over 50 years.
The prime ministers of the two countries, Narendra Modi and Sheikh Hasina, had jointly inaugurated the route for a goods train service.
Following the opening of the route, there has been a sustained effort from both the countries to start the passenger service between Dhaka and Siliguri, which would be the first train to connect Bangladesh with north Bengal.
At the moment, two passenger train services from Bangladesh (Dhaka and Khulna) connect Calcutta.
Shringla's statement on the launch of the train service was in the context of the region's economic potential.
"Bangladesh is a country of 160 million, it has had an 8 per cent growth in the past 10 years. It is burgeoning with the ability to be able to spend in the manner that suits interests like us," said Shringla.
"You must attract tourists, you are sitting on the crossroads, you are connecting Bangladesh, Bhutan, Nepal, connecting mainland India with the northeastern part of India. You are extremely well placed to take advantage of the geography, location," the foreign secretary stressed.
A few years ago, India had allowed Bangladesh citizens to visit Sikkim, which was out of bounds for them.
Additional reporting from Bireswar  Banerjee in Siliguri