Offering of bananas & oranges to say 'I am with you'
Every paisa counts: woman saves Rs 60 every two days to buy fruits for protesters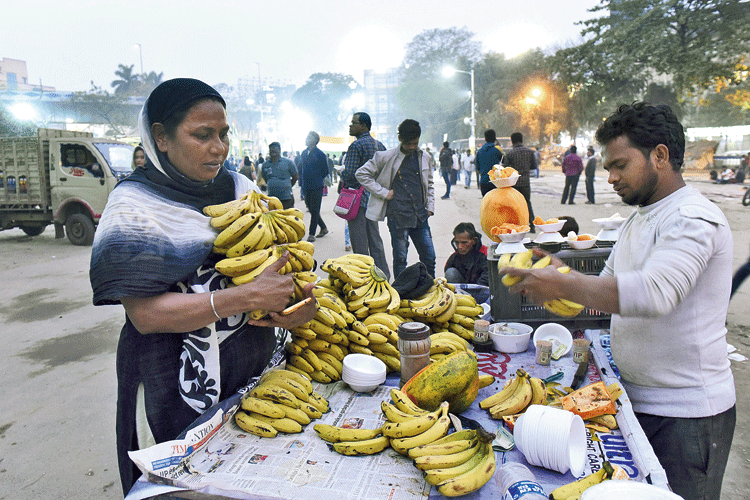 Ajmeri Bibi buys fruits for the protesters at Park Circus Maidan.
Picture by Sanat Kumar Sinha
---
Calcutta
|
Published 24.01.20, 07:13 PM
|
---
Ajmeri Bibi works as a domestic help to support her family and pay for her 11-year-old son's education in an English-medium school.
Yet, she has been saving up a little every day to buy fruits for the women who have been spending nights at Park Circus Maidan to ensure the likes of her don't end up in a detention camp.
The 43-year-old resident of Kashai Mahallah in Park Circus is hopeful that the protesters at Park Circus Maidan will ensure she doesn't have to show her papers or walk into a camp.
"There are women in the gathering who have been camping with their babies. There are older women, some of my mother's age, and then there are my sisters. I try to get them whatever little I can. Nothing much. Just fruits," Ajmeri told Metro.
It usually takes two days for Ajmeri to save up Rs 60 after arranging for her son's tiffin. But that's hardly enough to buy fruits for all the protesters. Sometimes, she borrows from her employer — who pays her Rs 6,000 every month — or falls back on the neighbourhood boys for help.
"I had saved around Rs 150 and borrowed Rs 200 from my employer. I managed to buy kelas (bananas) with that," Ajmeri said on Thursday evening as she bought bananas from a fruit vendor at one end of Park Circus Maidan. On other days, she buys oranges or cucumber.
The evening prayers had just ended and a group of women sat huddled behind the main stage at Park Circus Maidan when Ajmeri reached the protest venue, armed with a few dozen bananas.
Soon, a few youths arrived carrying water and snacks. Ajmeri joined them, her head covered with a black scarf, before distributing the bananas among women, who received them with a smile.
On the stage in front of the protesters, speakers took turns to talk about how the National Register of Citizens (NRC) and the Citizenship Amendment Act (CAA) would destroy the fabric of India, dividing the country on religious lines.
"I'm not quite educated. But what is this talk about discriminating between Hindus and Muslims? I want to ask the ministers, aren't you all human beings?" Ajmeri asked.
"All these years we have participated in Holi and Durga Puja with our neighbours and they have joined in our Id celebrations. I would rather take a bullet than see my country divided," she said.
Has she ever spent the night with the protesters at Park Circus Maidan? "I have stayed on till around 1.30am. Agle din phir kaam pe jana parta hain (I have to go to work the next day)," said Ajmeri. "But I make sure I contribute. The women are fighting for me.
I just tell them with my little offering that I am with them, too."