North Bengal development minister tests Covid positive on a day of record rise
State reported 3,357 new coronavirus cases, 62 deaths and 2,986 recoveries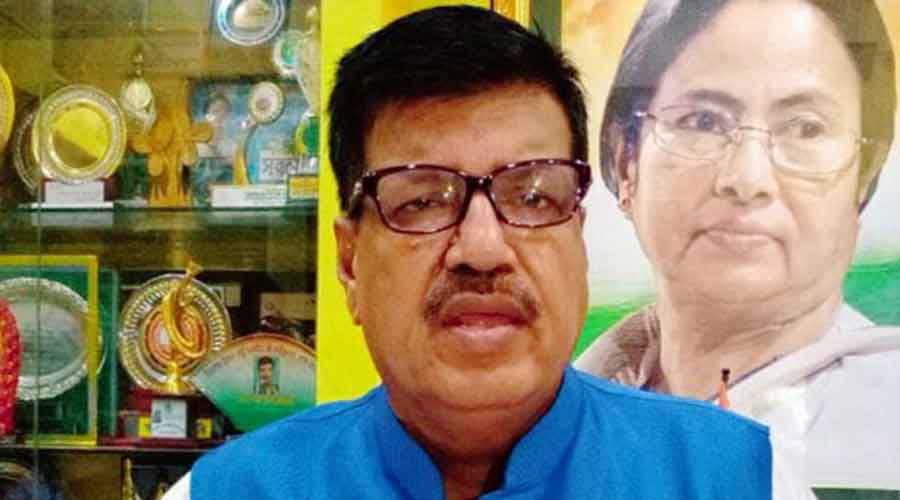 Rabindra Nath Ghosh is the eighth member of the Mamata Banerjee cabinet to get infected, after minister of state for parliamentary affairs Tapas Roy, transport and irrigation minister Suvendu Adhikari, backward classes welfare minister Binay Barman, food and supplies minister Jyotipriya Mullick, fire and emergency services minister Sujit Bose, minister of state for micro, small and medium enterprises Swapan Debnath, and public health engineering minister Soumen Mahapatra.
File picture
---
Calcutta
|
Published 05.10.20, 12:43 AM
|
---
North Bengal development minister Rabindra Nath Ghosh and his party colleague, Balagarh MLA Ashim Majhi, tested positive for the novel coronavirus on Sunday, as the state reported 3,357 new Covid-19 cases, 62 deaths and 2,986 recoveries.
The number of new infections on Sunday is the highest so far in a day in Bengal.
Ghosh, 64, is the Natabari MLA and a key Trinamul leader in north Bengal. Majhi, 57, is a Trinamul leader from Hooghly.
The news of their testing positive came a day after chief minister Mamata Banerjee said the pandemic in India had reached the community transmission stage — something the Narendra Modi government at the Centre has been denying — a dreaded stage of person-to-person spread when the source of the infection is difficult to trace.
Ghosh is the eighth member of the Mamata Banerjee cabinet to get infected, after Tapas Roy, Suvendu Adhikari, Binay Barman, Jyotipriya Mullick, Sujit Bose, Swapan Debnath, and Soumen Mahapatra.
With the 3,357 new cases, the state's total case count went past 2.7 lakh, of which over 2.37 lakh are recoveries, besides 5,194 deaths.
Bengal's recovery rate continued to rise and reached 87.93, ahead of the national rate of 84.12 per cent.
Of the 62 casualties, 17 persons succumbed in Calcutta and 19 in North 24-Parganas. As of Sunday, the state government reported 4,417 or 85 per cent as deaths with co-morbidity "present".
Bengal's mortality rate remained 1.92, behind the national rate of 1.55 per cent.
The state logged 42,262 tests on Sunday, which took the total past 33.97 lakh.
It means 37,755 tests per million people.
Positive confirmation rate remained 7.96 per cent.
The state reported 37.16 per cent occupancy of 12,715 Covid beds in 92 hospitals.
"Ashim (Majhi) is mildly symptomatic," said a Trinamul leader, and said there was no cause for worry.
On Ghosh, the source said: "Rabida had gone to the nursing home (in Siliguri) for other reasons. His blood-work recently showed high levels of blood sugar and creatinine. He is in the process of recovering from a recent heart attack. So he was going to go for a check-up. He had injured himself while coming down the stairs at home on Sunday. So he was rushed to the nursing home. There, during a mandatory test, it was revealed that he has Covid-19 too."
The source said that in two recent tests before this, Ghosh had tested negative. "However, as a precautionary measure, he is admitted," he said.
"It recently came to light that Binaybabu (Barman) had also tested positive and has recovered," he added.
Over 30 sitting members of the Bengal Assembly, half of from the ruling party, have been infected by the novel coronavirus.
So far, four Bengal MPs — the BJP's Hooghly MP Locket Chatterjee, Balurghat MP Sukanta Majumdar, Jalpaiguri MP Jayanta Roy and Trinamul's Rajya Sabha member Shanta Chhetri — have tested positive for the pathogen.
The virus also claimed the lives of CPM veteran Shyamal Chakraborty, besides Trinamul's Egra MLA Samaresh Das, Falta MLA Tamonash Ghosh and Indas MLA Gurupada Mete.