Dilip talks of outsiders' contribution in Bengal
Partha Chatterjee said the Midnapore MP was trying to humiliate and demean Bengalis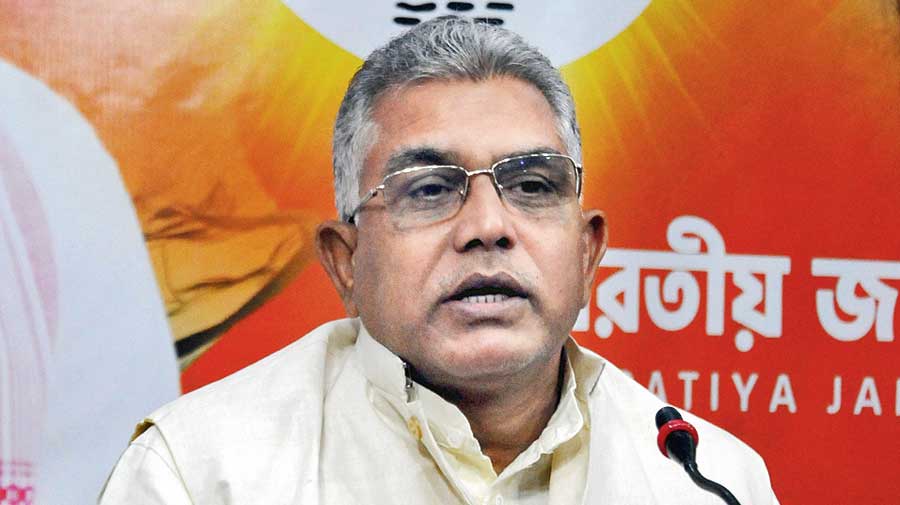 ---
Calcutta
|
Published 03.12.20, 01:52 AM
|
---
BJP state president Dilip Ghosh stirred a fresh controversy on Wednesday when he said non-Bengalis had made greater contributions to the state than Bengalis.
The comment drew sharp reactions from the non-BJP parties — as well as from within the saffron camp — at a time a debate on "outsiders" and "sons of the soil" has become a part of political discourse in the state.
Ghosh made the remark at a party event in Calcutta's Canning Street, a locality dominated by Hindi-speaking people. "Since the British period, people from outside have been coming to Bengal for professional reasons. Labourers from Bihar have worked at jute mills and factories on either side of the Ganga. The contribution of people from outside Bengal to the state's development has been more than that of Bengalis," Ghosh said.
"How have these people… these Biharis become outsiders for you today? Are Shah Rukh Khan or Prashant Kishore not outsiders," Ghosh asked, trying to take a jibe at the attempts of the Trinamul Congress to tag his party as one of "outsiders".
Multiple sources in the BJP claimed while Trinamul was trying to tag the BJP as a party of "outsiders", Ghosh's comment was unnecessary.
"From Prime Minister Narendra Modi to home minister Amit Shah, everyone is focussing on how to shed the 'outsider' tag. In such a situation, Dilipda shouldn't have said this," a BJP leader told The Telegraph.
Partha Chatterjee, state minister and secretary-general of the Trinamul, said the Midnapore MP was trying to humiliate and demean Bengalis.
"I believe Dilip Ghosh is unaware of the contributions Bengal has made in the nation's overall development and struggle for independence," Chatterjee said.
However, the CPM and the Congress accused both Trinamul and the BJP of indulging in competitive politics of identity.
State Congress president and leader of the Opposition in the Lok Sabha Adhir Ranjan Chowdhury said Ghosh's comment was an insult for Bengal.
"Just as they have tried to divide Hindus and Muslims, they are now trying to create a rift between Bengali and non-Bengalis," he said.
Echoing Chowdhury, CPM MLA Sujan Chakraborty said: "Bengal is the land of renaissance. We believe in inclusivity. People from other parts of the nation have preferred Bengal as a destination for jobs and opportunities. The BJP and Trinamul are trying to divide the state on the basis of language, caste and religion."
Later in the day, Ghosh said he wanted to iterate that non-Bengalis had contributed to the building of the state. He referred to industrialists such as the Birlas and the Neotias and said no one could reject the contributions those people had made in the development of Bengal.