Noise data points at SC order violation in Calcutta
Hospitals, which are silent zones and where no fireworks can be lit at any time of the day, were among the worst sufferers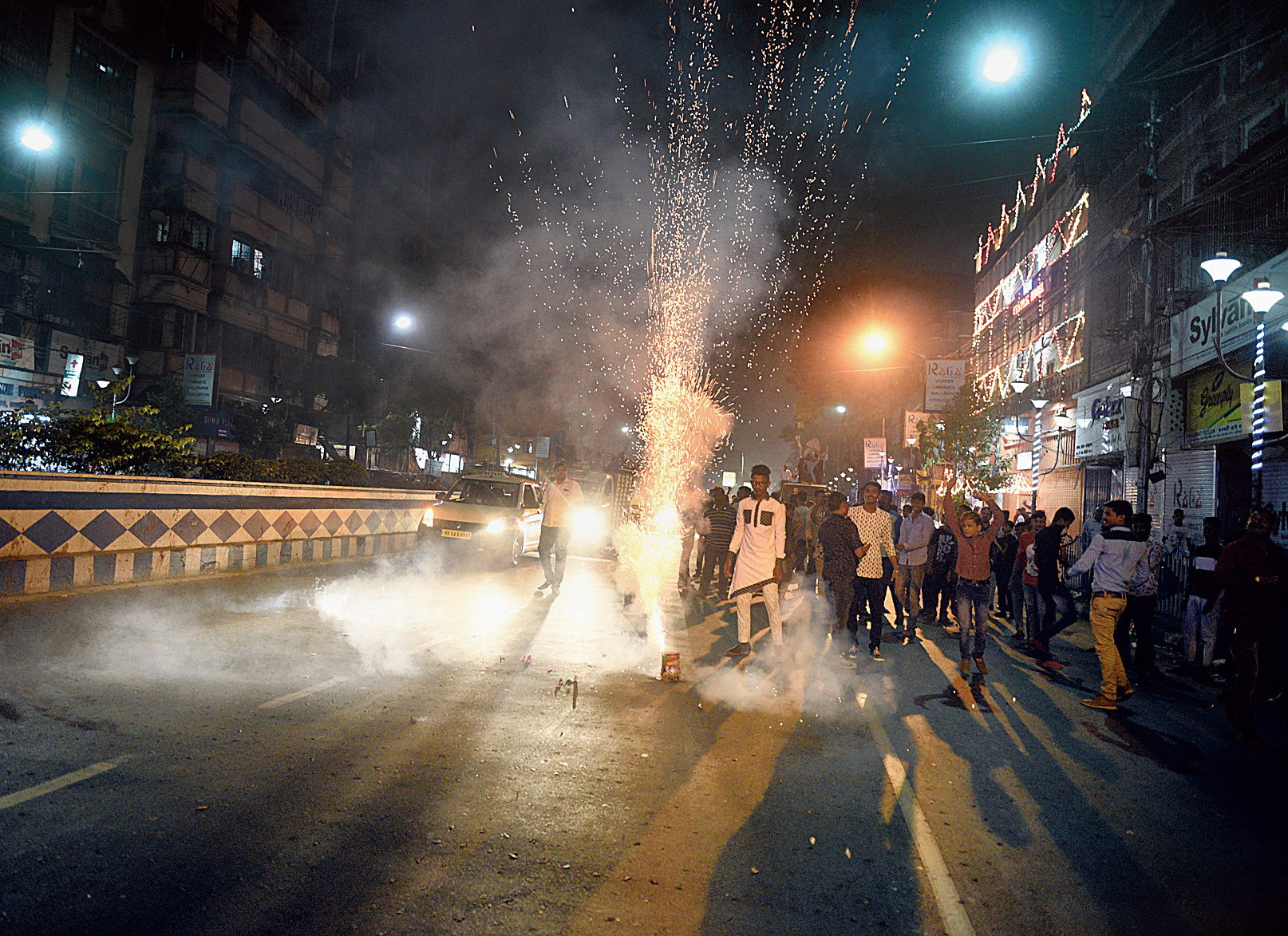 Immersion processions on Friday night saw rampant bursting of banned firecrackers. Around 10.30pm, the south-bound flank of CR Avenue saw a convoy of three mini-trucks carrying revellers bursting chocolate bombs.
Picture by Gautam Bose
---
Calcutta
|
Published 10.11.18, 07:17 AM
|
---
The noise level in pockets across Calcutta on Diwali reached its peak during the Supreme Court-ordered cracker curfew, suggesting that the apex court ruling had been rampantly flouted.
The court had on October 23 ordered that firecrackers could be lit only for two hours on Diwali — from 8pm to 10pm. It asked police to ensure that the order was enforced and stated that any violation would be treated as contempt of court.
The data collated by the Central Pollution Control Board (CPCB) shows that nine out of the 10 automatic noise measuring stations in the city had recorded the maximum noise level on Diwali during the curfew hours. Among the victims of the noise assault were several hospitals.
All the stations are run jointly by the central and the state pollution control boards.
Between 6pm on Diwali and 4am the next day, the station at the state board's headquarters in Salt Lake recorded its maximum noise level — 68.3 decibel — between 9pm and 10pm.
The stations in Bagbazar, RG Kar Medical College and Hospital and Tollygunge recorded their peak noise levels during the same period between 10pm and 11pm.
The noise meter on the SSKM Hospital campus recorded its peak value — 82.7 decibel — between 11pm and midnight. In Birati, Kasba Golpark, New Market and Taratala, the noise level was at its peak between 6pm and 8pm.
Patuli, a residential area, suffered its heaviest decibel blow — 71.3 — between 1am and 2am.
Hospitals, which are silent zones and where no fireworks can be lit at any time of the day under a Supreme Court order, were among the worst sufferers.
The maximum noise level recorded at SSKM on Diwali night was more than double the limit set for hospitals at night — 40 decibel. According to doctors, an increase in 10 decibel of sound doubles the impact on eardrums. "We received more than 70 complaints on Diwali night. Most of the calls came after 10pm," state pollution control board chairman Kalyan Rudra said.
Sabuj Mancha, a platform for organisations fighting for the environment, received 79 complaints on Diwali. "We got at least 30 complaints after 10pm," said a representative of the platform.
"The data shows that the Supreme Court's order on bursting of firecrackers was flouted," said Biswajit Mukherjee, a former chief law officer of the state board.
SOUND SCORE
RG Kar hospital: 66.8dB (10-11pm)

SSKM Hospital: 82.7dB (11pm-midnight)

Paribesh Bhavan: 68.3dB (9-10pm)

Kasba Golpark: 74dB (6-7pm)

Patuli: 71.3dB (1-2am)

Birati: 80.3dB (6-7pm)

Bagbazar: 75.8dB (10-11pm)

Taratala: 67.9dB (7-8pm)

Tollygunge: 74.9dB (10-11pm)