No worker attacked police, says Bengal BJP chief Sukanta Majumdar
Indira Gandhi had tried a lot to stop the BJP's expedition, but failed: Ravi Shankar Prasad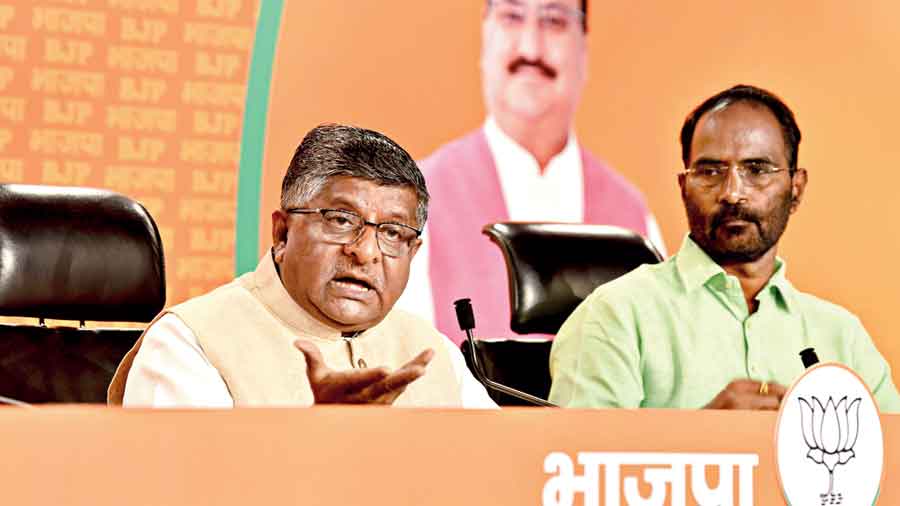 Ravi Shankar Prasad in New Delhi on Wednesday.
PTI
---
Published 15.09.22, 05:22 AM
|
---
Bengal BJP chief Sukanta Majumdar on Wednesday said no BJP worker had been involved in attacking police during Tuesday's Nabanna march by the party.
"No BJP worker was involved in attacking the police. If the police file any case against any BJP worker, we will first check all the evidence and act accordingly," said Majumdar.
"If murder cases can be filed against people for hitting policemen who were wearing helmets, similar cases must be started against the police for hitting BJP workers who were not wearing helmets," he added.
The national leadership of the BJP on Wednesday said Bengal chief minister Mamata Banerjee should learn from alleged failures of the then Prime Minister Indira Gandhi during the Emergency.
"Indira Gandhi had tried a lot to stop the BJP's expedition, but failed. You've been trying so for a long time... Mamataji must remember what happened to the Prime Minister (Indira Gandhi) from her former party after she had unleashed an Emergency on India...," senior BJP leader and former Union minister Ravi Shankar Prasad said at a news conference in New Delhi on Wednesday.
Mamata had been with the Congress before she broke away to form the Trinamul Congress in 1998.
Prasad also threatened Mamata with "constitutional" consequences if BJP workers were further harmed. "I can only say that if BJP workers are further harmed, there will be constitutional consequences."
While Prasad didn't elaborate on what he meant by "constitutional consequences", sources in the BJP said he might have alluded to the invocation of President's rule in Bengal, a longstanding demand of a section of the party's state unit.
Although Union home minister Amit Shah had discarded such a possibility in the past and asked Bengal BJP leaders to focus on fighting Trinamul politically, Prasad's comments were discussed in a hushed tone at the state BJP headquarters on Wednesday.
A large section of the party said all credit for Tuesday's show must go to the workers. Opposition leader Adhikari got himself arrested even before the programme began and party MP Dilip Ghosh left the scene after the rally he was leading met police resistance. Only Majumdar stayed on the streets for some time.
"Our workers were the heroes of Tuesday, not the leaders. Rather our leaders failed the workers who fought it out on the street and spent leisure time in police custody at Lalbazar," a state BJP leader said.
Taking a dig at BJP workers for ransacking public property, Trinamul MP Mahua Moitra tweeted: "What if Bengal used Bhogiji (Yogi) Ajay Bisht's model & sent bulldozers to homes of BJP workers who destroyed public property yesterday? Will BJP stand by his own policy or get their chadds (roofs) in a twist?"
BJP leader Rahul Sinha hit back at Moitra by saying that if anyone had to be fined for destroying public property, Mamata should lead the list. She reminded Trinamul about the destruction of furniture in the Assembly in 2006.
Majumdar said BJP would embark on a state-wide "fill the jails" programme after Diwali. BJP workers in all districts of the state will embark on a civil disobedience movement and get arrested to protest against the "corrupt state government", he said.