No rush to clean up Beleghata lake
Aquatic life under threat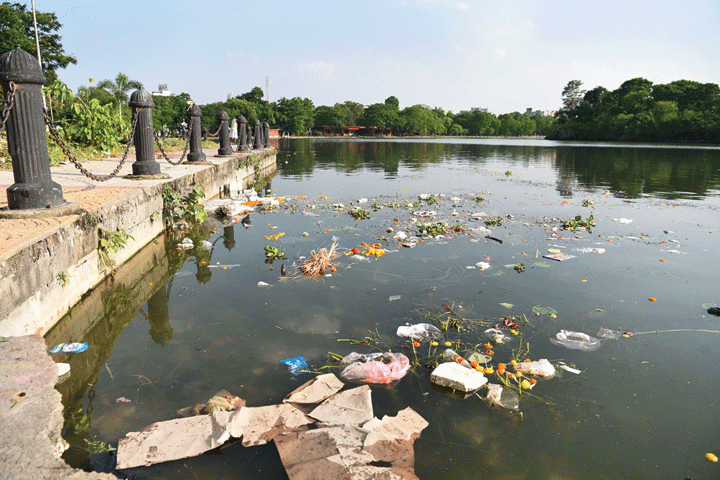 Polythene bags, plastic bottles and styrofoam trays float on Subhas Sarobar at 3pm on Sunday
Gautam Bose
---
Calcutta
|
Published 03.11.19, 09:12 PM
|
---
Thousands of worshippers performed Chhath Puja at Subhas Sarobar, leaving the water body and the surrounding park dirty with plastic bags and other waste.
However, unlike Rabindra Sarobar, the Beleghata lake was not cleaned till late on Sunday.
Metro visited the lake on Sunday afternoon and saw polythene bags, plastic bottles and Styrofoam trays floating on the water and strewn on the surrounding green.
A senior official of the Calcutta Metropolitan Development Authority (CMDA), the custodian of Subhas Sarobar, however, claimed that they had cleaned the entire lake and the park by Sunday afternoon.
"We had deployed men to clean up Subhas Sarobar and they informed us that all litter had been removed by the afternoon," the official said.
This newspaper was at the lake from 12.30pm till around 4pm. Not a single person could be seen cleaning the water body and the park.
Environment activist Subhas Dutta said Subhas Sarobar was an ecologically sensitive zone and prompt steps should have been taken to protect it.
"Lots of birds live in the trees around the park. The lake itself has rich aquatic life. The water polluted by dumped items will reduce the oxygen content and threaten aquatic life," said Dutta.
CMDA officials, speaking on the condition of anonymity, said the clean-up focus on Sunday was on Rabindra Sarobar.
"Our workers started cleaning the south Calcutta lake on Saturday night. That was not the case at the Beleghata water body," said an official of the agency, which is the custodian of Rabindra Sarobar, too.
The official highlighted another reason for the delay in cleaning up Subhas Sarobar — its square shape.
"Rabindra Sarobar is almost rectangular and so it is easier to clean it along the banks," he pointed out.
The assault on Subhas Sarobar was apparent right from the gates, where a pile of used flowers and earthen pots had accumulated.
The banks of the lake were strewn with flowers, bamboo shafts, sticks and remnants of firecrackers. Plastic bottles, polythene bags, patches of oil, and even photographs were spotted floating on the water as far as one could see.
Worshippers gathered around the water body in thousands carrying bananas, sugar canes and other fruits, a CMDA source said. Many of them took a dip in the water body. They also lit lamps on and pour oil, ghee and other puja offerings into the water.
A section of worshippers played drums and loud music and burst crackers till early on Sunday.
A walking track, landscaped gardens and new lighting systems were set up on the park around the lake as part of a beautification drive in 2017, ahead of the FIFA Under-17 World Cup. The Salt Lake stadium was one of the venues of the tournament.