No force can create further division of Bengal, says Mamata
We don't believe in divide and rule: Banerjee clears stand on sporadic statehood cries in north Bengal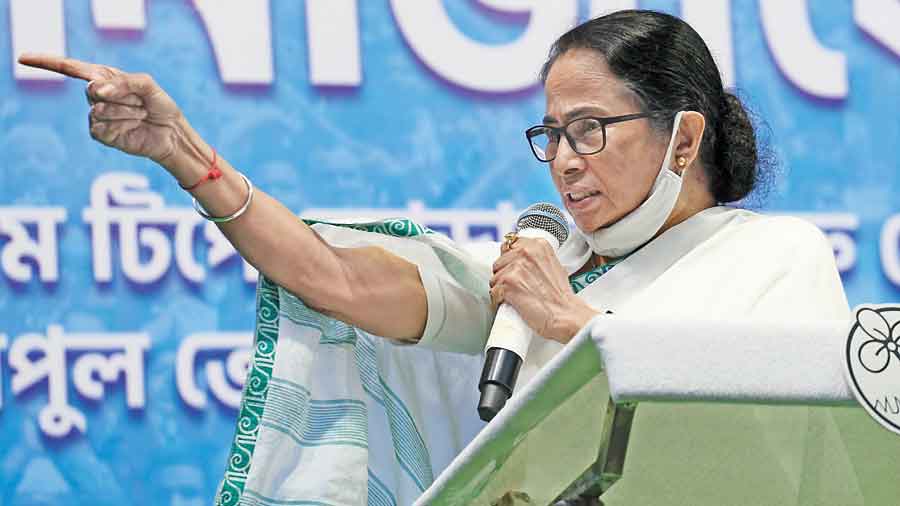 ---
Siliguri
|
Published 25.10.21, 03:20 AM
|
---
Mamata Banerjee said no force can create a further division of Bengal while speaking here on Sunday, her first public address in north Bengal after becoming the chief minister of the state for the third time in a row.
Her unequivocal message, a source said, was part of her strategy to throw the gauntlet at the BJP which has in recent times been talking about carving out a state from  north Bengal.
Mamata, who has time and again underscored that she and her party, the Trinamul Congress, are against any further partition of Bengal, on Sunday again asserted that any division of the state would compound the problems in the northern districts.
"We do not believe in divide and rule. There is going to be no division of the state anymore... We want to stay together so that peace and amity prevail in the region. If we divide, there will be problems," Mamata said at a "Bijoya Sanmilani" (a post-Dussehra get together) hosted by the Siliguri Metropolitan Police at Bagha Jatin Park of Siliguri. 
Such assertion of the chief minister comes at a time when a number of BJP functionaries, including elected representatives like Union minister of state for minority affairs and Alipurduar MP John Barla have demanded that a state should be carved out of north Bengal.
A number of senior party leaders, including former state party chief Dilip Ghosh, had lent Barla support in a roundabout manner.
Amid the debate on whether north Bengal can or should be divided, the Narendra Modi government brought the issue of the PPS (permanent political solution) out of the freezer earlier this month. Home minister Amit Shah held a tripartite meeting on the emotive subject involving Gorkha identity.
In the course of her speech, Mamata also criticised the BJP for raising fingers at her government on the issue of post-poll violence and said that leaders of the saffron party had better take a look at the states where they are in power.
She referred to the recent attack on party leader Sushmita Dev in BJP-ruled Tripura and avowed that they will never let "Bengal turn into Tripura."
"It is not so easy… we will not let Bengal become a Tripura. We will put all efforts to protect Bengal. In Tripura, no one can enter it and anybody going there has to face assault. No other political party (except the BJP) can hold political activities there. There has been a spate of violence in Tripura and things have reached such an extent that we have brought our injured party workers to Calcutta for treatment as they did not get proper medical treatment there. Similar is the situation in (BJP-ruled) Uttar Pradesh," said Mamata.
The chief minister, while addressing the crowd, also tried to drive home the point that she is concerned about the festivals of all the communities of the state. She announced that the state government has announced two days' holiday on occasion of Chhat Puja celebrated next month.
"I would ask all the DMs and SPs of the state to prepare the ghats we require for Chhat Puja. If required, some new ghats can be readied so that people can carry out rituals while adhering to Covid-19 safety protocols," Mamata said.
During the next two days, the chief minister will attend review meetings of four north Bengal districts, Alipurduar, Jalpaiguri, Darjeeling and Kalimpong, which will be held at Uttarkanya (the branch secretariat of the state) in Siliguri and in Kurseong.
Mamata will stay in north Bengal till Wednesday.
The Bengal chief minister is scheduled to leave for Goa, the west Indian state where Trinamul has cast its focus, on Thursday.
BJP-ruled Goa will have its Assembly elections in February next year.