Night club in Sector V calls elderly
Levels the Club has started a senior citizens' day on Mondays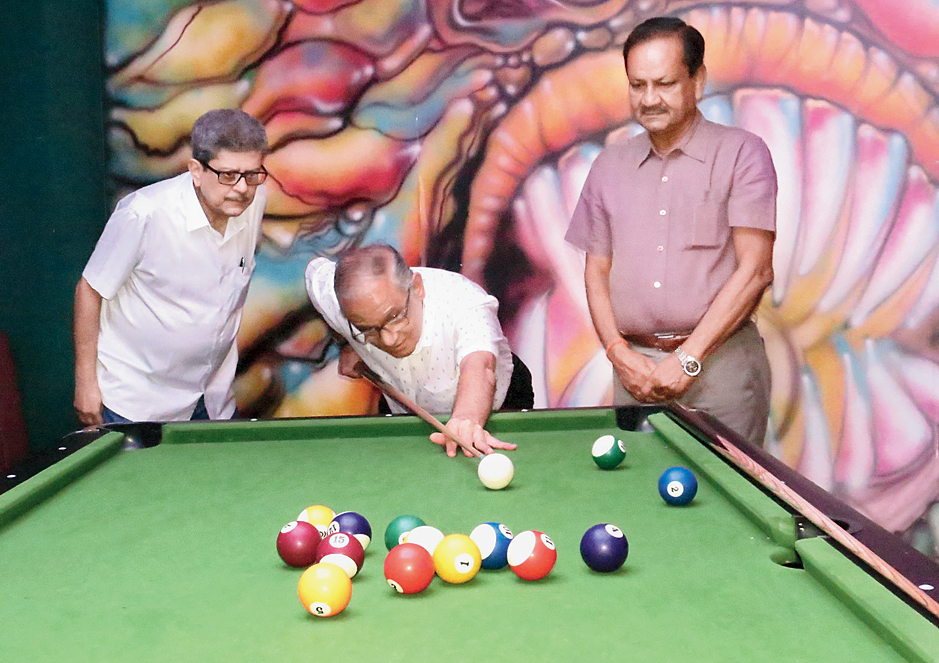 Pankaj Parekh takes aim to play a shot on the pool table at Levels The Club as publisher Tridib Chatterjee and former cricketer Sambaran Banerjee look on.
Picture by Sudeshna Banerjee
---
Calcutta
|
Published 01.08.19, 10:14 PM
|
---
Night clubs are characteristically the bastion of the young and restless. Or at best the young-at-heart middle-aged. And never of the gray-haired and slow of gait.
In a bid to reach out to and welcome the elderly age group, Levels the Club in Sector V has started a senior citizens' day. Monday has been chosen as the designated day when special discounts will be offered to them.
"We are offering 50 per cent off on food and beverages to elderly clients. They can even ask for the food to be customised according to the diet they follow, be it with reduced salt or less spice," said director Subramanyam M.V.S.S.N.
The ambience will also be catered to their preference. In place of the loud Western beats, retro Bengali and Hindi songs will be played in low volume.
Mondays, said director Subramanyam, usually attracted less of the usual partying crowd. "It is our way to give back to a generation that has done so much for us." Wheelchairs will be provided on request at the entry. It helps that a ramp is there to the toilet too.
Some senior citizens were invited at the launch of the initiative. While most had never seen the inside of a nightclub, some could not remember how many years back they had last stepped in one. 'We have done our bit of club-hopping in our youth. But today if I go somewhere my grandson feels embarrassed. I am glad that a place has opened for us on a designated day," said Pankaj Parekh, chairman of the Indo-Italian Chamber of Commerce who is months away from turning 75.
Also having a quiet cup of tea at a corner were a group of EC Block residents. "We stay right opposite City Centre so we have enough options for eating out. But the prices are lucrative here," said Biman Roy, president of the block residents' body.
"With children settling out of town, parents are becoming lonely. We are a group of retired teachers who meet up for tea. Since stairs in upper storey houses are a problem for those with knee pain, we prefer restaurants. This place seems to have enough space at the ground level. If we can arrange for transport we can come here," said Manisha Gupta, 77, who used to teach at Lady Brabourne College.