NIA visits Birbhum to probe year-old blasts
The visit assumed importance as the ruling Trinamul leaders said it was a motivated entry by the central agency while the BJP welcomed it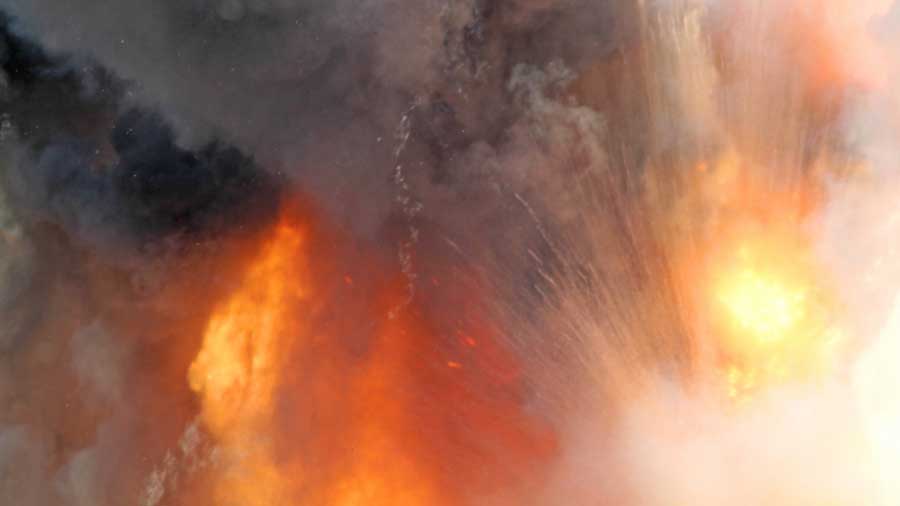 ---
Calcutta, Bolpur(Birbhum)
|
Published 13.11.20, 01:23 AM
|
---
A team of officials from the National Investigation Agency (NIA) visited Birbhum's Lokepur and Sadaipur on Wednesday and Thursday in connection with a probe into two blasts last year.
The visit assumed importance as the ruling Trinamul leaders said it was a motivated entry by the central agency while the BJP welcomed it.
The first blast occurred on August 29 last year and the next on November 21, both in homes of Trinamul functionaries.
Sources in NIA said the agency took up probe into these twin blasts following a home ministry directive on August 31 and on September 3. The central agency drew up a formal FIR after registering a case. The case was filed at the NIA police station in New Delhi.
"The visits are a part of our preliminary inquiries," said a senior official of the NIA. 
Sources said that there was more into the proactive approach of the central agency.
Some Trinamul leaders see in this another attempt by the Centre to enter into the heartland politics at the local level. 
On August 29, the cowshed adjoining a room of Hitunnessa Khatun, chief of Sahapur gram panchayat, was blown to bits and a villager was injured by splinters in Renguni village of Sadaipur. Police arrested Sheikh Badruddoza, the gram panchayat chief's father, for allegedly stockpiling crude bombs. Three months later on November 21, the tin shed of the Lokepur house of Bablu Mondal, a Trinamul worker, blew off. Police arrested his two sons but Mondal is absconding. Police said the explosion was from stockpiling crude bombs.
The NIA team first visited the house of Mondal and interacted with his family. Sources said they wanted to find out about his two sons Mritunjoy and Niranjan as they were allegedly involved in storing materials for the bombs.
The team then visited Sheikh Badruddoza. "I don't know what they (NIA) want to find. They stayed for an hour. I told them the bombs were kept at my home a year ago as a result of a factional feud. They took details of my contacts," said Badruddoza, also a Trinamul booth president.
The NIA has already stepped up activities in Murshidabad in connection with its probe into alleged al Qaida operatives. Trinamul leadership in Birbhum now sees the NIA's entry as yet another reason to create a flutter ahead of the Assembly polls.    
"This move reconfirms what our chief minister's said about how the Centre has been trying to engage central agencies to create a sense of fear," said Anubrata Mondal, the Birbhum Trinamul chief. "It's surprising the NIA has come to probe into an incident that happened a year back."
His BJP counterpart hyamapada Mondal welcomed the NIA. "Bengal police always try to suppress incidents if Trinamul is involved."
"We need a violence-free Bengal," said Mondal.
"The crude bomb culture is not new in Birbhum, Murshidabad, East Burdwan and adjoining districts. Police have recovered at least 10 thousand crude bombs in the past two years. However, the NIA may want to probe it separately," said a police source.