NH12 awaits traffic jam unlock
NHAI repair work and suburban trains off tracks have increased vehicular load on roads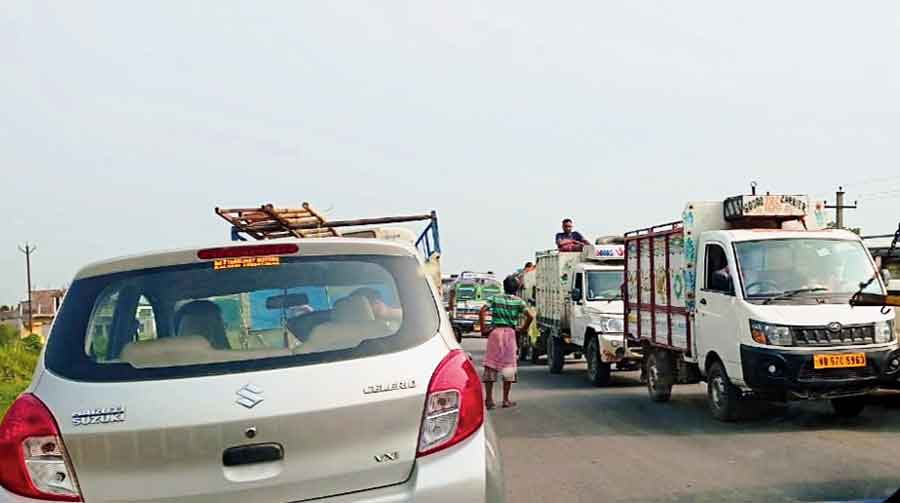 A traffic jam on NH12 near Chakdah on Wednesday morning.
Picture by Ranjit Sarkar
---
Kalyani
|
Published 10.09.20, 03:17 AM
|
---
Regular traffic jams between Santipur and Barojagulia in Nadia on NH12, the highway that runs through the spine of Bengal linking the south to the north, are a commuting nightmare.
Reason: the National Highways Authority of India (NHAI) has blocked one lane of the highway to repair the damaged stretch. Also, suburban trains off tracks have increased vehicular load on roads.
A doctor, Goutam Majumder leaves his Kalyani home at 7am every day to reach his workplace at Nadia's Krishnaganj block hospital, 81km away. After 30 minutes he hits the NH12 and manages to reach Chakdah Chowmatha, which is 10km away along the highway, in 90 minutes. To avoid further delay, he takes a diversion through village roads to reach the hospital at Krishnaganj at 11.15am.
"It takes over four hours to cover 81km between home and office... In normal times, it used to take less than two hours," rued the doctor.
Those trying to reach Calcutta by skirting a clogged NH12 have few options, as the alternative Kalyani Expressway sees massive traffic between Naihati and Nimta in North 24-Parganas. The PWD's road widening work on Kalyani Expressway triggers snarls at several places.
Following Unlock 1 in June, many offices opened. But as suburban train services did not, the number of cars and motorcycles on NH12 and the Kalyani Expressway increased phenomenally. To add to commuter woes, the NHAI and the PWD have taken up projects that were pending because of the lockdown.
Last month, Santipur resident, Samar Dutta, lost his job as he regularly reported late at his workplace, a shopping mall on CIT Road in Calcutta.
Without trains, Samar would take the first bus out of Santipur at 5.30am for the 91km trip to Calcutta but could never reach the mall by 9.30am. After a few warnings, Samar's employers sacked him. Usually, the distance between Santipur and Calcutta takes less than three hours by road.
Santipur resident Samit Dutta Chowdhury, an employee with a private firm in Calcutta, said: "The journey has become unbearable. Two-way travel from Santipur to Calcutta has become a 10-hour affair."
Since Monday, Samit has been trying to reach Calcutta by taking the Delhi Road. Samit and three others have hired a car to travel to Calcutta every day. They, along with the car, cross the Hooghly river on a vessel to reach Guptipara from where they take the Delhi Road. "The new route has reduced our travel time by two hours," he said.
Admitting that repair work choked traffic on NH12, Soutam Pal, director of NH Project Implementation Unit in Krishnagar, said: "We will take four more days to complete the work.
Work remains incomplete at a few places towards the Santipur end of the stretch and it will be completed soon." A PWD official monitoring the widening works on Kalyani Expressway said: "We are trying our best to finish work fast. We are trying to avoid work during the morning rush hours."
Choked roads have become a challenge for the police to maintain flow of traffic on both NH12 and the Kalyani Expressway.
Ranaghat police district SP V.S.R. Ananthnag said: "It is a difficult situation. We are in touch with the NHAI as they are repairing the craters. We are hopeful that the situation will normalise within the next seven days." He said the job to repair potholes between Chakdah and Jagulia had become the main reason for the snarl and also blamed wayward driving for aggravating the situation. "It appears everybody is in a hurry," he said.