New Town plan to recycle e-waste
Old phones and computers to be repaired and reused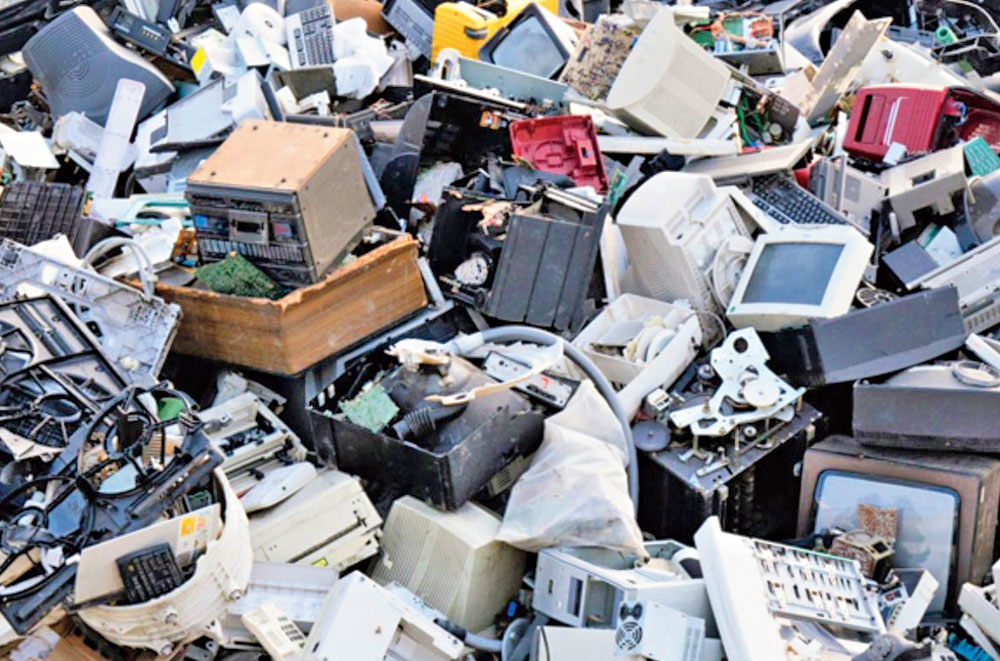 Dumped e-waste
A file picture
---
Calcutta
|
Published 28.05.19, 11:09 PM
|
---
The New Town Kolkata Development Authority (NKDA) will upcycle e-waste collected from the township and Sector V and make them fit for reuse in an attempt to prevent accumulation of hazardous materials at dumping sites.
"Old smartphones, personal computers and other electronic gadgets will be collected from residents and offices. These will be repaired and restored so they can be used once more," an NKDA official said.
"The ones that cannot be repaired will be used to make various household items, including decorative pieces."
The repaired and refurbished items will be put on display at the NKDA corner for upcycled goods at Eco Park, in New Town, in order to encourage people not to throw away their electronic gadgets with other household waste.
People can buy them at a fraction of the market rates from the counter.
Metro had on May 19 reported about the counter that has been set up near Eco Park's gate No. 4 to encourage people to segregate household waste and dispose them in a scientific manner.
Debashis Sen, the NKDA chairman and additional chief secretary of information technology, electronics and e-governance, said the move would not only benefit the environment but would also provide an opportunity to the people to buy cellphones and computers at affordable rates.
"There are many people in the country who know how to use apps but cannot afford a new smart phone. The refurbished ones will cost low and be well within reach of people from financially weak sections of society," Sen said.
According to Sen, e-waste is proving to be a challenge as it is often burnt or dismantled manually to retrieve precious metals such as gold and copper.
"E-waste is often burnt or dismantled manually. The ash finds its way into canals or streams. The items that cannot be reused and are left at dumping sites release corrosive chemicals into the ground," Sen said.
The NKDA authorities had met the managing director of the West Bengal Electronics Industry Development Corporation Limited to chalk out a plan to tackle e-waste.
India is among the top five e-waste-generating countries in the world, according to a report published last year by the trade body Assocham and NEC Technologies India Private Limited. The others in the top five are China, Japan, Germany and the US.
Maharashtra produces maximum e-waste in the country — 19.8 per cent. Bengal's share stands at 9.8 per cent.
The global volume of e-waste is expected to reach 52.2 million tonne or 6.8 kg per inhabitant by 2021 from 44.7 million tonne in 2016, the report says.
The volume of e-waste will keep rising exponentially because of the rise in the use of electrical and electronic equipment, a report by the World Health Organisation states.
The report warns that primitive techniques of recycling — such as burning cables for extracting copper — exposes workers and their families to hazardous substances.
The report cautions against contact with materials such as lead, cadmium, chromium, flame retardants or polychlorinated biphenyls, which are commonly found in e-waste.
In the US, as well as European countries, there are companies that run recycling plants to tackle e-waste and obsolete gadgets. However, a large segment of used gadgets — such as computers, cellphones, printers and microwaves — are sent to Vietnam, Thailand, Ghana and India.