Need to look for truth: Historian Dipesh Chakrabarty
Chakrabarty was blunt about the contentious CAA and said he does not like it.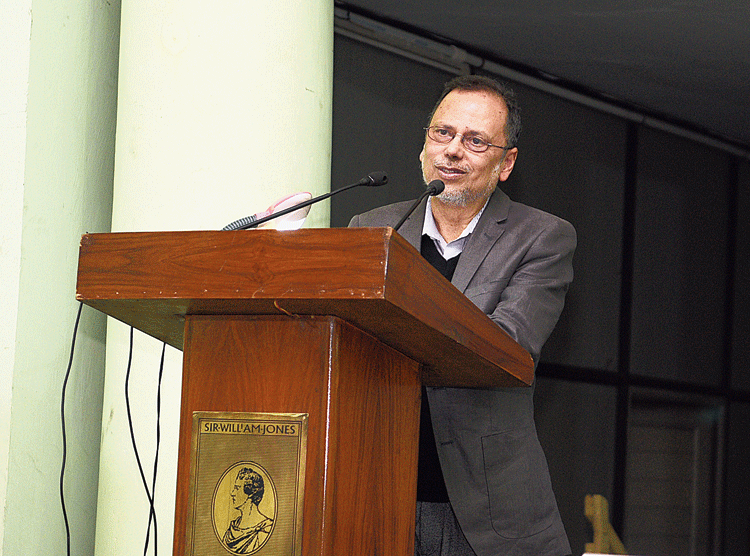 ---
|
Calcutta
|
Published 27.01.20, 08:18 PM
---
Looking for "factual truth" is the need of the hour when myths are increasingly being equated with history, Dipesh Chakrabarty, a professor of history at the University of Chicago, said on Monday.
"Traditional historians have always looked for factual truth. I think that is becoming more and more important," Chakrabarty said at Asiatic Society on Monday, during an informal chat with journalists after launching three volumes of a book conceived and edited by the late historian Sabyasachi Bhattacharya.
He was asked about an array of statements — on mythological characters that have no scientific basis — made by leaders of the BJP and "an attempt to rewrite Indian history".
Bhattacharya, a former vice-chancellor of Visva-Bharati and professor at Jawaharlal Nehru University, died on January 7 last year. Even after being diagnosed with cancer in 2017, the academic and author edited three volumes of the Comprehensive History of Modern Bengal (1700-1950). Sixty historians from India and abroad have contributed to the book, which Chakrabarty released on Monday.
Chakrabarty during his address spoke of his multiple interactions with Bhattacharya, with whom he shared a six-decade association.
Among the final ones was an email in December 2017, in which Bhattacharya informed Chakrabarty about his ailment, and an upcoming assignment.
"The news is that I am a cancer patient now.... At age 80, most people know they have a small number of years ahead. I know that more certainly. Most people don't know how they would depart the world. I do. That is a positive thought. I will send you a very pedestrian article for a symposium I am performing with Romila (Thapar) and Irfan (Habib) next week. Soldiering on is an obvious but necessary destiny," Bhattacharya had written.
He was speaking about being part of a panel with Thapar and Habib at the 78th Indian History Congress at Jadavpur University the same month.
"As far as I can understand they (the Union government) want the Mughal empire to be read out of Indian history," Habib had said on the sidelines of the conference.
While reading Bhattacharya's message on Monday, Chakrabarty harped on the words "soldiering on".
"Soldiering on, literally…. It is very poignant. From what we are reading in newspapers… it was a refusal to bow his head, not only in front of communal powers but also cancer," Chakrabarty told the audience.
Later, while speaking to journalists, he said: "Sabyasachida is no more. Both Irfan and Romila have been targeted.… They want to uphold certain values through historical awareness… align with the marginalised and the suppressed and speak against the ruling class. Most importantly, uphold secularism and fight to uphold India's secular history."
Chakrabarty — who did BSc (physics honours) at Presidency College, a postgraduate diploma course in management at the Indian Institute of Management, Calcutta, and PhD (history) at Australian National University — also took questions on bangaliana (being a Bengali) and the "threat perception surrounding it" under the new citizenship thrust.
"The project of bangaliana should not be marred by narrow provincialism. Bangaliana should be something that would make people of other provinces aspire to become a Bengali. Like there was a time when people learnt Bengali to read Rabindranath Tagore. Bangaliana is going through a crisis.… There is a threat from an aggressive brand of north-Indian nationalism. The Bengali project has to be inclusive, not exclusive," Chakrabarty said.
He was blunt on the citizenship thrust: "All I can say is I don't like it. A majority of the population is undocumented. These people will be harassed. If people without documents are listed as 'doubtful citizens' — I don't know if that will happen — that leads to fear…. Our bureaucracy is a very blunt instrument. What about bribery? Even if the government says 'we don't take bribes', are we going to believe that? Corruption is always anti-poor."